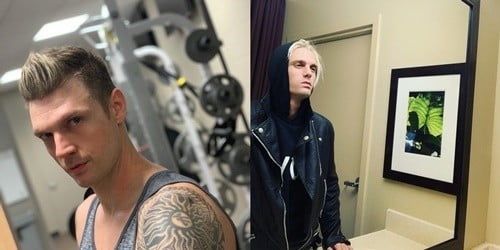 For years, Aaron Carter has been taunting his older brother Nick Carter on Twitter. In the last few weeks, it has gotten really bad. So much so, their fans have joined in on the feud. I guess the little brother went too far because he tweeted, "So my brother just got a restraining order against me. And I was just served lol." Then he added, "Take care. @nickcarter we're done for life…I haven't seen him in four years. And I don't intend."
After Aaron went public, Nick explained why he got the order. He explained, "After careful consideration, my sister Angel and I regret that we were required to seek a restraining order against our brother Aaron today. In light of Aaron's increasingly alarming behavior and his recent confession that he harbors thoughts and intentions of killing my pregnant wife and unborn child, we were left with no choice but to take every measure possible to protect ourselves and our family. We love our brother and truly hope he gets the proper treatment he needs before any harm comes to himself or anyone else,"
Nick also included the hashtag #guncontrolnow with his statement. That is because his baby bro openly admits that he has an arsenal of guns that he will not part with it.
After getting the restraining order, Aaron then accused his brother of rape and beating up Paris Hilton. Claims that have been reported in the media.
It would be nice to see the two of them get along. Especially since their mom is in rehab. However, this seems to be a relationship that looks like it can never be repaired.
---