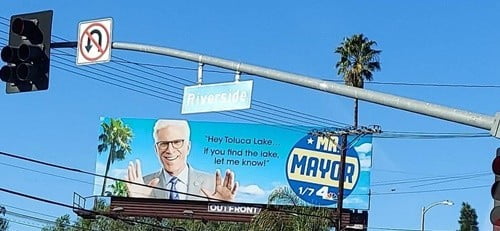 NBC has been canceling a lot of comedies recently like Superstore, and I feared that Mr. Mayor would be one of them. Thankfully, my gut was wrong because they picked it up for a second season today.
"We've loved our collaboration with NBC on the first season of 'Mr. Mayor' and are excited to continue working with our fantastic cast, led by the incomparable Ted Danson and Holly Hunter," said Erin Underhill, President, Universal Television." We can't wait to see what Tina Fey, Robert Carlock and our talented producing team have in store for Mayor Bremer and his rag-tag team of civil servants."
Danson plays a billboard mogul who runs for mayor of LA when the former one goes crazy and resigns. Since he is so likable, he gets elected job. However, he doesn't know what he is doing. He keeps screwing up, but then he saves the day with the help of his staff played by Holly Hunter, Vella Lovell, Mike Cabellon, Bobby Moynihan, and his daughter (Kyla Kennedy).
Mr. Mayor is a quick-witted show, and if you blink, you might miss a joke or two. It is the type of sitcom that you have to watch multiple times in order to catch all of the jokes. And even then, you might miss a few because some of them are so subtle. That is why it is a critical darling, as darling at Danson himself.
As excited as I am about the renewal, I still have an issue with the shoe. That billboard was hung in the town where I live, and it is a sore point for us. We have a lake in Toluca Lake, but it is not accessible to most of the residents because it is on the snooty golf course that won't let us in to see it. We hate to be reminded of that. However, it did makes us laugh, then cry.

---