Do you know how McDonald's has been teaming up with musicians, like BTS, and giving them their own meals? Well, Popeyes made a hotter offer to Megan Thee Stallion. That is because they are giving her her own how sauce starting on October 19th.
"I'm appreciative of Popeyes commitment to empowering Black women and look forward to opening Popeyes Restaurants," said Megan Thee Stallion. "Teaming up with Popeyes is such a milestone in my journey and evolution as an entrepreneur. I've always been a fan of the Popeyes brand and I'm thrilled to have the opportunity to join the brand and help create the new Megan Thee Stallion Hottie Sauce for their line-up."
Megan Thee Stallion's Hottie Sauce is a mix of honey, cider vinegar, and Aleppo pepper. The chicken fast food chain says it matches her "sassy personality." What they didn't say is the only thing to cool down the heat is a WAP. Too far?
Anyways, along with the hot sauce, they also collaborated on merchandise. The first round of Popeyes x Megan Thee Stallion merch Thee Heat includes bikinis, long-sleeved shirts, hats, tumblers, and Popeyes chicken tenders plush dog toys. To what they look like then,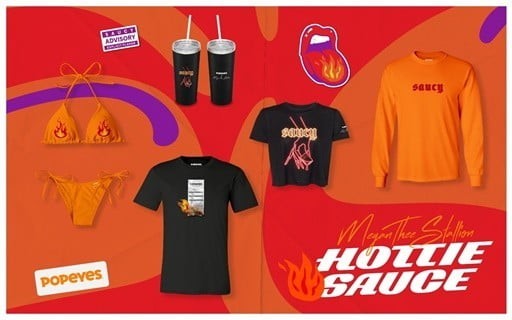 ---