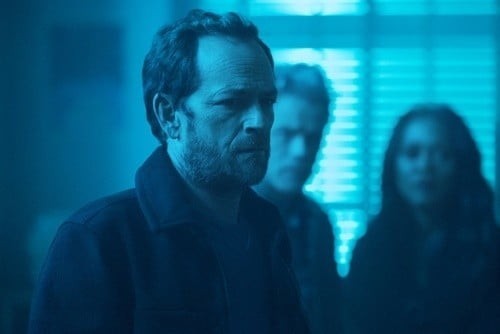 (Dean Buscher/The CW)
Luke Perry is hospitalized after reportedly suffering a major stroke. According to
TMZ
, paramedics rushed to his Sherman Oaks home yesterday morning, and we do not know how he is doing today.
The 52-year-old is currently starring as Archie's dad on The CW's Riverdale. I am not sure if the drama has wrapped production for the season. If it has not, then how will that affect the show.
None of that matters, as long as Dylan McKay is OK. On that note, because of his Riverdale schedule, he was not expected to be a major part of the Beverly Hills, 90210 reboot on Fox this summer. Although, he is supposed to be on it. Hopefully, he can still be part of it.
UPDATE: TMZ is reporting that Perry is sedated. Sources also told them that he was responsive and talking when paramedics got to his house, but his condition deteriorated on his way to the hospital.

---