[ # ] A Tale of Two Desperate Housewives Brides
July 20th, 2009 under Desperate Housewives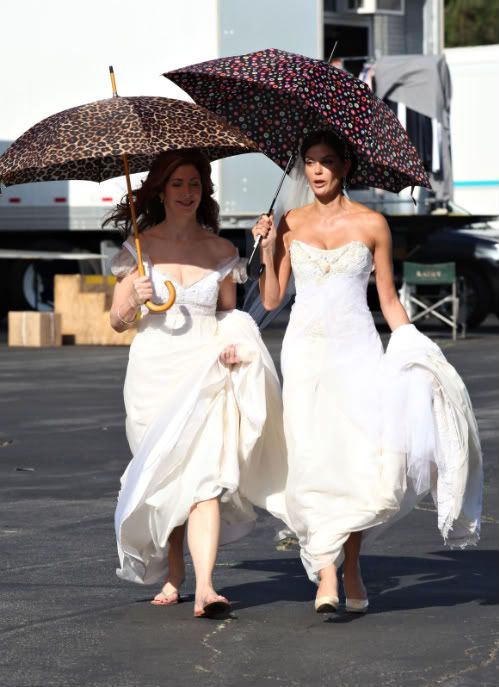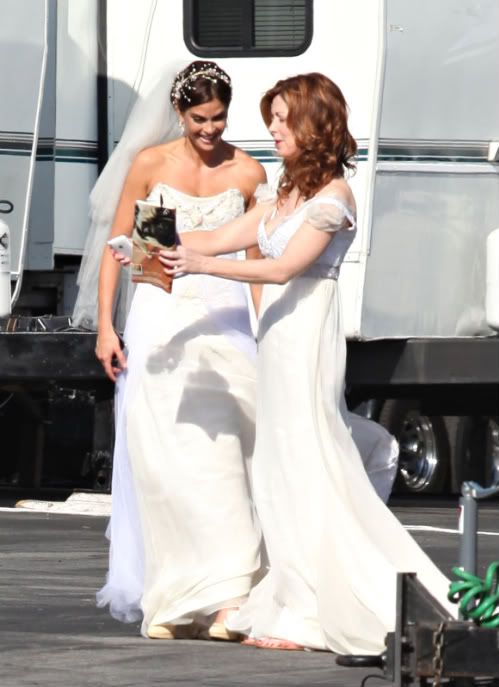 On Friday I posted an exclusive picture of Katherine in a wedding dress, asking "
Is this the bride?
" that we saw in the final seconds of the Desperate Housewives' season finale. Today the mystery deepens as we see both Katherine and Susan are in wedding dresses. Teri Hatcher seems to match the bride that was in that scene, but does that mean it is her? Because then why are we seeing Dana Delaney also dressed in wedding gown? Is one dreaming they are marrying Mike Delfino while the other actually is? Is there a second wedding? Will one of them go crazy and crash the other's wedding dressed in all white? Is Mike marrying one of them, but is picturing himself marrying the other? Or maybe Susan is marrying Jackson and picturing herself marrying Mike, who is really is really marrying Katherine? A huge sale on wedding dresses at Wistera Lane Bridals? Who knows anymore? After the Desperate Housewives cliffhanger where we saw what looked like Edie hanging herself, the one thing we learned for certain is that nothing really seems as it appears before the credits roll in those finals seconds of a season finale…
But one thing we know for certain is we will have to wait until September 27th when the show comes back on ABC to find who is really the bride…if there is one that is…???

---