[ # ] Enrique Iglesias and Anna Kournikova sneak out another baby
February 13th, 2020 under Enrique Iglesias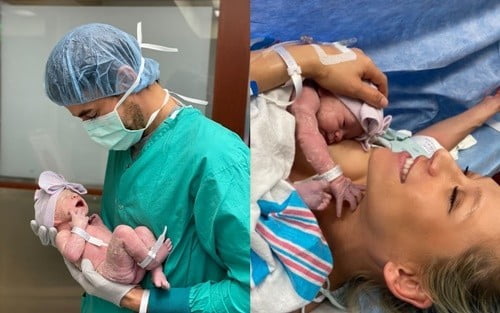 Back in December 2017, Enrique Iglesias and Anna Kournikova secretly welcomed twins, Nicholas and Lucy. In fact, even after they were born, they were able to keep them a secret even longer than that. It was not until he started posting pictures and videos of them that we knew they existed. You can say the rocker and the tennis star are pretty good at keeping their children a secret.
Don't believe me? Late last month, there were rumors they were expecting baby #3. As soon as people started wondering if she was pregnant, she was, and then, she wasn't. Huh? That is because she gave birth to their "Sunshine" on January 30th. They did not reveal any other details, and knowing them, we will not find out any more about her for another year.
However, unlike her older siblings, we already know what she looks like because the proud parents posted photos of her fresh out of the womb. You can say it is love at first sight. You know, as in, the tennis term. I am here all day.

---