Enrique Iglesias and Anna Kournikova sneak out another baby
February 13th, 2020 under Enrique Iglesias. [ Comments:

none

]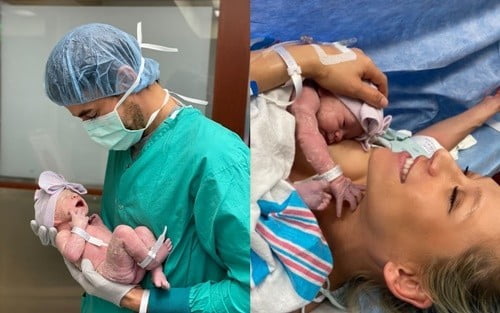 Back in December 2017, Enrique Iglesias and Anna Kournikova secretly welcomed twins, Nicholas and Lucy. In fact, even after they were born, they were able to keep them a secret even longer than that. It was not until he started posting pictures and videos of them that we knew they existed. You can say the rocker and the tennis star are pretty good at keeping their children a secret.
Don't believe me? Late last month, there were rumors they were expecting baby #3. As soon as people started wondering if she was pregnant, she was, and then, she wasn't. Huh? That is because she gave birth to their "Sunshine" on January 30th. They did not reveal any other details, and knowing them, we will not find out any more about her for another year.
However, unlike her older siblings, we already know what she looks like because the proud parents posted photos of her fresh out of the womb. You can say it is love at first sight. You know, as in, the tennis term. I am here all day.

---
Tickle me Enrique Iglesias
October 15th, 2019 under Enrique Iglesias. [ Comments:

none

]

Now that Enrique Iglesias' twins are almost the big 2, they are old enough to realize that tickling someone is a lot of fun. What better subject for Nicholas and Lucy to test that out on than their dad and they are going to keep doing it for decades to comes. Looks like their father is enjoying it as much as they are. Although, their laughter is so much cuter.
I love that he has so much fun playing with his children. It is like he was born to be a dad and they were lucky they were born to him.

---
Enrique Iglesias' twins giggle with him!
May 25th, 2019 under Enrique Iglesias. [ Comments:

none

]

Enrique Iglesias' twins are getting so big and now they know how to laugh at things. The laughter of the two 17-month-olds is the sweetest sound. No one knows that more than their proud pop. Therefore, the singer will do anything to make Nicholas and Lucy giggle. Even if that means looking like the dorkiest dad in the world. Which he does, but who cares his kids are loving almost as much as him.

---
Enrique Iglesias' twins push him around
March 31st, 2019 under Enrique Iglesias. [ Comments:

none

]

Enrique Iglesias' twins are 15 months old and they are learning how to walk. Which means they might not be old enough to learn how to drive. However, the proud pop bought them a car for when they are old enough. Since he cannot wait, he is driving the car around and having them push him around so they will learn how to walk faster. At this rate, they will be cruising around Miami Beach before they are toilet trained.

---
Enrique Iglesias is a goofy dad around his twins!
August 30th, 2018 under Enrique Iglesias. [ Comments:

none

]

Back in December, Enrique Iglesias and Anna Kournikova welcomed twins, and yesterday the proud papa finally showed them both off together.
While we are used to seeing him singing for an audience, that is not what he did for them. He ran back and forth like a big old turkey making that sound and they gobbled up every second of it. They could not stop giggling at him. And we can not stop laughing with the precious little 8-month-old babies.
There is nothing better than to see a father be all goofy around his kids and hearing them laugh. Babies' laughter is the best medicine.

---