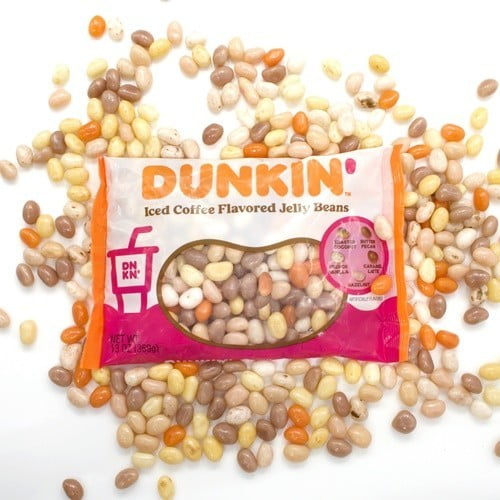 Dunkin' Donuts has been expanding its brand over the last few years. They have ventured into the cereal business, much to the delight of my belly, and now they are teaming up with Frankford Candy for jellybeans based on their iced coffee flavors.
Brian Gilbert, Vice President of Retail Business Development at Dunkin', says, "Jelly beans are such a classic and popular part of the holiday and seasonal celebration. We are thrilled to team up with Frankford Candy, the leader in confections that have delighted Americans for decades, to create a fun and sweet new way for people to enjoy the great taste of Dunkin'."
What flavors will be in the $3.49 bag that will be available at Walgreen's and Rite-Aid? They will taste like Dunkin's signature iced coffees like French Vanilla, Caramel Latte, Butter Pecan, Toasted Coconut, and Hazelnut.
My mouth is already wet with desire for them. Too bad we have to wait until Easter to eat them. Even sadder is that they will only be available for a limited time. Maybe if we eat enough of them; they will make it a permanent thing?

---