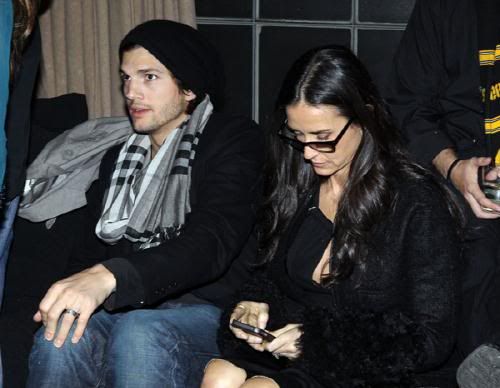 (photo from WireImage)
After weeks of speculation, Demi Moore confirms to
AP
that she is ending her 6 year marriage to Ashton Kutcher. She said she is doing so with "great sadness and a heavy heart." She then added, "as a woman, a mother and a wife, there are certain values and vows that I hold sacred, and it is in this spirit that I have chosen to move forward with my life." That last quote has a lot of people thinking it confirms the rumors that he cheated on her, but maybe she meant something else. At this time it looks like we won't know anymore from her because she is asking for privacy during this difficult time.
Ashton Kutcher
took to Twitter and gave his own statement by saying, "I will forever cherish the time I spent with Demi.
Marriage is one of the most difficult things in the world and unfortunately sometimes they fail. Love and Light, AK"
Even though the couple had a 15 and a half year age difference between them I thought they were going to make it work because they looked so much in love. But I guess it was not meant to be.
Maybe it something about Two and a Half Men because since the show started Jon Cryer got divorced once, Charlie Sheen twice and now Ashton? Maybe there is hope because Cryer's second marriage seems to be going strong.
---