Eddie Van Halen is still a kid at heart
June 24th, 2019 under Van Halen. [ Comments:

none

]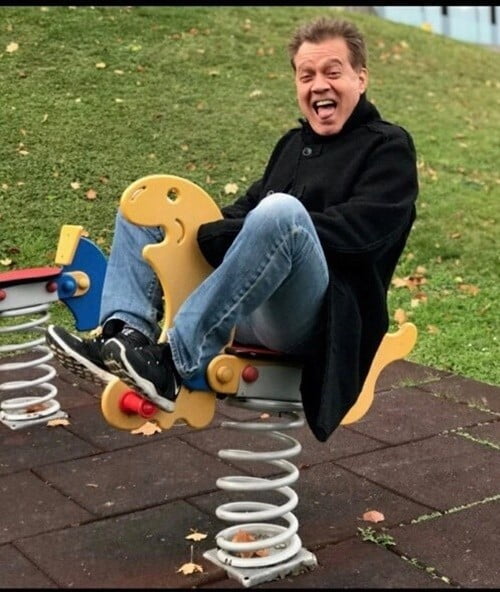 Eddie Van Halen might be 64 years young, but he can still act like he did when he 6 or 4. That's because the guitarist spent the first day of summer riding on a spring horse at a park.
I guess he was there because he is still hot for teacher. Therefore, don't call a 5150 out of him because he is just on top of the World. Can you blame him? It's summer, let's enjoy it like we did when we were the same age as the kid on the 1984 album cover!

---
Patty Jenkins responds to Ryan Murphy copying 1984 for AHS's title
April 12th, 2019 under American Horror Story, DC Comics, Van Halen. [ Comments:

none

]

Earlier this week, Ryan Murphy announced that the latest installment of American Horror Story will be called 1984. However, we also heard that year being used in a title for one of the most anticipated movies of next year. Wonder Woman 2 is also already taking place in the same year that Footloose, Gremlins, Nightmare on Elm Street, Revenge of the Nerds, Karate Kid, Ghostbusters, Beverly Hills Cop, Splash, Spinal Tap, Children of the Corn, Streets of Fire and Police Academy came out.
How does director Patty Jenkins feel about Murphy stealing her thunder? She wrote, "Dear @MrRPMurphy #AHS1984. Wow, what a great title!!! Oh… wait a minute. Uh… Love, #WW1984"
Say, say, say, forget Deniece Williams' Let's Hear It For the Boy because this time it is all about let's hear it for the girl. I am sure you might think that is a diss, but I think we can all agree girls just want to have fun.
Hello, let's go crazy and admit that 1984 was a thriller, therefore you cannot blame them for having an infatuation with it. Therefore, I'm so excited and head over heels for both projects, so let's jump, get footloose, raise 99 luft balloons and cum on feel the noize for both 1984s.
UPDATE: Ryan Murphy was like you think you can take on me, you can't. Therefore, he responded to her by writing, "Dear @PattyJenks #WW1984. Wow, what a great title!!! Oh… wait a minute. Uh… Love, #GeorgeOrwell's1984 ;)"
Now, it is up to George Orwell to respond. Oh…wait a minute. Since he is dead, maybe Van Halen will weigh in cause they have has an album with the same name since, well, 1984. The band can show both directors a house of pain.

---
Eddie Van Halen looking great!
July 7th, 2016 under Van Halen. [ Comments:

none

]

I don't know about you, but I haven't seen Van Halen in a while. Therefore, I haven't seen Eddie Van Halen in all of that time other.
Yesterday, Bryan Adams and him hung out before a show and the Canadian Rocker shared a video of his friend playing a guitar. The legendary guitarist looked so sexy, I didn't recognize him.
He might be 61 years old, but I think this is the best he has ever looked. Whatever he is doing, he needs to keep it up. He truly is getting better with age and you can't Beat It!

---
I'm hot for Eddie Van Halen!
September 30th, 2013 under Van Halen. [ Comments:

none

]

Maybe someone needs to place a 5150 on me because I want to For Unlawful Carnal Knowledge Eddie Van Halen. When did the teacher get so hot again? I don't remember the last time he made me Jump, but Right Now he is making me feel like it's 1984 and we are in Panama-a-a-a!

---
Eddie Van Halen's surgery forces Van Halen to cancel more shows
August 29th, 2012 under Van Halen. [ Comments:

none

]

Van Halen hit the road on January 5th and for the second time this year they have postponed several dates. The first time was because they took on too many dates, but this time it is because Eddie Van Halen suffered complications from a surgery and will need several months to recover. The band announced the news on their site by saying, "Eddie Van Halen underwent an emergency surgery for a severe bout of Diverticulitis. No further surgeries are needed and a full recovery is expected within 4 – 6 months." According to KSDK he went in to have surgery to deal with the Diverticulitis, but he popped some of the stitches and that caused an infection. He spent three weeks in the hospital and now he's at home recovering for the next few months.
Their November tour in Japan is postponed until he gets better which hopefully will be soon!

---