Doesn't look like David Lee Roth is ready to Jump into retirement
October 12th, 2021 under Van Halen. [ Comments: none ]
Earlier this month, David Lee Roth told The Las Vegas Review-Journal that he was "throwing in the shoes" after his 5-date residency in Las Vegas. The 67-year-old singer claimed to them, "my doctors, my handlers, compelled me to really address that every time I go onstage, I endanger that future." It is a future he didn't think he would have when he was younger. Diamond Dave thought he would go before his bandmate Eddie Van Halen, who passed away a year ago this week.
With a statement like that, you would think that this would be his final curtain call. However, the poster for those shows reads, "The Last Tour. Unless It Isn't."
That is why I never trust anyone when they say this is my last tour. Didn't Cher say that? The Police? The Cure? Barbra Streisand? The Who? Mötley Crüe? And some of them are still touring.
So unless they are dead and buried like Michael Jackson, who died before his comeback, I never believe the fat lady sang until I hear her do it at their funeral.
Sh!t, even then, it might not be over because of this thing called holograms. I still can't believe pay to see that.
Anyways, back to Roth. Tickets are available for his five "final" concerts at the Hard Rock in Vegas on December 31st, January 1st, 5th, 7th, and 8th here.

---
RIP Eddie Van Halen
October 6th, 2020 under Obits, Van Halen. [ Comments: none ]





Eddie Van Halen lost his battle with throat cancer today at the age of 65. His son, Wolfgang, broke the news on Twitter. "I can't believe I'm having to write this, but my father, Edward Lodewijk Van Halen, has lost his long and arduous battle with cancer this morning.
"He was the best father I could ever ask for. Every moment I've shared with him on and off stage was a gift.
"My heart is broken and I don't think I'll ever fully recover from this loss.
"I love you so much, Pop."
Eddie was known as a Guitar Gd for the strumming he did with the band he founded. Van Halen got their start in 1972, but they would not release their debut album until 1978. While the band had some commercial success with their first five albums, their sixth album launched them into superstardom. 1984, garnered them several hits including Jump, Panama, and Hot for Teacher.
After the global success of that album, they lost their lead singer, David Lee Roth, and gained a new one with Sammy Hagar. Crazy, right? So crazy, they named their first album together 5150. That CD and singer gave them a few more hits with Why Can't This Be Love and Dreams.
Eventually, they lost Hagar and reunited with Roth. They had a few reunion tours, with Eddie's only son Wolfgang playing bass, but have not toured in a while.
Along with Van Halen, he had several guitar solos with other artists. You can hear his magic fingers on Michael Jackson's Beat It. After listening to Van Halen's 1978 instrumental song Eruption, you can understand why people wanted to riff with him.
Van Halen has been dealing with cancer on and off since 2000.
Today, let's rock out to Van Halen and keep Eddie's vivacious spirit alive.

---
Eddie Van Halen is still a kid at heart
June 24th, 2019 under Van Halen. [ Comments: none ]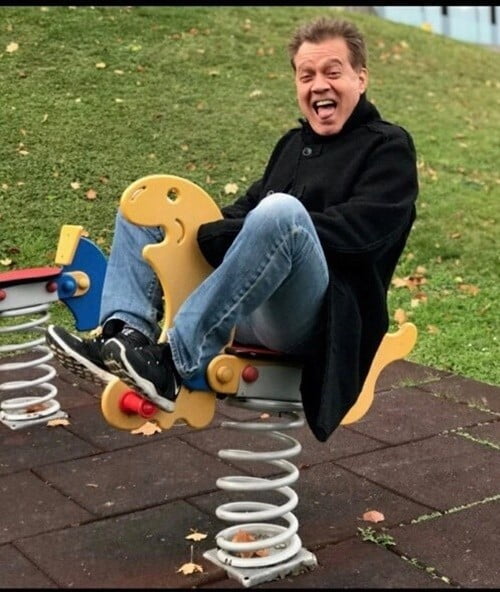 Eddie Van Halen might be 64 years young, but he can still act like he did when he 6 or 4. That's because the guitarist spent the first day of summer riding on a spring horse at a park.
I guess he was there because he is still hot for teacher. Therefore, don't call a 5150 out of him because he is just on top of the World. Can you blame him? It's summer, let's enjoy it like we did when we were the same age as the kid on the 1984 album cover!

---
Patty Jenkins responds to Ryan Murphy copying 1984 for AHS's title
April 12th, 2019 under American Horror Story, DC Comics, Van Halen. [ Comments: none ]

Earlier this week, Ryan Murphy announced that the latest installment of American Horror Story will be called 1984. However, we also heard that year being used in a title for one of the most anticipated movies of next year. Wonder Woman 2 is also already taking place in the same year that Footloose, Gremlins, Nightmare on Elm Street, Revenge of the Nerds, Karate Kid, Ghostbusters, Beverly Hills Cop, Splash, Spinal Tap, Children of the Corn, Streets of Fire and Police Academy came out.
How does director Patty Jenkins feel about Murphy stealing her thunder? She wrote, "Dear @MrRPMurphy #AHS1984. Wow, what a great title!!! Oh… wait a minute. Uh… Love, #WW1984"
Say, say, say, forget Deniece Williams' Let's Hear It For the Boy because this time it is all about let's hear it for the girl. I am sure you might think that is a diss, but I think we can all agree girls just want to have fun.
Hello, let's go crazy and admit that 1984 was a thriller, therefore you cannot blame them for having an infatuation with it. Therefore, I'm so excited and head over heels for both projects, so let's jump, get footloose, raise 99 luft balloons and cum on feel the noize for both 1984s.
UPDATE: Ryan Murphy was like you think you can take on me, you can't. Therefore, he responded to her by writing, "Dear @PattyJenks #WW1984. Wow, what a great title!!! Oh… wait a minute. Uh… Love, #GeorgeOrwell's1984 ;)"
Now, it is up to George Orwell to respond. Oh…wait a minute. Since he is dead, maybe Van Halen will weigh in cause they have has an album with the same name since, well, 1984. The band can show both directors a house of pain.

---
Eddie Van Halen looking great!
July 7th, 2016 under Van Halen. [ Comments: none ]

I don't know about you, but I haven't seen Van Halen in a while. Therefore, I haven't seen Eddie Van Halen in all of that time other.
Yesterday, Bryan Adams and him hung out before a show and the Canadian Rocker shared a video of his friend playing a guitar. The legendary guitarist looked so sexy, I didn't recognize him.
He might be 61 years old, but I think this is the best he has ever looked. Whatever he is doing, he needs to keep it up. He truly is getting better with age and you can't Beat It!

---