Monarch is the first show to be cancelled
December 8th, 2022 under Fox, Susan Sarandon, Trace Adkins. [ Comments: none ]
It is December, and we just learned what is the first broadcast scripted show that won't be back for another season on Fox. That title goes to Monarch.
Never heard of it? It was a Country Music Soap Opera that starred Trace Adkins and Susan Sarandon. Well, they lied about the latter because they killed her off in the first episode. Not that that was a bad thing. But they kept pushing that she was starring in the series.
When it comes to the show, I tried watching it, but after three episodes, I stopped. I just couldn't do it anymore, and I have low standards. Since it is all about me, that is why it won't be back. Not that it did terribly in the ratings.

---
Fox moves Monarch to the Fall
January 13th, 2022 under Fox, Susan Sarandon, Trace Adkins. [ Comments: 1 ]
https://www.youtube.com/watch?v=eywJu5RiDk0
Monarch, the County Music Primetime Soap that stars Trace Adkins and Susan Sarandon, was supposed to debut at the end of the month. However, Fox announced yesterday, they are holding the drama until the Fall.
"With an incredible pedigree of talent and musical performances, the powerfully compelling drama, MONARCH, is a top priority for FOX Entertainment in 2022. Unfortunately, due to the unavoidable realities of the pandemic and the profound impact Covid-19 continues to have on our industry and around the world, it is necessary to reschedule MONARCH's January 30 debut to the Fall. As the cornerstone of FOX's new 2022-23 slate, shifting a show of this magnitude allows us to have its entire first season produced, create additional, high-profile content and promotional windows to support launch, and give our viewers the best opportunity to enjoy the series as intended with a non-compromised run of episodes. We thank our cast, producers, writers and the entire crew for their tireless work and continued dedication to the country music-filled world that is MONARCH."
Personally, I am bummed. I was looking forward to it. But, I can wait a few months for the series to debut.
No word, what show will replace it, but I am sure Fox will tell us soon enough.

---
BTWF: Trace Adkins being interviewed by KLFY TV-10
October 27th, 2021 under Before They Were Famous, Trace Adkins. [ Comments: none ]
Before Trace Adkins was one of Country's biggest solo artists, he was in the band Bayou. How weird is it to see him without a beard in 1985 when he was just 23 being interviewed by KLFY TV-10?

---
Are you ready for the Country version of Empire that's coming to Fox?
October 27th, 2021 under Fox, Galavant, Susan Sarandon, Trace Adkins. [ Comments: none ]
Susan Sarandon is going Country with Trace Adkins as her husband in Fox's new show Monarch. After watching the first trailer, I am all in like a cowboy impregnating his prized horse with some champion sperm. That sounds so wrong, but I have only lived in big cities, so this Yankee does not know any country references.
Maybe I will learn some when I watch the drama that debuts with a two-night event starting on January 30th and concluding February 1st on its regularly scheduled night.
For those of you, weren't as turned on with the show as I was after watching the trailer, here is what it is about. In MONARCH, reigning King of Country Music ALBIE ROMAN (Adkins), along with his insanely talented, but tough as nails wife, Queen of Country Music DOTTIE CANTRELL ROMAN (Sarandon), have created a country music dynasty. But even though the Roman name is synonymous with authenticity, the very foundation of their success is a lie. And when their reign as country royalty is put in jeopardy, heir to the crown NICOLETTE "NICKY" ROMAN (Friel) will stop at nothing to protect her family's legacy, while ensuring her own quest for stardom, alongside her brother, LUKE ROMAN (Sasse), and sister, GIGI ROMAN (Ditto).
The drama also stars Anna Friel, Josh Sasse, Beth Ditto, Meagan Holder, Inigo Pascual, Martha Higareda. and Emma Milani.
They better get the mechanical bull ready for me to sit on because that is where I will be watching the series from. Yeehaw!

---
Blake Shelton marries Trace Adkins
October 13th, 2019 under Blake Shelton, Trace Adkins. [ Comments: 1 ]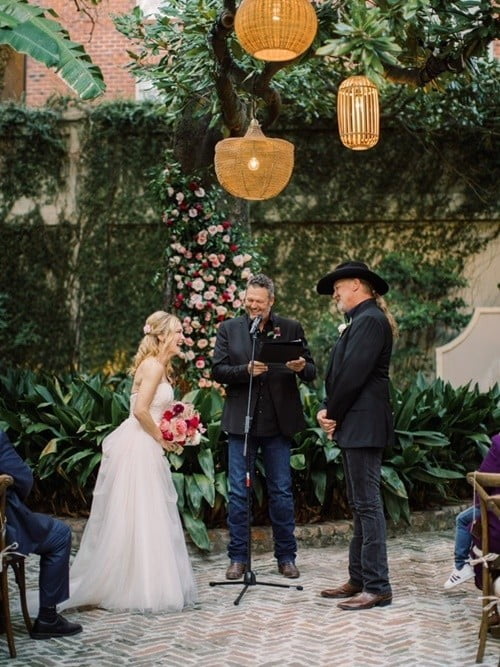 Now that we got the clickbait out of the way. Trace Adkins married actress Victoria Pratt in New Orleans yesterday and Blake Shelton was the one who got them to say I do.
According to Taste of Country,, the two met when they worked together on the 2014 movie The Virginian and have been dating for a while.
This is the 57-year-old's fourth marriage. Hopefully, it will go better than his second one. That is because that wife shot him in the heart. Things I learned by reading his autobiography.

---