Will there be a Dancing with the Stars in fall?
May 14th, 2020 under Dancing with the Stars, Tom Bergeron. [ Comments: none ]

Due to the coronavirus, the fall schedule of broadcast television is pretty much up in the air for most shows including Dancing the with the Stars.
Today when Tom Bergeron was on Extra, they asked him if the ballroom will be open in the fall. He says, "I think that is the hope." However, he added, "It's hard to imagine, right now, a scenario where 700 people in an audience and 24 sweaty dancers can all be in the same room. We'll see if some variation of that is concocted."
There is a way they can do it remotely. So many dance studios are closed because it is not an essential business. Therefore, each couple can get their own studio. The judges and the hosts can go live from their homes. Sadly, there will be no studio audience. I think they would be worth the sacrifice to bring the dancing competition back in a few months.

---
Tom Bergeron gives good head!
October 29th, 2019 under Dancing with the Stars, Tom Bergeron. [ Comments: none ]
https://www.instagram.com/p/B4MDazUFg07/?igshid=j8aj6o44o7kl
Yesterday was Halloween night on Dancing with the Stars and everyone dressed up for the occasion. There was one person that was heads and shoulders above the rest and it was host Tom Bergeron. That is because he went as a head on a platter. Something that, thankfully, the network has not asked for. You know his head on a platter!

---
Even Tom Bergeron is not happy about Sean Spicer joining DWTS
August 21st, 2019 under Dancing with the Stars, Tom Bergeron. [ Comments: none ]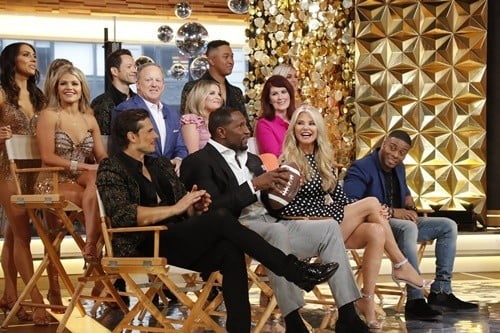 This morning on Good Morning America, they announced who will be dancing this season on Dancing with the Stars. There was one name that stood out and not in a good way.
People immediately took to Twitter to declare their disgust that they asked Sean Spicer to put on his Boogie Shoes. They were not alone, host Tom Bergeron was also not happy with the decision. However, his reason is a little different than theirs.
A few months ago, during a lunch with DWTS' new Executive Producer, I offered suggestions for Season 28. Chief among them was my hope that DWTS, in its return following an unprecedented year-long hiatus, would be a joyful respite from our of inevitably divisive bookings from ANY party affiliations. I left that lunch convinced we were in agreement.

Subsequently (and rather obviously), a decision was made to, as we often say in Hollywood, "go in a different direction."

It is the prerogative of the producers, in partnership with the network, to make whatever decisions they feel are in the best long term interests of the franchise. We can agree to disagree, it's their call. I'll leave it to them to answer any further questions about those decisions.

For me, as host, I always gaze into the camera's lens and imagine you on the other side, looking for a two hour escape from whatever life hassles you've been wrestling with. That's a connection, and a which I take very seriously, even if I occasionally season it with dad jokes.

Hopefully, when Erin Andrews and Rook into those lenses again September 16, you'll be on the other side looking back, able to enjoy the charismatic pro dancers, the unpredictable judges and the kitschy charm exhausting political climate and free as we do now, but ultimately responsibility, on that has defined DWTS since 2005.
I side with Bergeron on this. We get way too much politics during the day, I want to escape it with primetime TV. Hopefully, this show will still be an escape.
Although, I wonder if the man, who hid in the bushes at the White House, will be brave enough to deal with all of the controversy he is bringing to the dancing competition. As in, will he quit before the show premieres on Septemeber 16th? Or go for the easy way out and claim he was injured and have to bow out like Jewel and Nancy O'Dell?
How do you feel about Sean Spicer being on DWTS?

---
Tom Bergeron's granddogger cannot wait to see him!
August 20th, 2018 under Tom Bergeron. [ Comments: none ]

Tom Bergeron has been away for three months, so that means that he has not seen some of his family in all of that time. One of those relatives is his granddoger. As soon as Alba saw her grandfather, she could not control herself. She was jumping up and down, wagging her tail and licking him like crazy. If that is not love, then I do not what is!
We are used to seeing him with bitches on Dancing with the Stars, therefore it is nice to see him with a female dog in love that truly devoted to him. How can you not adore him, he is the most lovable reality show host on television? Also the wittiest one.
Now back to him and Alba, it makes me want to trade my cat in for a puppy. When was the last time a cat greeted their best friend like that? When I come back from vacation, my kitty runs away from me instead of towards me like pretty Miss Alba.
Talking about pretty, didn't this video make you pretty happy. It is a Monday during the summer and we are stuck working in the gloomy inside while the sun is shining outside. This arfdorable little dog treat makes the day a whole light brighter!
So bright, I think he should send it into America's Funniest Videos. Since he is not hosting that show anymore, he is able to submit this video. Right? I think it is worth the grand prize.

---
Who knew Tom Bergeron has all that under his shirt?
May 15th, 2018 under Tom Bergeron. [ Comments: 1 ]

We know that male pros on Dancing with the Stars have six-pack abs to write home about. Now we are finding out the host's chest is a 10-10-10 too.

Although, Tom Bergeron claims, "Since he posted an edited version, here's the complete text I sent to @SashaFarber. Note the careful placement of love-handle-hiding chair 😂." I don't know about you, but I don't see any love handles.

You know if DWTS wants to beat The Voice in the ratings, then all they have to do is have Bergeron go topless every week. I would tune in every week. Would you?

---