Prince Harry and Meghan Markle introduce us to Baby Sussex
May 8th, 2019 under The Princes of England. [ Comments:

none

]

On May 6th, Baby Sussex came into the world. Today, his proud parents, Prince Harry and Meghan Markle, introduced him to the world. While he does not have a name yet, he will be on more magazine covers later today than babies were born on the same day as him combined.
He is a beautiful baby boy. Motherhood is agreeing with his mother because I have never seen her look prettier than she did today. And I have watched Suits from day one.
BTW am I the only who heard her that she has picked up a little bit of British accent as she made to sure to thank everyone for all of their well wishes.
UPDATE: The Royal Family announced that Baby Sussex has a name and it is Archie Harrison Mountbatten-Windsor. According to Daily Mail's Rebecca English, he will not have a title and will go by Master Archie.
I love how happy Archie's great grandparents, Queen Elizabeth II and Prince Philip, are to meet their newest great-grandchild.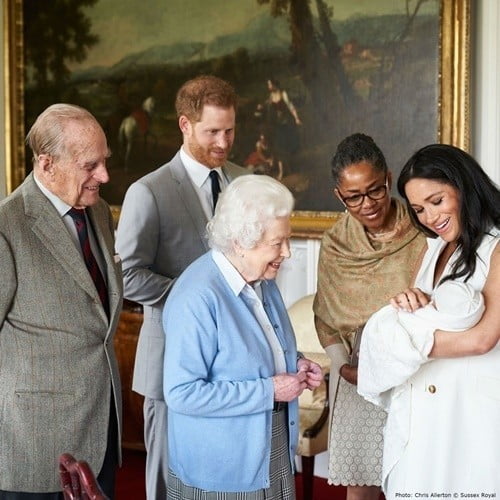 UPDATE 1: Emily Andrews from The Sun explained Master Archie's title better. She wrote, "Harry & Meghan have chosen not to use courtesy titles (such as Harry's Scottish title Earl of Dumbarton) so it'll be Master Archie Harrison Mountbatten-Windsor. When Charles is King he'll automatically become Prince Archie, but he (or his parents) may choose not to use it."
UPDATE 2: Master Archie already has his own webpage on the British Royal website.
---
The Baby of Sussex is here!
May 6th, 2019 under The Princes of England. [ Comments:

none

]

Prince Harry and Meghan Markle welcomed their first child together today, 13 days before their first wedding anniversary.
The Sussexes released this statement, "We are pleased to announce that Their Royal Highnesses The Duke and Duchess of Sussex welcomed their firstborn child in the early morning on May 6th, 2019. Their Royal Highnesses' son weighs 7lbs. 3oz.
"The Duchess and baby are both healthy and well, and the couple thank members of the public for their shared excitement and support during this very special time in their lives.
"More details will be shared in the forthcoming days."
The overjoyed Prince Harry told Sky News that they we will meet the Baby of Sussex in two days with his wife. Hopefully, by then they will have name for him. As of now they are still debating one. Although, he admitted more time to pick a name since the seventh in line to the throne was rumored to be a week late.
UPDATE: Meghan Markle's TV husband from Suits, Patrick J. Adam, had a message for the new mom. He wrote, "Just heard that the world just got heavier by 7 pounds and 3 ounces. Much love to him and his incredible parents. Learned first hand 7 months ago how transformational becoming a parent is and couldn't be happier for Meghan and Harry as they begin this adventure. #playdatesoon"
He and Troian Bellisario have a baby girl. Maybe their babies will enjoy their playdates so much, they will get married in the future! Would that be incestuous?
---
Prince Louis is getting so big!
April 22nd, 2019 under The Princes of England. [ Comments:

none

]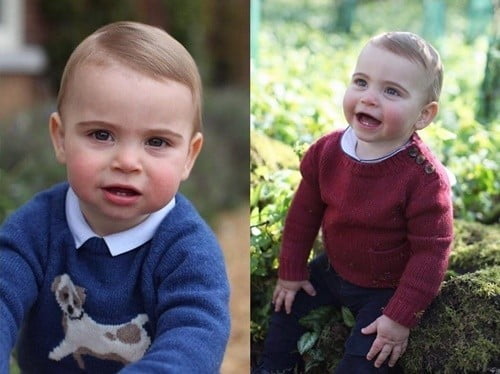 via Kensington Palace
Tomorrow is Prince Louis' firstoccasion already, can you believe it? In honor of the occassion, his parents Prince William and Kate Middleton shared a photo of their youngest child that she took at their home in Norfolk earlier this month.
Prince Louis looks a little different than his older siblings Prince George, 4, and Princess Charlotte, almost 3, who look almost identical. Even though he is not their triplet, he is absolutely awwwdorable. To me, he looks very posh, but you can tell he can be trouble. Like his sister, I bet he knows how to use his cuteness to get himself out of the trouble he gets himself into.
---
Prince Harry and Prince William's lack of interaction isn't helping the rumors
April 21st, 2019 under The Princes of England. [ Comments:

none

]

Today the British Royal Family got together to celebrate Easter and Queen Elizabeth's 93rd (happy birthday). Prince Harry, who showed up without his very pregnant wife, Meghan Markle, and Prince William seemed to ignore each other. While the younger Prince spoke with his sister-in-law Kate Middleton from a distance, the two brothers seemed, literally and figuratively, distant. Which makes you wonder if there really is a feud between them.
In fact, Richard Palmer, who writes for the Daily Express, said today that, "Buckingham Palace is not denying a report that officials have discussed sending Harry and Meghan to Africa as a way of capitalising on their appeal to young people in the Commonwealth."
These boys need to make up soon because the people of the World need Princess Diana's sons to get along. If they can't be all lovey dovey, then what siblings can.
---
Prince Harry and Meghan Markle keeping baby details quiet
April 11th, 2019 under The Princes of England. [ Comments:

none

]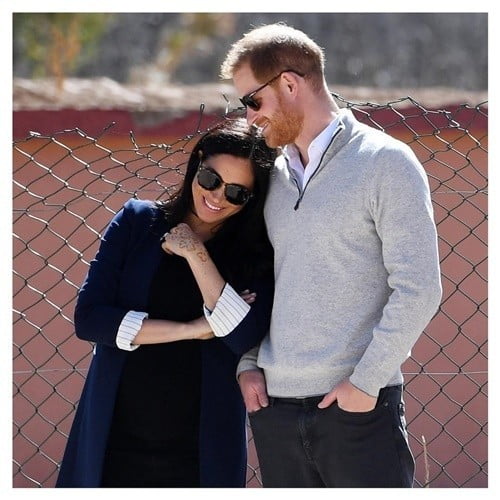 Meghan Markle has been changing up things in the British Monarchy and it will be no different for Baby Sussex.
Today Buckingham Palace announced The Sussex's birthing plan, "The Duke and Duchess of Sussex are very grateful for the goodwill they have received from people throughout the United Kingdom and around the world as they prepare to welcome their baby. Their Royal Highnesses have taken a personal decision to keep the plans around the arrival of their baby private. The Duke and Duchess look forward to sharing the exciting news with everyone once they have had an opportunity to celebrate privately as a new family."
While we will not see Prince Harry and Markle's baby until it is a few days old, it is expected that the palace will let us know when the duchess is in labor along with a birth announcement when it is born.
It will be interesting to see if they will be able to get their request of privacy or if someone will sneak a snap before they are ready. Which might be a little hard because it is not known where she will give birth.
---