The Talk will be dark for another week
March 16th, 2021 under Talk Shows, The Osbournes. [ Comments: none ]

Last Wednesday, the ladies of The Talk had a heated debate over Piers Morgan. Sharon Osbourne defended him on social media, and then she had to defend herself on the daytime talk show for doing so. She played the victim, and her co-hosts were not having it.
On Thursday, the show went on with no mention of what happened the day beforehand. However, there were rumors there was tension behind the scenes, not only with her co-hosts but also with the crew. Therefore, on Sunday, they announced that the show was going to take Monday and Tuesday off to investigate it all.
It appears that they need more time to investigate because they will be in repeats until next Tuesday.
"CBS is committed to a diverse, inclusive and respectful workplace across all of our productions. We're also very mindful of the important concerns expressed and discussions taking place regarding events on The Talk. This includes a process where all voices are heard, claims are investigated and appropriate action is taken where necessary," CBS said in tbis statement to Deadline. "The show will extend its production hiatus until next Tuesday as we continue to review these issues."
I still think it will end with Osbourne leaving the show. But anything can happen, and they might give her some time off so things can calm down. We shall see.
The real loser of all of this is Amanda Kloots. They were going to throw her a birthday party on Thursday. I guess that is off.

---
The Talk is taking a 2-day hiatus to investigate Sharon Osbourne's debate
March 15th, 2021 under The Osbournes. [ Comments: none ]

On Tuesday, the talk around the world shifted from Oprah Winfrey's interview with Prince Harry and Meghan Markle to Piers Morgan quitting Good Morning Britain over what he said about the Duchess. Shortly after the news broke, his friend Sharon Osbourne defended him on Twitter.
Anyone, who is smart to social media these days, knows that was not a smart move. Therefore, they talked about it on The Talk. Osbourne played the victim and continued to defend him. She cried, she said I am not racist, and she got defensive. Sheryl Underwood tried to explain to her co-host why her tweet was so wrong, but Osbourne was not having it. That was the last we heard about it on the daytime talk show.
However, the debate continued to make headlines. Osbourne sent out a tweet on Friday apologizing for what happened and said she was taking the time to listen and learn.
She will have two more days to do it. That is because Deadline is reporting that the show will be pretaped today and tomorrow so they can investigate the matter.
"We are committed to a diverse, inclusive and respectful workplace," CBS said in a statement Friday night. "All matters related to the Wednesday episode of The Talk are currently under internal review."
Meanwhile, a source told E!, "Several employees reached out to HR after Wednesday's show because of the way Sharon Osbourne handled the conversation," the insider claimed. "Sharon's defense of Piers Morgan felt like a triggering moment and it was very difficult for many of the staff to watch."
I have a feeling at the end of these two days; The Talk will be down another host. I think that CBS wants to get rid of Osbourne, and this is their way out. She is the only original host left on the show, and I am sure her salary is through the roof. They can get two hosts for the price of her. In a year, when every network took a financial hit, I am sure they want to trim as many costs as possible. Her salary would be a good start.
Plus, there have been rumors that The Talk might get cancelled so that the network can focus more on Drew Barrymore's show. If they get rid of Osbourne, then it might give the show another season. That would save a lot of people's jobs.
The only negative is that Osbourne is the reason why we talk about The Talk. Is the sacrifice worth it?
We might find out in two days. Should Sharon stay, or should she go?

---
Sharon Osbourne was hospitalized with COVID-19
December 14th, 2020 under Coronavirus, The Osbournes. [ Comments: none ]

Last week, Carrie Ann Inaba revealed that she tested positive for coronavirus. Today, her co-host Sharon Osbourne announced that she has it too.

"I wanted to share I've tested positive for Covid 19," Osbourne wrote. "After a brief hospitalization, I'm now recuperating at a location away from Ozzy (who has tested negative) while 'The Talk' is on scheduled hiatus. Everyone, please stay safe and healthy."

I hope she has a speedy recovery and that Ozzy doesn't make too much of a mess in their house while she is away.

---
Aimee Osbourne explains why she didn't do The Osbournes
August 5th, 2020 under The Osbournes. [ Comments: 1 ]

Most people think that Sharon and Ozzy only have two kids, Jack and Kelly. However, they have a third child, Aimee. The reason why we don't know her as well as her siblings is because she opted not to do The Osbournes for MTV.
Over the weekend, when she was talking to Johnathan Clarke of Out of the Box about her band ARO's new music, she explained why she didn't do the reality show. Aimee said, "To me, I'd grown up around having a pretty well-known dad anyway, and I always really valued my privacy within that family.
"For me personally, for who I am, as far as morally, and also just to give myself a chance to actually develop into a human being as opposed to just being remembered for being a teenager, it didn't really line up with what I saw my future as."
While she opted not to do the show, she says it worked out well for her family. It is just not what she pictured for her life. In the long run, she was able to establish who she wanted to be more than her siblings. She was able to carve out the life she wanted and not the one the public wanted for her. I think she was the smartest one of them all.
Aimee also gave an update on her dad. She says that he is swimming two hours a day and is doing great.

---
Sharon Osbourne goes grey
February 18th, 2020 under The Osbournes. [ Comments: 4 ]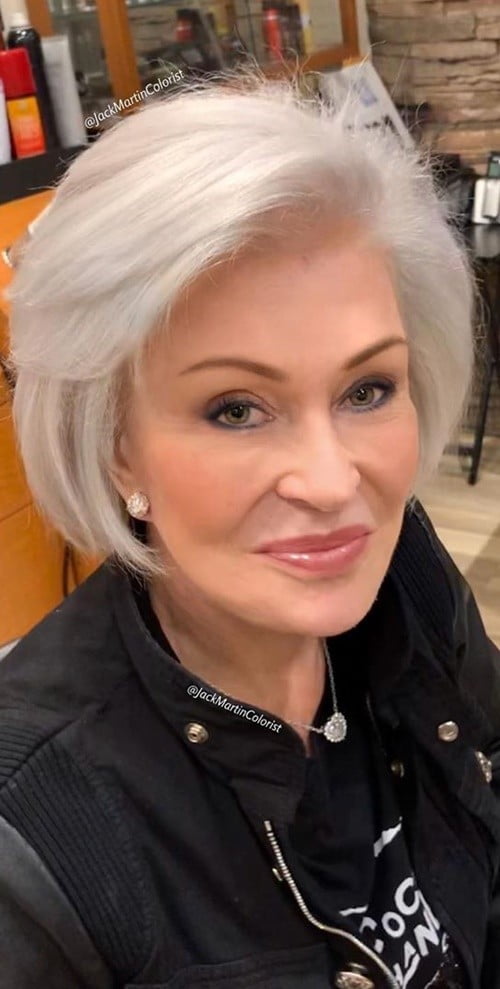 Sharon Osbourne did a Jane Fonda, and finally accepted her grey hair. The TV host went to colorist Joe Martin, and he spent 8 hours washing out the dark vibrant red. She has been coloring her locks that color for 18 years when she secretly went white. Now, she can spend more time with her husband, Ozzy Osbourne, than her colorist.
When it comes to how she looks, forget the facelift she got, this makes her look 18 years youngers. She should have done it a long time ago.

---