Sharon Osbourne goes grey
February 18th, 2020 under The Osbournes. [ Comments:

6

]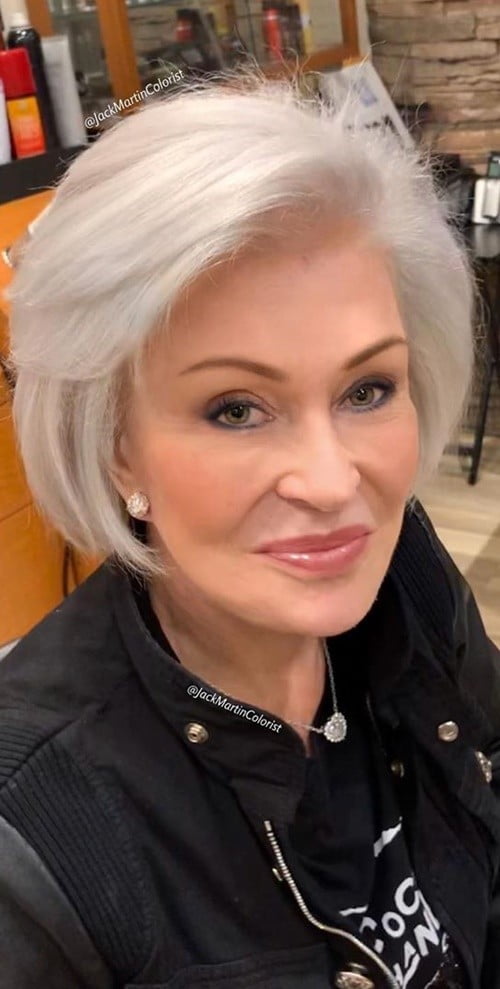 Sharon Osbourne did a Jane Fonda, and finally accepted her grey hair. The TV host went to colorist Joe Martin, and he spent 8 hours washing out the dark vibrant red. She has been coloring her locks that color for 18 years when she secretly went white. Now, she can spend more time with her husband, Ozzy Osbourne, than her colorist.
When it comes to how she looks, forget the facelift she got, this makes her look 18 years youngers. She should have done it a long time ago.
---
Ozzy Osbourne's No More Tours 2 is living up to its name
February 17th, 2020 under The Osbournes. [ Comments:

none

]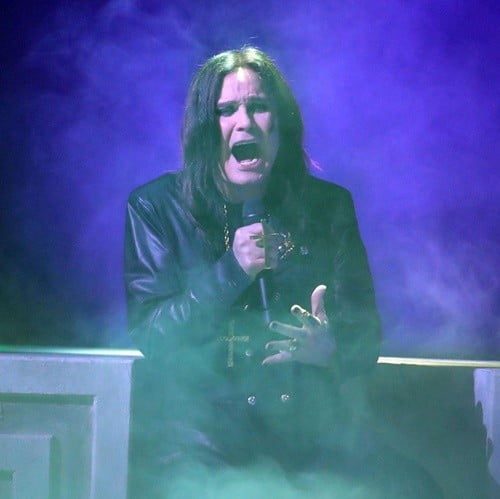 In 2018, Ozzy Osbourne canceled his tour due to health issues. Last month, we found out he is dealing with Parkinson's, and he promised to go on with the show. Today, he announced that he is canceling all of his North American tour dates that were supposed to start in May.
His rep says that he is still dealing with health issues and needs more time to recover. Osbourne added, "I'm so thankful that everyone has been patient because I've had a sh!t year." Then he continued "Unfortunately, I won't be able to get to Switzerland for treatment until April and the treatment takes six-eight weeks.
"I don't want to start a tour and then cancel shows at the last minute, as it's just not fair to the fans. I'd rather they get a refund now and when I do the North American tour down the road, everyone who bought a ticket for these shows will be the first ones in line to purchase tickets at that time."
Hopefully, after he goes to Switzerland, he will be well enough to perform. That is what keeps his spirit alive, and him too.
---
Ozzy Osbourne reveals he has Parkinson's
January 21st, 2020 under The Osbournes. [ Comments:

none

]

2019 was not a good year for Ozzy Osbourne. He fell in February and had to get surgery on his neck. He told Robin Roberts on Good Morning America today that the surgery caused some damage to his nerves. Around the same time, he was diagnosed with a form of Parkinson's that affects his nerves.
The diagnosis is not a death sentence and he is not on his death bed as it has been reported. However, since then he says, "I got a numbness down this [right] arm for the surgery, my legs keep going cold,". Doctors are unsure which is causing the numbness since both can do it. That is why in April, he and Sharon will be going to Switzerland to work with a doctor who specializes in his type of Parkinson's.
He is doing all of this so that he can go back on the road. The rocker says that touring and his fans are his drug of choice now. Although, he is on a lot of prescription drugs for the disease.
Sharon told Roberts, she needs to be strong for her family and Ozzy. If she breaks down, so will they. The talk show host also said that she cannot wait for Ozzy to go back on the road because he is driving her crazy. "Sssssshhhhhhhaaaaaaarrrrrrooooooonnnnnnnn." This is the longest he has been home since they were married.
While he is still not ready to go back on tour, he is working on new music. That is something the nerve damage won't take away from him. After all, he is the Prince of Darkness.
Wouldn't it be fitting if the doctor in Switzerland told him that he needed bat's blood to get better? Whatever the doctor does, let's hope it makes him well enough to perform live again.
If it does work, then can someone send Neil Diamond to him. That polar opposite singer is also battling Parkinson's and retired from the road because of it.
To see how Kely and Jack Osbourne have been dealing with their dad's diagnosis, then click here!
---
Donny Osmond has some advice for The Talk ladies on working with Marie
May 7th, 2019 under The Osbournes, The Osmonds. [ Comments:

none

]

The Talk made it official today that Marie Osmond will be joining the daytime talk show in September. She is filling the seat that will be vacated by Sara Gilbert. The Conners' actress said she is leaving the show to spend more time with her family.
This is not the first time Marie has done a daily talk show. She and her brother had one for almost 2 years in the late '90s. Therefore, Donny Osmond knows what it is like to work with his sister. Especially since they spent the last half a century doing just that. Anyways, he has some advice for Sharon Osbourne, Eve, Carrie Ann Inaba and Sheryl Underwood. His words of wisdom are, "Ladies of #TheTalk, good luck getting a word in edgewise… I've been trying for years!😆"
That is what is going to get me to tune. I do not think that the two lady Os are going to like not being #1. They are going to talk over each other to be the alpha female. I think it is going to get Rosie O'Donnell/Elisabeth Hasselbeck good at some point during the season. Something, I think, the show needs. It is why we like The View more, we want to see a fight!!!
---
Ozzy Osbourne cancels all of his 2019 tour dates
April 4th, 2019 under The Osbournes. [ Comments:

none

]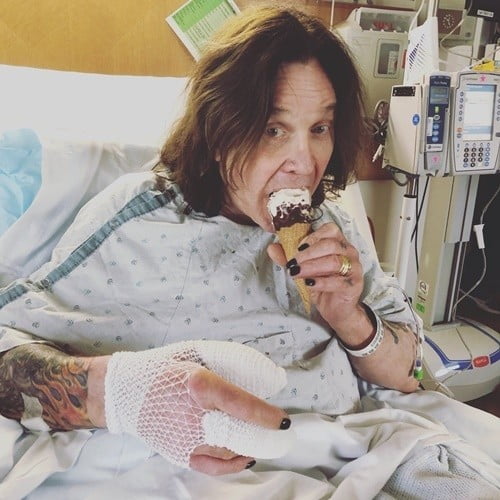 2019 is not Ozzy Osbourne's year. Back in October, he postponed several tour dates due to an infection in his hand that required surgery. Then in January, he had to postpone even more tour dates because he developed pneumonia. Today, he announced that he is just going to postpone all the dates for this year.
OZZY will postpone all his 2019 tour dates, inclusive of shows in North America and Europe, as he recovers from an injury sustained while dealing with his recent bout of pneumonia. The Rock and Roll Hall of Fame inductee and Grammy®-winning singer and songwriter and 2019 Grammy® Special Merit Award recipient fell at his Los Angeles home aggravating years-old injuries (from his 2003 ATV accident) that required surgery last month. OSBOURNE will remain under doctor's care in Los Angeles as he recovers.

Says OZZY: "I can't believe I have to reschedule more tour dates. Words cannot express how frustrated, angry and depressed I am not to be able to tour right now. I'm grateful for the love and support I'm getting from my family, my band, friends and fans, it's really what's keeping me going. Just know that I am getting better every day…I will fully recover…I will finish my tour…I will be back!"
According to CBS News during that 2003 accident, "he had a fractured left collarbone, he had some damage to the blood vessel that is underneath it, he had eight fractured ribs on the left side and, in addition to that, an entirely stable fracture to one of the vertebrae in his neck." No word which old injury was aggravated by the fall.
Also, I don't know what was in that bat's blood, but it seems to have made him immortal.
---