Donny Osmond has some advice for The Talk ladies on working with Marie
May 7th, 2019 under The Osbournes, The Osmonds. [ Comments:

none

]

The Talk made it official today that Marie Osmond will be joining the daytime talk show in September. She is filling the seat that will be vacated by Sara Gilbert. The Conners' actress said she is leaving the show to spend more time with her family.
This is not the first time Marie has done a daily talk show. She and her brother had one for almost 2 years in the late '90s. Therefore, Donny Osmond knows what it is like to work with his sister. Especially since they spent the last half a century doing just that. Anyways, he has some advice for Sharon Osbourne, Eve, Carrie Ann Inaba and Sheryl Underwood. His words of wisdom are, "Ladies of #TheTalk, good luck getting a word in edgewise… I've been trying for years!😆"
That is what is going to get me to tune. I do not think that the two lady Os are going to like not being #1. They are going to talk over each other to be the alpha female. I think it is going to get Rosie O'Donnell/Elisabeth Hasselbeck good at some point during the season. Something, I think, the show needs. It is why we like The View more, we want to see a fight!!!
---
Ozzy Osbourne cancels all of his 2019 tour dates
April 4th, 2019 under The Osbournes. [ Comments:

none

]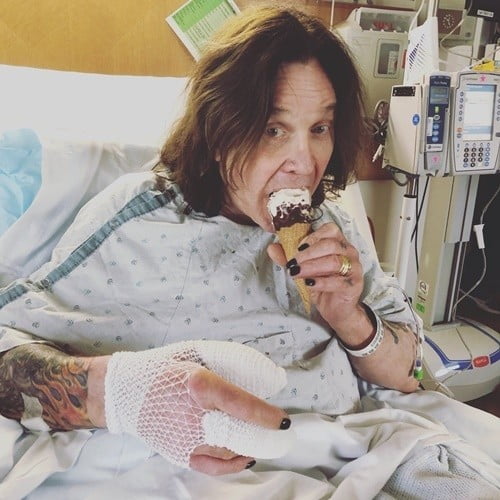 2019 is not Ozzy Osbourne's year. Back in October, he postponed several tour dates due to an infection in his hand that required surgery. Then in January, he had to postpone even more tour dates because he developed pneumonia. Today, he announced that he is just going to postpone all the dates for this year.
OZZY will postpone all his 2019 tour dates, inclusive of shows in North America and Europe, as he recovers from an injury sustained while dealing with his recent bout of pneumonia. The Rock and Roll Hall of Fame inductee and Grammy®-winning singer and songwriter and 2019 Grammy® Special Merit Award recipient fell at his Los Angeles home aggravating years-old injuries (from his 2003 ATV accident) that required surgery last month. OSBOURNE will remain under doctor's care in Los Angeles as he recovers.

Says OZZY: "I can't believe I have to reschedule more tour dates. Words cannot express how frustrated, angry and depressed I am not to be able to tour right now. I'm grateful for the love and support I'm getting from my family, my band, friends and fans, it's really what's keeping me going. Just know that I am getting better every day…I will fully recover…I will finish my tour…I will be back!"
According to CBS News during that 2003 accident, "he had a fractured left collarbone, he had some damage to the blood vessel that is underneath it, he had eight fractured ribs on the left side and, in addition to that, an entirely stable fracture to one of the vertebrae in his neck." No word which old injury was aggravated by the fall.
Also, I don't know what was in that bat's blood, but it seems to have made him immortal.
---
Ozzy Osbourne hospitalized for the flu
February 6th, 2019 under The Osbournes. [ Comments:

none

]

On January 24th, Ozzy Osbourne coughed so hard, he blew a blood vessel in his eye. Then five days later, he postponed his tour due to doctors orders because he is suffering from a severe upper respiratory infection. Today, his wife, Sharon Osbourne revealed he has been hospitalized.

After missing The Talk today, she wrote, "As some of you may have heard, Ozzy was admitted to hospital following some complications from the flu. His doctors feel this is the best way to get him on a quicker road to recovery. Thanks to everyone for their concern and love."

Hopefully, the 70-year-old singer will be better soon and bats will be fearing him once again.
---
Ozzy Osbourne has to postpone his tour again
January 30th, 2019 under The Osbournes. [ Comments:

none

]

Ozzy Osbourne was supposed to start his European tour today, but his doctors forced him to cancel it. The singer has a severe upper respiratory infection and doctors feel if he went on tour it might develop into pneumonia. Therefore, until he is given the all clear, he is stuck at home recovering.

If it were up to him, he would go on the road. He had a message for his fans, "I'm completely devastated for having to postpone the European leg of my tour. It just seems that since October everything I touch has turned to sh!t.

"First the staph infection in my thumb and now coming down with the flu and bronchitis. I want to apologize to all of my fans who have been so loyal over the years, my band, my crew and to Judas Priest for letting you all down. However, I promise the tour with Judas Priest will be completed. It's being rescheduled right now to start in September. Again, I apologize to everyone. God Bless. Love you all, Ozzy."

Hopefully, when he tries to hit the road again, he will have the Midas touch and not the sh!tty one.
---
Ozzy Osbourne created a must-have stuffed animal!
January 21st, 2019 under The Osbournes. [ Comments:

none

]

37 years ago, Ozzy Osbourne took the stage in front of a bunch of music execs and gave them the shock of a lifetime. That shock was biting the head off of a bat. The rest is what urban legends are made of.
That urban legend is coming to life with a $40 plush bat which comes with a detachable head. The perfect gift for any Black Sabbath fan or the warped aunt or uncle in your life. The latter will give it to their favorite young nieces and nephews just to see their reaction when the head comes off and then run away as their parents have to deal with the aftermath. 🤘 I already ordered one for all the kids in my life!
---