BWTF: Rosanna Arquette in Zuma Beach
January 5th, 2021 under Before They Were Famous, The Arquettes. [ Comments: none ]

Before Rosanna Arquette was a good girl in Desperately Seeking Susan, she was a bad one in Zuma Beach. She looks the same now as she did when she was 18 in that 1978 telemovie.

---
The Golden Globes left a literal mark on Joey King
January 6th, 2020 under Joey King, The Arquettes. [ Comments: none ]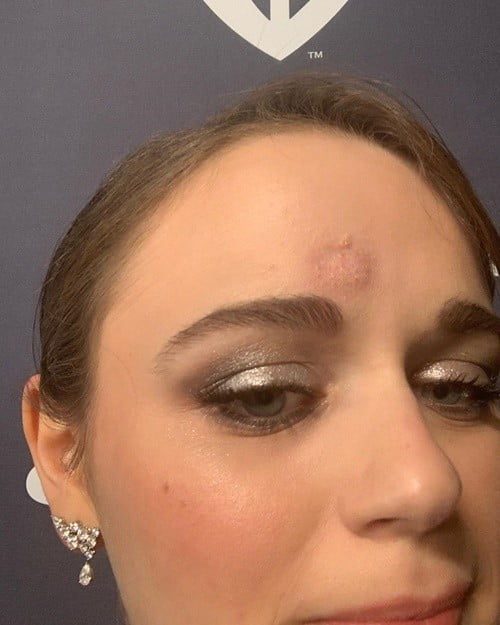 Joey King might not have won a Golden Globe yesterday for The Act, but she got something from the award that she won't soon forget. That is because her TV mom Patricia Arquette accidentally hit her in the head with the statuette she won earlier in the night. Leaving a bump on her head that you know is going to turn into a bruise.
Is the actress upset about it? Not at all because King wrote, "Not everyone can say Patricia Arquette accidentally hit them in the head with her Golden Globe. But I can," and "Patricia Arquette accidentally hit me in the head with her Golden Globe. That sentence will give me bragging rights for the rest of my life."
Good thing, the Hulu drama was only for one season. If not, then maybe King would have gotten her revenge on Arquette like her character finally did on the 8-part series.

---
Try to look at Salma Hayek and Patricia Arquette's eyes
January 6th, 2020 under Salma Hayek, The Arquettes. [ Comments: none ]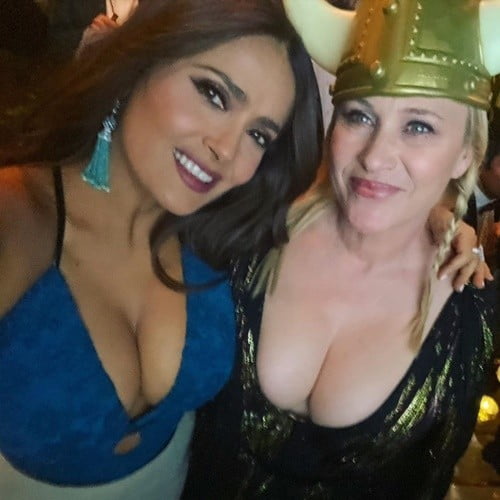 Salma Hayek was so happy her bosom buddy Patricia Arquette won a Golden Globe yesterday for Best Performance by an Actress in a Supporting Role in a Series for the Act, that they showed off their golden globes. I am straight woman with big boobs and even I cannot stop looking at them. Can you?

---
BTWF: Patricia Arquette and Dermot Mulroney in Daddy
September 24th, 2019 under Before They Were Famous, Dylan McDermott Dermot Mulroney, The Arquettes. [ Comments: none ]

Before Patricia Arquette had the perfect marriage on Medium, she was in a less than perfect relationship with her teenage baby Daddy. Her acting has come a long way since she was 18 in that 1987 movie. Also, did you notice her boyfriend is a 23-year-old Dermott Mulroney?
If you want to watch this movie, you can catch it on Tubi TV for free.

---
Patricia Arquette gave Joseph Gordon-Levitt his first kiss
August 1st, 2019 under James Corden, Joseph Gordon-Levitt, The Arquettes. [ Comments: 2 ]

Patricia Arquette was on The Late Late Show yesterday and James Corden asked her about being Joseph Gordon-Levitt's 'first-ever kiss.'
Back in the early '90s, she starred in Holy Matrimony with Gordon-Levitt and the two of them had to get married. In the film, the two belonged to a community that when a woman's husband dies, she has to marry his brother. In this case, it was the 12-year-old actor who had never been kissed.
Before the scene, Jane Gordon went up to Arquette and said that her son was nervous because it was his first kiss. Therefore, the actress went up to her co-star and told him, "Hey, this is just pretend. This really isn't your first kiss either. Like you get to have your own first real kiss."
Although for a preteen to tell all of his friends that his first kiss was with a woman twice his age, I think he would he would be OK with saying his first kiss was with her. Now it is creepy to think about it. However, back then, it was probably cool to him and his friends.
When it comes to the smooch, she said it was just a peck. She wanted to make sure we knew it was nothing more than that. Because that would be really icky.

---