Steven Spielberg can't avoid COVID
November 29th, 2022 under Coronavirus, Steven Spielberg. [ Comments: none ]
Steven Spielberg was all set to attend the Gotham Awards tonight to present to Michelle Williams, but he had to cancel at the last minute. Why? According to Variety, he tested positive before he was about to walk the red carpet.
The director is in NYC to promote his biopic The Fablemans, but all of his events are rescheduled for the time being.
Hopefully, the 75-year-old will be better by awards season because it sounds like his film will be nominated for several of them.

---
I didn't hate the new West Side Story trailer
September 15th, 2021 under Steven Spielberg. [ Comments: none ]
I have to admit; I have not wanted to see Steven Speilberg's take on West Side Story because it is his take. However, after watching the latest trailer, I am thinking he probably was the right director to do it.
He knows what makes a blockbuster, so he knows what it means to make a musical larger than life. Something you can see he is doing here.
He is going to throw it back to when musicals were huge productions on the big screen, like in the '50s and '60s. And not cheesy version of the Broadway versions ever since.
Maybe he will change how they have been done over the last 50 years by bringing back old school. And for that, I applaud him.
Will it be enough to get me to see it on December 10th? I will wait to see a full number before I decide. That is the only way I can be convinced.
Are you convinced?

---
West Side Story is so a Spielberg film
July 28th, 2021 under Steven Spielberg. [ Comments: none ]
There is a new trailer out for Steven Spielberg's West Side Story and there is no denying it is his movie.
There are some directors that when you see a movie of theirs, you know it is theirs without their name even being attached to it. They are directors like Quentin Tarantino, Martin Scorsese, Stephen Soderberg, Ron Howard, and Stephen Spielberg.
The latter brings a cheesiness to it, or maybe it is like a child's hopefulness that he created with E.T. the Extra-Terrestrial. It is his style, and he is bringing it, once again, to his first big screen musical.
I guess Cats isn't looking so bad now after watching the trailer for WWS.
Are you going to see the Jets and the Sharks battle it on December 10th, or will you be too busy with your own story?

---
Hold my hand, the first photo from West Side Story is released
June 17th, 2019 under Steven Spielberg. [ Comments: none ]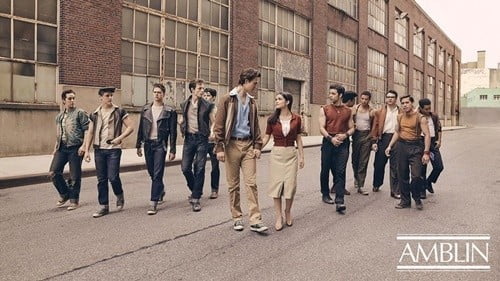 Amblin released the first photo from their upcoming movie West Side Story and I wonder will we "find a way of forgiving" Steven Spielberg for his attempt of remaking the musical? The Jets and the Sharks look so scrawny. When they get into a rumble, they will need to choreographed in order to distract us from how wimpy they are.
Now, you might be thinking that I am judging this film based on one photo. I am not. I am judging it on Spielberg's past overrated work since Schindler's List and lack of musical experience. He is more suited to do Fiddler on the Roof than this. It is all just so randumb, I mean random.
While that is I feel about it, are you going to be jetting to it like a shark on December 18, 2020?

---