Shemar Moore's suggestive photo
June 5th, 2019 under Shemar Moore. [ Comments:

none

]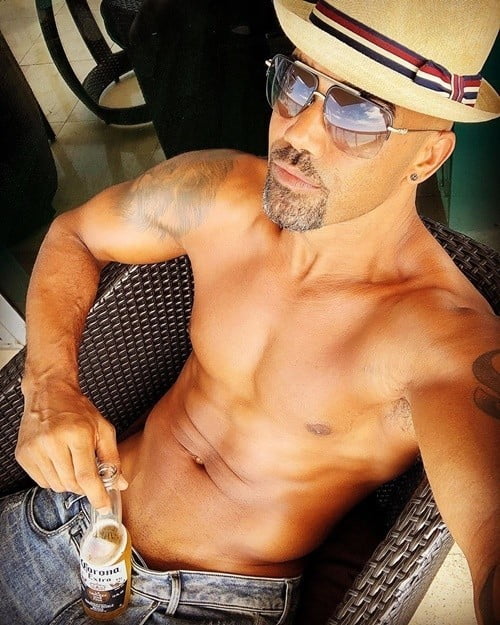 Shemar Moore shared a shirtless photo of himself with an open beer bottle over his crotch. Then he captioned it with, "Want a sip? 😉🙈😜" He is a naughty boy! Which is just how we like him.
---
The first look at Shemar Moore's return to Y&R to say goodbye to Kristoff St. John
April 19th, 2019 under Shemar Moore, TV Soaps. [ Comments:

none

]

Today, at the end of The Young & The Restless, CBS previewed what we can expect from next week's episodes that includes the death of Niel Winters. Since the show wants to send Kritoff St. John off properly, Christel Khalil, Eileen Davidson and Shemar Moore are all returning to say goodbye to their friend, both on the show and in real life.
Moore wrote this about his 2-episode return to the show, "Next week APRIL 25th & 26th I join my Y&R Family as Malcom Winters to pay tribute and say goodbye to my BEST FRIEND and BROTHER …. Kristoff St. John AKA Neil Winters ….. KRISTOFF ST. JOHN ….. NEVER FORGOTTEN ❤️ LOVED FOR ETERNITY … You live on in ALL of our HEARTS ♥️ "
Get the tissues ready because if these 30 seconds are just a hint of what we can expect starting on April 23rd, we are going to desperately need them.
---
How hard is it to get Shemar Moore to lift up his shirt?
March 1st, 2018 under Shemar Moore, Steve Harvey. [ Comments:

1

]

Shemar Moore was on The Steve Harvey Show yesterday and a fan wanted to know how many packs does he abs have. Is it is a 6-pack, 8-pack or more? He did not know the answer off hand, so he lifted up his shirt to count. He did not reveal the number he got, but I stopped counting at one. I was too distracted to go any higher. Too bad his shirt didn't go any higher than it did. If it did, I probably would not have even gotten to one.
Maybe he will be able to go topless on SWAT tonight at 10p on CBS. That is enough reason to watch that show.
---
Shemar Moore likes to ride the unicycle!
November 17th, 2017 under Harry Connick Jr, Shemar Moore. [ Comments:

none

]

Let's be honest when you heard Harry Connick Jr reveal to us that Shemar Moore was going to show off his secret talent, you thought it was going to be something to do with his abs. We are wrong. His secret talent is that he can ride an unicycle.
For someone who hasn't been on one in a decade, he did pretty well. Which the sadist in me is kind of upset about. Is that wrong I wanted to see him fall?
---
Has Shemar Moore hit hard times?
April 1st, 2016 under Shemar Moore. [ Comments:

none

]

Shemar Moore shared a video of himself cleaning his pool and offering to clean his Baby Girls' pools. So you have to wonder if the recently unemployed actor has hit some hard times? No, it is just the Criminal Mind enjoying some much needed R&R. Although, I would let him clean my pool, just don't tell him I don't have one.
---