A Hart of Dixie reunion
September 30th, 2019 under Rachel Bilson, Scott Porter. [ Comments: none ]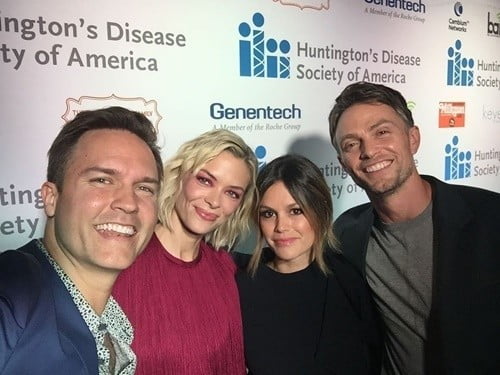 This weekend Rachel Bilson, Wilson Bethel and Jamie King came out to suppport Scott Porter at a cause very close to his heart, the Huntington's Disease Association of America. Porter's wife tested positive for the disease, so he thanked his former co-stars for supporting them.
The fact that they are all still close (and look so great together), makes me wonder why The CW does not revive this show. I want more and we know it will not be a Lemon for the network. Get it?

---
Rachel Bilson with her two Hart of Dixie lovers!
August 5th, 2019 under Rachel Bilson, Scott Porter. [ Comments: none ]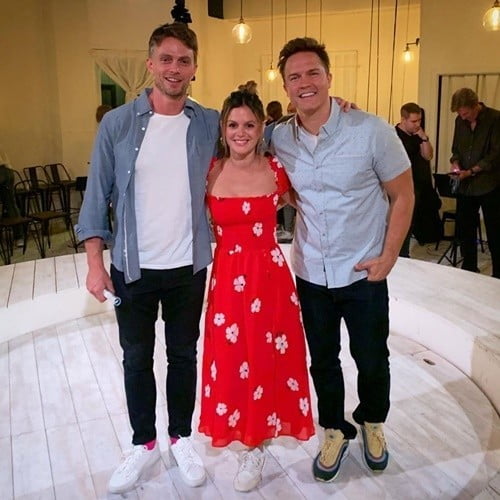 Scott Porter is starring in the play Five Years Later and two of his old co-stars came out to see him. Rachel Bilson and Wilson Bethel loved seeing their Hart of Dixie friend do his thang. Then when the show was over, they took this photo.
Seeing Zoe Hart with George Tucker and Wade Kinsella makes me wonder why the upcoming Warner Bros streaming service, HBO Max, has not picked up this sweet drama for at least another season. I am not the only one who feels this way. Bilson wrote, "…had a #hartofdixie reunion #longlivethehart #reboot ♥️"
Who else besides Bilson and I want to find out what is going on Bluebell today?

---
Scott Porter is a daddy again!
August 11th, 2017 under Scott Porter. [ Comments: none ]

Scott Porter and his wife of 4 years, Kelsey Mayfield, welcomed their second child yesterday. I am sure the little girl cannot wait to meet her big brother McCoy, 2, and vice versa. The proud parents did not release her name, but I am hoping they name her Dixie after his beloved show Hart of Dixie.

When it comes to his wife, she was diagnosed with Huntington's and she does not let it slow her down. Hopefully, the kids are slowing down the progression because they are the best medicine.

UPDATE: Scott Porter revealed her name and more on Twitter, "Hello, World!!! My name is Clover Ash Porter. I'm 9.3 lbs, 20 1/2 Inches, and have a 37.5 CM Head." Then he added, "After a long journey and a slight 32-Hour detour through Neonatal ICU for my lungs I'm finally with my Mommy and Daddy." And I am sure she is getting more love than we can imagine.

---
Surprise, Scott Porter is expecting baby #2!
April 17th, 2017 under Scott Porter. [ Comments: none ]

Scott Porter and his wife, Kelsey Mayfield, perfectly announced on Easter that the rabbit died. In other words, the loving couple is expecting their second child later this year. Not only are they excited about their growing family, so is their 22-month-old son McCoy.

---
Scott Porter's sexy Selfie!
March 31st, 2016 under Scott Porter. [ Comments: none ]

Scott Porter was stuck working late yesterday and had to miss an important date. He was supposed to go to Uncovered Final Fantasy XV, but he just couldn't get off in time. Instead, he took to Instagram to show off that he was all ready to go and even had the shirt on. But I wasn't looking at the shirt, I was staring at the whole package and how hot he looked in that full body Selfie. All I have to say is, "Pop! Goes my Hart of Dixie!"

---