Weird: The Story of Al Yankovic gets a premiere date
July 27th, 2022 under Harry Potter, Roku, Weird Al Yankovic. [ Comments: none ]
Weird: The Story of Al Yankovic is the most-anticipated film of the year. And today, we found out when it will debut on The Roku Channel. That date is November 4th. So mark your calendars because you don't want to miss it.
I expect the telemovie to sweep the Emmys with Daniel Radcliffe walking away with Best Actor as the man himself. It would be a travesty if he and the movie did not win.
Oh, and The Roku Channel is the new UHF! Get it?

---
Quinta Brunson gets her Oprah Winfrey on!
July 19th, 2022 under Roku, Weird Al Yankovic. [ Comments: none ]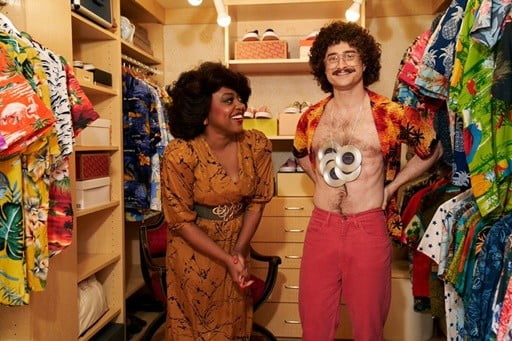 Roku/Twitter[/caption
Quinta Brunson is having quite the 2022! First, her ABC show Abbott Elementary is a huge hit! So much so, she and the sitcom got Emmy nominations.
If that is not enough amazing news for the actress, here is even more. And this is her biggest accomplishment to date! Brunson will be playing Oprah Winfrey in Roku's Weird: The Al Yankovic Story.
Do you know how many actors and actresses would do anything to play Lady O? And Brunson is actually doing it? What is left for her? I know, continue to make us laugh!

---
The Weird: The Al Yankovic Story trailer is magnificient 
May 3rd, 2022 under Harry Potter, Roku, Weird Al Yankovic. [ Comments: none ]
Roku released the first trailer for Weird: The Al Yankovic Story with Daniel Radcliffe in the title role.
All I will say is that Harry Potter worked his magic, both literally and figuratively, because that is brilliant. It reminds me of Weird Al's music video, I Lost on Jeopardy.
Radcliffe was born to play this role, and he deserves all the accolades he is going to get for it.
When it comes to the biopic, I can't wait to see what new things we learn about the most famous accordion player in the World!
The Movie of the Week is coming to The Roku Channel later this year. It is not the only thing coming to channel this year. To see what else will be streaming there for free, then click here!

---
Evan Rachel Wood is like a Madonna in the Weird Al Yankovic biopic
March 2nd, 2022 under Madonna, Roku, Weird Al Yankovic. [ Comments: none ]
In case you haven't heard, Roku is doing a biopic about Weird Al Yankovic with Funny or Die. Last week, we saw Daniel Radcliffe in character because he is playing the title role.
Today, we found out that Evan Rachel Wood will be playing Madonna, and Shlock Rocker shared a photo of her as the singer. Weird Al covered her song Like a Virgin and parodied it into Like a Surgeon to become one of his biggest hits.
Rolling Stone also revealed who is else is starring in the movie. Rainn Wilson is playing the legendary radio host, Dr. Demento, who gave Weird Al his big break. Toby Huss and Julianne Nicholson will play his late parents, Nick and Mary. Their death still haunts me to this day.

---
Daniel Radcliffe transforms into '80s Weird Al Yankovic
February 22nd, 2022 under Harry Potter, Roku, Weird Al Yankovic. [ Comments: none ]
Daniel Radcliffe was born in 1989. By that year, Weird Al Yankovic already had several hit singles, records, along with the cult classic movie UHF.
However, that didn't stop Roku from hiring Harry Potter to play the Schlock Rocker in the Funny or Die biopic about the musician's wild and crazy life. Looking at this photo, I can totally see why they went they did. It is as though everyone won on Jeopardy instead of the fact that they lost on Jeopardy, baby.
It is like we went into a time machine and were transported back to that version of Weird Al.

---