The Foo Fighters hosting two tribute concerts for Taylor Hawkins
June 8th, 2022 under Foo Fighters. [ Comments: none ]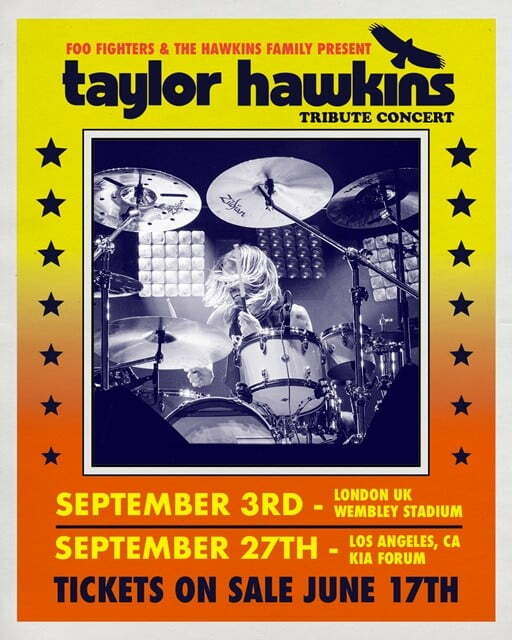 On March 25th, the world was shocked when it was announced that Taylor Hawkins had passed away at 50. However, no one was more upset than his bandmates and his family. Since that day, the Foo Fighters have been grieving their drummer.
Dave Grohl, Nate Mendel, Chris Shiflett, Pat Smear, and Rami Jaffee are ready to pay tribute to their friend, so they are going to play two star-filled shows. The first one will be in London on September 3rd, and then later that month they will do a concert in Los Angeles.
Hawkins worshipped so many musicians who came before him, and he was worshipped by them and the ones that came after him. Therefore, I expect huge names to play alongside his bandmates. It is not about them. It is about the man they are honoring.
These are going to be two concerts you are not going to want to miss. So, mark your calendars for June 17th because that is when tickets go on sale. And they will go fast.

---
Foo Fighters cancel all of their upcoming dates because of Taylor Hawkins' death
March 29th, 2022 under Foo Fighters. [ Comments: none ]
On Friday, the Foo Fighters' unexpectedly lost their drummer Taylor Hawkins, 50. Today, the band gave an update on their future concert that were supposed to start in May.
It is with great sadness that Foo Fighters confirm the cancellation of all upcoming tour dates in light of the staggering loss of our brother Taylor Hawkins. We're sorry for and share in the disappointment that we won't be seeing one another as planned. Instead, let's take this time to grieve, to heal, to pull our loved ones close, and to appreciate all the music and memories we've made together.
Dave Grohl, Nate Mendel, Pat Smear, Chris Shiflett, and Rami Jaffee's decision is entirely understandable. They need the time to heal and mourn their friend with whom they have spent more time with than their own families.

---
BTWF: Taylor Hawkins in 9th grade
March 29th, 2022 under Before They Were Famous, Foo Fighters. [ Comments: none ]
Before Taylor Hawkins was playing with some of the biggest musicians in the world, he played for his 9th grade classmates. Even though he was just 15 years old, he knew how to play the drums like a master in 1987.

---
RIP Foo Fighters' Taylor Hawkins
March 26th, 2022 under Foo Fighters, Obits. [ Comments: 1 ]
The Foo Fighters drummer Taylor Hawkins passed away yesterday at the age of 50. The band wrote, "The Foo Fighters family is devastated by the tragic and untimely loss of our beloved Taylor Hawkins. His musical spirit and infectious laughter will live on with all of us forever. Our hearts go out to his wife, children and family, and we ask that their privacy be treated with the utmost respect in this unimaginably difficult time."
Hawkins left Alanis Morissette's touring group and joined the Foo Fighters in 1997 after getting a phone call from Dave Grohl. Grohl asked him if he knew of any drummers who would want the job, and Hawkins said he did. The rest is Rock'n'Roll history at its finest.
In 2006, he released a solo album as Taylor Hawkins and the Coattail Riders. Along with his own work, he worked with Slash, The Beach Boys, Queen's Brian May, Ozzy Osbourne, and so many other legends. Not only did he play with legends, but he also played the legend Iggy Pop in CGBG.
I saw him open for The Police with the Foo Fighters, so I was surprised to learn he was in a Police cover band called The Cops. I am sure over the next several weeks; we are going to learn more and more interesting things about him. And I am all for it.
Hawkins is survived by his wife Alison and their three children, Oliver, Annabelle, and Everleigh. My heart goes out to all of them through this difficult time.

---
Studio 666 is the movie of the year
February 18th, 2022 under Foo Fighters. [ Comments: none ]
Forget all those snoozefests that get Oscar nominations, Studio 666 is going to be the movie that we are going to be talking about all year long.
I mean, we talk about Dave Grohl and the Foo Fighters all the time. However, that is mostly about their music. Now, we get to talk about how crazy they are because they made a Horror movie that is going to be super fun and cheesy, which is the perfect recipe for a film like this.
But, what do I know? These are the movies I watch all of the time.

---