Did Michael Bublé join the Foo Fighters?
August 14th, 2023 under Foo Fighters, Michael Bublé. [ Comments: none ]
Michael Bublé and the Foo Fighters go together like oil and water. However, this weekend, they came together like chocolate and peanut butter. At least for a brief moment, because the crooner went too far and fucked things up.
So, for the last few months, Dave Grohl has been asking Foo Fighters' fans at their shows to sing Bublé's Haven't Met You Yet, and none of them knew the lyrics.
Finally, after months of keyboardist Rami Jaffee playing the tune, the band finally found someone who knew it. Who was it? It was Bublé, of course. The singer even flew from Argentina to San Francisco to be part of this bit. And the audience of Outside Lands Festival loved every note.
Especially when Grohl changed the lyrics to haven't fucked you yet! I think Bublé should change them for all of his future performances.
Back to how Bublé fucked things up. He recorded a message saying he was joining the band. And Grohl told him to fuck off! I can't say I blame the drummer because could you imagine Bublé singing Everlong? Let's not.
To see Michael Bublé and the Foo Fighters do Haven't Fucked You Yet, then click here!

---
The Foo Fighters will go on
December 31st, 2022 under Foo Fighters. [ Comments: none ]
Back in March, the Foo Fighters lost their friend and drummer Taylor Hawkins. Since then, they have been silent about their future as a band. However, today, they gave an update, and they will go on.


AS WE SAY GOODBYE TO THE MOST DIFFICULT AND TRAGIC YEAR THAT OUR BAND HAS EVER KNOWN, WE ARE REMINDED OF HOW THANKFUL WE ARE FOR THE PEOPLE THAT WE LOVE AND CHERISH MOST, AND FOR THE LOVED ONES WHO ARE NO LONGER WITH US.

FOO FIGHTERS WERE FORMED 27 YEARS AGO TO REPRESENT THE HEALING POWER OF MUSIC AND A CONTINUATION OF LIFE. AND FOR THE PAST 27 YEARS OUR FANS HAVE BUILT A WORLDWIDE COMMUNITY, A DEVOTED SUPPORT SYSTEM THAT HAS HELPED US ALL GET THROUGH THE DARKEST OF TIMES TOGETHER. A PLACE TO SHARE OUR JOY AND OUR PAIN, OUR HOPES AND FEARS, AND TO JOIN IN A CHORUS OF LIFE TOGETHER THROUGH MUSIC. WITHOUT TAYLOR, WE NEVER WOULD HAVE BECOME THE BAND THAT WE WERE-AND WITHOUT TAYLOR, WE KNOW THAT WE'RE GOING TO BE A DIFFERENT BAND GOING FORWARD.

WE ALSO KNOW THAT YOU, THE FANS, MEANT AS MUCH TO TAYLOR AS HE MEANT TO YOU. AND WE KNOW THAT WHEN WE SEE YOU AGAIN-AND WE WILL SOON-HE'LL BE THERE IN SPIRIT WITH ALL OF US EVERY NIGHT.
They can take all the time they need to grieve. And when they are ready to reform, Taylor will be there by their side, encouraging them to continue being the best band that they can be.

---
P!nk and the Foo Fighters get Chanukah's party started!
December 20th, 2022 under Foo Fighters, Pink. [ Comments: none ]
It is Chanukah, so that means that it is time for Foo Fighters' Dave Grohl and Greg Kurstin to sing songs by Jewish artists for the eight nights of the holiday.
Tonight on The Hanukkah Sessions, they invited P!nk to jam with them as they performed her hit Get the Party Started, and it definitely lit the menorah!
So get up and dance as you did at all of the Bar Mitzvahs you went to in junior high school. You know you want to because this version makes you want to spin like a dreidel.

---
The Foo Fighters hosting two tribute concerts for Taylor Hawkins
June 8th, 2022 under Foo Fighters. [ Comments: none ]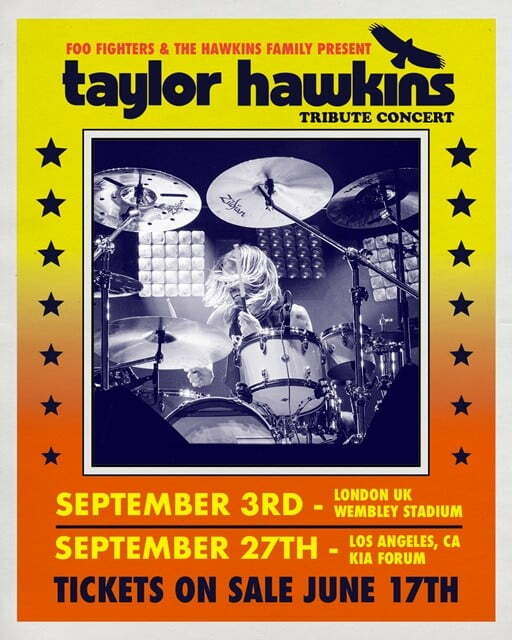 On March 25th, the world was shocked when it was announced that Taylor Hawkins had passed away at 50. However, no one was more upset than his bandmates and his family. Since that day, the Foo Fighters have been grieving their drummer.
Dave Grohl, Nate Mendel, Chris Shiflett, Pat Smear, and Rami Jaffee are ready to pay tribute to their friend, so they are going to play two star-filled shows. The first one will be in London on September 3rd, and then later that month they will do a concert in Los Angeles.
Hawkins worshipped so many musicians who came before him, and he was worshipped by them and the ones that came after him. Therefore, I expect huge names to play alongside his bandmates. It is not about them. It is about the man they are honoring.
These are going to be two concerts you are not going to want to miss. So, mark your calendars for June 17th because that is when tickets go on sale. And they will go fast.

---
Foo Fighters cancel all of their upcoming dates because of Taylor Hawkins' death
March 29th, 2022 under Foo Fighters. [ Comments: none ]
On Friday, the Foo Fighters' unexpectedly lost their drummer Taylor Hawkins, 50. Today, the band gave an update on their future concert that were supposed to start in May.
It is with great sadness that Foo Fighters confirm the cancellation of all upcoming tour dates in light of the staggering loss of our brother Taylor Hawkins. We're sorry for and share in the disappointment that we won't be seeing one another as planned. Instead, let's take this time to grieve, to heal, to pull our loved ones close, and to appreciate all the music and memories we've made together.
Dave Grohl, Nate Mendel, Pat Smear, Chris Shiflett, and Rami Jaffee's decision is entirely understandable. They need the time to heal and mourn their friend with whom they have spent more time with than their own families.

---