Hall & Oates & Grohl?
September 25th, 2019 under Foo Fighters. [ Comments:

none

]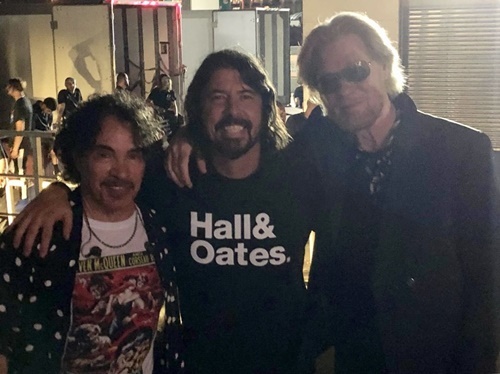 When you think of the bands that Dave Grohl would be into, Hall & Oates will be on the bottom of them list. However, they are not. Here is the Foo Fighters singer posing with the duo wearing a shirt with their names on it.
Maybe the duo can become a trio? I would love to hear him sing Private Eyes and Maneater with them. It would be totally bitchin'.
I love that the Nirvana drummer is all into Adult Contemporary artists like this duo and Rick Astley. Give it a few years and the Seattle band will be muzak too. We will be jamming to Smells Like Teen Spirit in the elevators.
---
Foo-tball Fighters!
February 3rd, 2019 under Foo Fighters. [ Comments:

none

]

For some reason, CBS asked Maroon 5 to do the Super Bowl half time show instead of the Foo Fighters. Well, DirectTV is smarter than that, so they asked the band to host #SuperSaturdayNight from Atlanta yesterday. They were not alone, they were joined on stage by Roger Taylor (Queen), Perry Farrell (Jane's Addiction), Zac Brown, Tom Morello and Dave Koz. It was such a cool night that Paul Rudd, Jon Hamm, Vanessa Hudgens, Emily Ratajkowski, Sarah Hyland, Keegan-Michael Key, Nina Dobrev, Aaron Rodgers, Grant Show, Mark Cuban and many stopped by to watch them perform.
Missed the performance? At least we got the above short directed by Dave Grohl to watch tonight instead of the half time show. What? You are thinking why did they pick Adam Levine's bans over the Foo.
---
Dave Grohl should learn to fly the way he keeps falling
January 11th, 2019 under Foo Fighters. [ Comments:

none

]

Dave Grohl was performing at CES yesterday and someone gave him a beer. First, he spilled it and they he had a spill off the stage. Just like a Timex watch, he takes a licking and keeps on ticking. Which is why he is the epitome of what a rockstar is supposed to be.
---
Dave Grohl made out with Bono?
September 4th, 2018 under Foo Fighters, U2. [ Comments:

none

]

Over the weekend, U2 was forced to a cancel a concert midway through because Bono lost his voice. Turns out he is not the only singer to be afflicted with laryngitis.
The Foo Fighters cancelled two dates because of it. In a statement from the band, they said, "After opening this leg of the tour September 1 at Safeco Field in Seattle, Dave Grohl suffered a loss of voice and is now on vocal rest. Then they added, 'That's the last time I ever make out with Bono,' Grohl commented."
I guess both singers still haven't found what that are looking for…a voice. But at least one of them found something to laugh about in the silence.
Get well guys because I want to see that making out video!
---
What happens when Dave Grohl asks a kid to play the drums during a show?
May 9th, 2018 under Foo Fighters. [ Comments:

none

]


Last week, when the Foo Fighters were playing Nashville, an 8-year-old boy said he wanted to jam with the band. Dave Grohl being the guy that he is said sure. Therefore, Little Fonzie came up on the stage, asked if he could play the drums and he got to live out a dream.
Little Fonzie did nearly a one-minute bitching drum solo and the audience could not stop applauding the little guy. The kid ate up the attention, so he kept on playing and playing.
Eventually, Grohl asked if he could have his concert back and that did not work. What to do? The rocker called on the kid's dad to get him off of the drumset. After one more solo, Little Fonzie gave up his seat only to go over to Grohl to have a conversation with him. After some niceties, the singer figured a way to get his show back on track. He offered the future drummer some coke. As in Coca-Cola, what were you thinking?
Anyways, it worked and Little Fonzie had a night he will never forget! At least until he joins that garage band and lands the lady of his dream with drumming!
Seriously, who doesn't love the Foo Fighters? They are what Rock'n'Roll is all about!
---