High School dropout Dave Grohl defends teachers
July 22nd, 2020 under Foo Fighters. [ Comments:

none

]

A lot of people have been weighing in about kids going back to school during coronavirus pandemic, and Dave Grohl decided to give his two cents.
The Foo Fighters singer revealed in a nearly 9-minute video that he dropped out of high school in 11th grade to become a musician. Therefore, he does not think that kids should go back to school just yet. But not for the reasons you think.
His mother was a teacher, and he knows how important the job is. They are essential workers just like first responders, grocery workers, and medical staff, and we need to protect them. No one is saying how to do that if the kids go back to school. Until then, we need to consider them and all of the people who work in schools.
No one is debating that kids need to go back to school, we are debating what is the safest way for everyone to do it. Grohl said it much better than I ever could.
Not only did he eloquently explain why we need to delay the opening of schools, but he also brilliantly and lovingly talked about his mom. He might be one of the baddest rockers out there, but at the end of the day he will always a mama's boy! Just another reason to love him. As if we needed one.

---
Rick Astley covers Foo Fighters
June 18th, 2020 under Foo Fighters, Rick Astley. [ Comments:

none

]

Foo Fighters not only Rick Rolled a bunch of hateful religious nuts, but the band also performed Never Gonna Give You Up with Rick Astley at one of their gigs.
Now, three years later, Astley is covering Foo Fighters' Everlong. It was kind of weird to see rockers perform a pop hit, but it is even weirder to see it reversed. Not in a bad way, it is weird because it is so simpatico.
When musicians can start touring again, I hope these two artists share a bill. Astley is the perfect ying to the Foo Fighters yang. I would pay to see them live.

---
Dave Grohl gives the rockingest answer to cancelling tour dates over Coronavirus
March 17th, 2020 under Coronavirus, Foo Fighters. [ Comments:

none

]

Back in 2015, Dave Grohl broke his leg during a Foo Fighters' concert and kept on playing. Nothing will stop him. Well, almost nothing.
Hi, this is Dave.

Remember me? The guy who wouldn't even postpone a show when my goddamn leg was falling off?

Well… playing a gig with a sock full of broken bones is one thing, but playing a show when YOUR health and safety is in jeopardy is another…

We fuckin' love you guys. So let's do this right and rain check shit. The album is done, and it's fuckin' killer. The lights and stage are in the trucks, ready to go. The SECOND we are given the go ahead, we'll come tear shit up like we always do. Promise.

Now go wash your hands.

Dave
I am sure as soon as they are given the go-ahead, they will be the first band to play where ever they needed, which is everywhere.

---
Hall & Oates & Grohl?
September 25th, 2019 under Foo Fighters, Hall & Oates. [ Comments:

none

]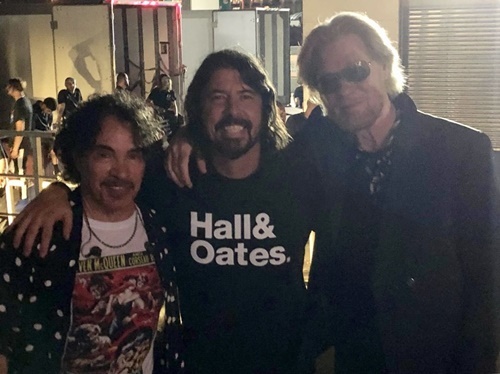 When you think of the bands that Dave Grohl would be into, Hall & Oates will be on the bottom of them list. However, they are not. Here is the Foo Fighters singer posing with the duo wearing a shirt with their names on it.
Maybe the duo can become a trio? I would love to hear him sing Private Eyes and Maneater with them. It would be totally bitchin'.
I love that the Nirvana drummer is all into Adult Contemporary artists like this duo and Rick Astley. Give it a few years and the Seattle band will be muzak too. We will be jamming to Smells Like Teen Spirit in the elevators.

---
Foo-tball Fighters!
February 3rd, 2019 under Foo Fighters. [ Comments:

none

]

For some reason, CBS asked Maroon 5 to do the Super Bowl half time show instead of the Foo Fighters. Well, DirectTV is smarter than that, so they asked the band to host #SuperSaturdayNight from Atlanta yesterday. They were not alone, they were joined on stage by Roger Taylor (Queen), Perry Farrell (Jane's Addiction), Zac Brown, Tom Morello and Dave Koz. It was such a cool night that Paul Rudd, Jon Hamm, Vanessa Hudgens, Emily Ratajkowski, Sarah Hyland, Keegan-Michael Key, Nina Dobrev, Aaron Rodgers, Grant Show, Mark Cuban and many stopped by to watch them perform.
Missed the performance? At least we got the above short directed by Dave Grohl to watch tonight instead of the half time show. What? You are thinking why did they pick Adam Levine's bans over the Foo.

---