Who else can't stop singing Let's Get Physical after listening to Miley's Prisoner?
December 2nd, 2020 under Miley Cyrus, Olivia Newton-John. [ Comments: 1 ]

Miley Cyrus worked with '80s legends Joan Jett and Billy Idol on her new album. However, I can't stop hearing a huge hit from that era on one of her songs.
The chorus to her duet with Dua Lipa for the song Prisoner sounds a lot like Olivia Newton John's Let's Get Physical. I mean, am I the only one who can't stop hearing physical, physical every time Cyrus sings prisoner, prisoner?
I find it more blatantly obvious than when Taylor Swift sampled Right Said Fred's I'm Too Sexy in her song Look What Made You Made Me Do.
Don't believe me. Listen to the tune from 1981, and let me hear your body talk, body talk, about the similarity.

---
Grease 1 meets Grease 2
January 27th, 2020 under Olivia Newton-John. [ Comments: none ]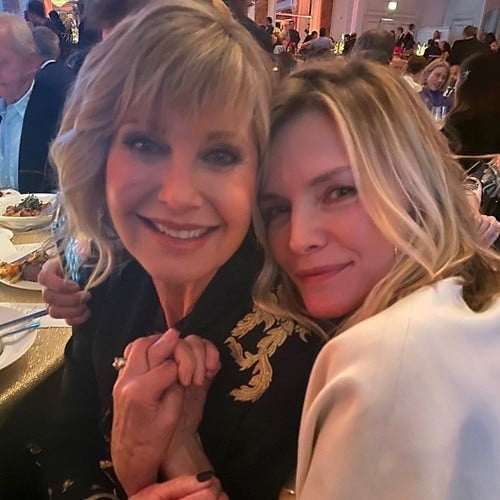 Back in 1978, everyone fell in love with Grease! However, people did not feel the same about the sequel in 1982.
That might be how the fans felt about the two movies. However, the lead actresses, Olivia Newton-John and Michelle Pfeiffer have nothing but love for each other. After seeing the two Pink Ladies together, I think that Sandy and Stephanie should get their own sequel. They can go back to Rydell High for their reunion in search of a new man for their Summer Nights.
Who wouldn't want to do the Hand Jive with the? Both of them got even more beautiful with age! Don't you agree?

---
Olivia Newton-John says she is doing great
January 2nd, 2019 under Olivia Newton-John. [ Comments: none ]

Late last night, there were rumors that Olivia Newton-John only has weeks to live. Today she recorded a New Year's greeting video and paraphrased the infamous Mark Twain quote, "The rumors of my death have been greatly exaggerated."
Then she went on to say she is "doing great," and was thankful for all of the love and support she is getting from her fans.
Even though she is not holding up a newspaper confirming the date, you can tell that it was filmed today. You can also see she looks great and does look like she is about to knock, knock on Heaven's door anytime soon.

---
Olivia Newton-John confirms she is dealing with cancer for a third time
September 10th, 2018 under Olivia Newton-John. [ Comments: none ]

Olivia Newton-John sat down with Austrailia's Sunday Night, and she told them she has been diagnosed with cancer for the third time.
Back in 1992, the actress revealed that she was battling breast cancer. She beat it and has been the face of beating it ever since.
Then is 2013, her sister was diagnosed with an aggressive form of brain cancer and six weeks later she lost her battle. Shortly after losing her sister, John was in a car accident and noticed a bump on her shoulder. She thought it was from the accident, but turns out the breast cancer returned. She decided to fight it naturally and with radiation. It worked to shrink the tumor.
But then last year, the 69-year-old got some very bad news that it spread to her lower back. She is fighting it naturally with radiation again and she is doing well. The reason why she looks so much skinnier is that she gave up sugar. She deals with pain with CBD oil.
Hopefully, this time will be the last time and she will beat it once and for all.
In the hour-long interview, she talks about her career including the controversy behind Physical, her loves, her daughter and her three miscarriages. It is a must-watch for fans.

---
It is not Olivia Newton John's 'sad last days'
August 22nd, 2018 under Olivia Newton-John. [ Comments: 1 ]

Olivia Newton-John cancelled her upcoming book tour dates. Radar reported it is because her cancer has returned with a vengeance. Then they added, these are her "sad last days" because it has spread into her bones.

In May 2017, she revealed she was diagnosed with cancer again. She had previously beat breast cancer in 1992.

Well, I was a little suspicious of the story because she looked healthy when she attended Grease's 40th-anniversary last week. Turns out I was right. Her publicist Michael Caprio released the below statement to clear things up.
Olivia Newton-John's two upcoming speaking appearances in Australia were canceled due to scheduling conflicts with her upcoming promotional tour for her new book, 'Don't Stop Believin' and the ONJ Cancer Wellness & Research Centre's Wellness Walk & Research Run – not illness as falsely reported.

She's looking forward to walking with everyone at the Wellness Walk on September 16th in Melbourne and, is excited that this year the walk is going global and people can support it by becoming virtual walkers from wherever they are in the world.
Glad these are not her sad last days.

---