High School will make you laugh like you're stoned
April 19th, 2012 under No Ordinary Family. [ Comments: none ]

The trailer for High School is out and I can't wait to see the movie when it comes out on June 1st. It seriously looks like enjoyable stupid fun and who doesn't need that?
You know how there are movies that you have to get high to enjoy? Well High School looks like it is a natural high that will have you giggling like you had one too many hits.
BTW can you believe that is Michael Chiklis playing the Principal? My mind is blown. Even more than the fact that they got Oscar winner Adrien Brody to play a psycho drug dealer. You don't need a nose as big as his to smell another statuette coming his way for this movie.

---
Julie Benz is engaged and not every guy is happy about it!
June 28th, 2011 under No Ordinary Family. [ Comments: none ]

(photo from WireImage)


Julie Benz and Rich Orosco, her boyfriend of four years got engaged on Sunday and it was all a big surprise to her. The No Ordinary Family star told People her now fiancee invited over 60 close friends and family over for a Mexican surprise party after he popped the question in their backyard. The moment was just right because she added, "The proposal was simple and beautiful – and then I was shocked by the pop-up surprise Mexican fiesta engagement party. What girl doesn't want to be serenaded by a Mariachi band surrounded by close friends and family?" How sweet!
So far they haven't set a date, but there is someone very close to her that is not happy about the news. Julie Benz Tweeted the below picture and said, "One boy who is not happy about the news of my engagement… He thought we were exclusive…." All men might be dogs, but this little guy just had his little heart broken. Poor pup.

---
I will never look at Michael Chiklis the same way…
April 6th, 2011 under Michael Chiklis, No Ordinary Family. [ Comments: 1 ]

Michael Chiklis and Patton Oswalt recreated the famous video of twin baby boys talking to each other for Funny or Die and after seeing Det Vik Mackey in diapers like that and saying Daddio over and over I will never be able to look at him the same way. I mean at least there was Shield over his Thing, but still seeing him in diapers like that, just ruined whatever image I had of him. Especially because I know about the fetish Paraphilic infantilism… Not saying he is into it, but yes I did picture him if he was.
Thankfully I saw this video after the season finale of No Ordinary Family. I don't think I could've watched the ABC show so soon after seeing that. Well at least I have the summer to get over it because I have been praying my hardest that ABC renews this family superhero show. Especially after the way the show ended last and set up the second season. How awesome was that ending?
OK, off to look at this cute picture of Michael Chiklis and his pup sleeping together to have that image of him burned into my mind.
Now back to the video, I actually like it and laughed really hard. Watch it all the way through because there is a big payoff at the end!!!

---
Michael Chiklis' No Ordinary bed fellow!
February 25th, 2011 under Michael Chiklis, No Ordinary Family. [ Comments: none ]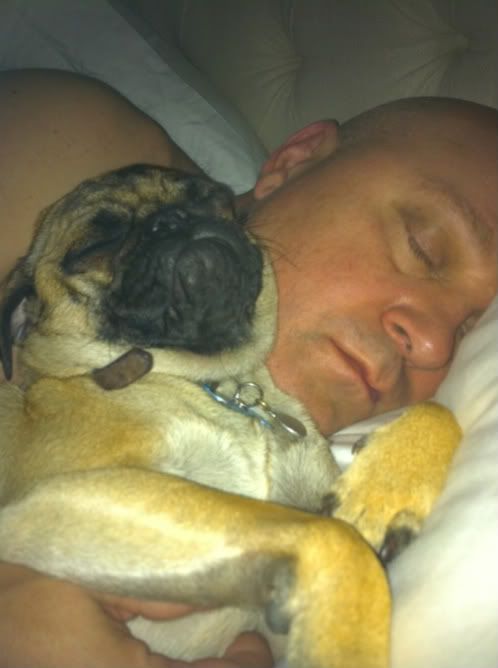 Michael Chiklis' wife Michelle (yes Michael and Michelle) Tweeted the above picture of husband and said "I found my husband in bed with another girl this morning! :)" I am so happy she shared with us this picture because the tough guy looks so awwwdorable with his mistress!
BTW you know how they say dogs look like their owner? Well this man's best friend, looks just like her No Ordinary Family man!!!

---
BTWF roles: Michael Chiklis in Wired
February 8th, 2011 under Before They Were Famous, Michael Chiklis, No Ordinary Family. [ Comments: none ]

Before Michael Chiklis was part of a No Ordinary Family, he was playing John Belushi, a man who had no ordinary life in Wired. Who else was excited to see him with hair when he was 26 in that 1989 movie.

---