Is Nicolas Cage balding?
August 7th, 2023 under Nicolas Cage. [ Comments: none ]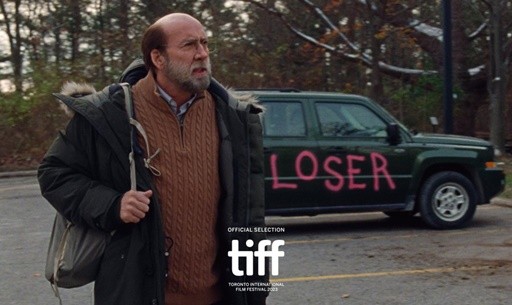 A24/Twitter[/caption]
No matter what movie Nicolas Cage does, he always has a dreamy head of hair.
However, in A24's Dream Scenario, he is completely bald on the top of his head. And because of that, he looks completely different.
So what is this movie about which convinced the actor to change up his hairline? A schlubby professor who never made it becomes an overnight celebrity after appearing in everyone's dream.
Yeah, I would also do a drastic makeover if everyone was going to be obsessed with me. Maybe not in reality, but doing it in a movie is close enough.

---
Nicolas Cage is a killing machine in The Retirement Plan
July 12th, 2023 under Nicolas Cage. [ Comments: none ]
Nicolas Cage has done comedies. He has also done action films where he goes around killing people. And on August 25th, he is going to combine the two when he stars in The Retirement Plan.
When Ashley (Ashley Greene) and her young daughter Sarah (Thalia Campbell) get caught up in a criminal enterprise that puts their lives at risk, she turns to the only person who can help: her estranged father Matt (Cage), currently living the life of a retired beach bum in the Cayman Islands. Their reunion is fleeting as they are soon tracked down on the island by crime boss Donnie (Jackie Earle Haley) and his lieutenant Bobo (Ron Perlman). As Ashley, Sarah, and Matt become entangled in an increasingly dangerous web, Ashley quickly learns her father had a secret past that she knew nothing about and that there is more to her father than meets the eye.
I don't know about you, but I can't wait to see this movie. I already watched the trailer ten times.

---
I am here for the Nicolas Cage resurgence
January 5th, 2023 under Nicolas Cage. [ Comments: none ]
Let's be honest. Nicolas Cage's career was in a downward spiral for a long time. But then, he did The Unbearable Weight of Massive Talent, and now it looks like it is climbing back up from the depths of hell.
Now the actor, who some people assume is immortal, is playing one in Renfield. In this modern monster tale of Dracula's loyal servant, Nicholas Hoult stars as Renfield, the tortured aide to history's most narcissistic boss, Dracula (Nicolas Cage). Renfield is forced to procure his master's prey and do his every bidding, no matter how debased. But now, after centuries of servitude, Renfield is ready to see if there's a life outside the shadow of The Prince of Darkness. If only he can figure out how to end his codependency.
The film looks like it is going to be a lighthearted and fun Vampire movie, just what the genre needs.
And so does Horror, which seems like it will have a good year thanks to Megan, Cocaine Bear, and now this on April 14th! Who needs superheroes when you can root for the killers?

---
Nicolas Cage says he is 'from Saturn'
April 27th, 2022 under Kelly Clarkson, Nicolas Cage. [ Comments: none ]
Nicolas Cage was on The Kelly Clarkson Show, and he showed off a party trick that he can do.
The Oscar winner can make his singing voice sound like he inhaled helium. The Daytime host was so impressed, she wanted to know how he did it. The actor confessed, "It's true. I'm from Saturn."
Is it wrong that I totally believe him? It is totally believable.

---
Nicolas Cage was stalked by two mimes
April 21st, 2022 under Jimmy Kimmel, Nicolas Cage. [ Comments: none ]
Nicolas Cage did his first national talk show appearance in 14 years, so Jimmy Kimmel had a lot of questions for the actor to make up for the lost time.
Did you know that Cage wanted to build a movie studio in Las Vegas, but Elon Musk got the money instead to build whatever he built?
Then there was the time that the Oscar winner was a winner at the roulette table. He turned $200 into $20,000 in 30 minutes. Does he still gamble? And what did he do with the money? You are going to want to hear what he did with the dinero.
Did Cage really have a two-headed snake? Yes, and the story of how he got it is epic.
Diane Kruger told Kimmel that Cage bought a cave full of bats, did he? I won't answer the question, but I will tell you why he wanted it. He wanted to get naked with his ex-wife in it and drink Saki. That image made me think how can Nicolas Cage top himself in The Unbearable Weight of Massive Talent when the original is so much better than what anyone can come up with of him.
And finally, was Cage stalked by a mime? No, he was stalked by two of them. How did he react? He told the Jimmy Kimmel Live host, "That is just so weird. That is one of those things that made me ask the proverbial question, 'Why?'"
With everything he told the ABC late night host, the fact that the double mime attack is what he considers weird is all you have to know about him. He is, and always will be, a legend.
And what is wrong with all of the bookers that haven't booked Cage in 14 years? He is better than most of the guests that they have had on their shows. I hope this is the start of us seeing him on more talk shows, more often. I can listen to him go on and on.

---