Miley Cyrus is a mess
June 4th, 2019 under Miley Cyrus. [ Comments:

none

]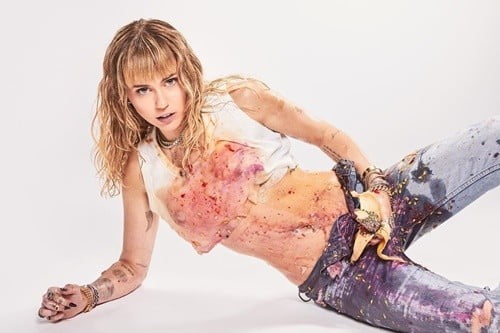 Miley Cyrus has a new EP to promote and it is a real mess. Or should I say she is a mess? She shared a photo of herself covered in fruit. It is like a wrecking ball came in, hit a fruit stand and stopped at her. Why? She Is Coming! In other words, we will find out soon enough.
---
Miley Cyrus is Hannah Montana forever
March 29th, 2019 under Miley Cyrus. [ Comments:

none

]

It has been 8 years since Miley Cyrus took off her Hannah Montana wig, but now it looks she is ready to put it on again. The singer posted several photos and videos recreating her iconic look but did not say why. Therefore, we are left to assume that is something is up. Which will make fans of the show very happy. Although, what would she be like now since we know her alter ego has gone through A LOT of changes.
---
The real reason Miley Cyrus went to her husband's film premiere in his place
February 12th, 2019 under Chris and Liam Hemsworth, Miley Cyrus. [ Comments:

none

]

Over the weekend, it was reported that Liam Hemsworth pulled out of the junket for his movie, Isn't It Romantic, because he was in the hospital. Yesterday, his wife, Miley Cyrus, went to the premiere of the film in his place and confirmed the rumors.
She told Variety's Mark Maklin, "He's down. He's not feeling well. He just had some health things." She did elaborate on what those "health things" are.
At first, the singer said that she went to represent him, but then she changed her story. The newlywed revealed the real reason why she was there, "I already had the dress. Everyone thinks I am here for Liam, but I am really here for Maison | Valentino." If I was given that dress to wear, I too would leave my sick husband at home to fend for himself.
Seriously though, she said something really sweet about her man. Cyrus thinks that he is the funniest man she knows and she is glad that people are finally going to see what she sees.
When it comes to Hemsworth. he mustered up the strength from his sick bed to write this, "Sorry I couldn't make it to the @isntitromantic premier tonight guys. Been dealing with some pretty annoying health stuff the last couple days. Lucky I have the best girl in the world to represent for me! Thanks for the support babe! I hope everyone enjoys the movie! It's a perfect Valentine's Day flick so if ya ain't got nothin better to do then go see it! Love to all!" Get well soon, so you can see it while it is actually playing in theaters.
---
Is Miley Cyrus eggpecting?
January 17th, 2019 under Miley Cyrus. [ Comments:

1

]

Last month, Miley Cyrus and Liam Hemsworth surprised us all by secretly getting married. Now, Daily Mail is hinting it might have been a shotgun one.
When the singer read about the news, she took to social media to clear up the wrote. She wrote, "I'm not 'Egg-xpecting' but it's 'Egg-celent' to hear everyone is so 'Happy For Us' …. we're happy for us too! 'Egg-cited' for this next chapter in our lives…. Now , can everyone leave me alone and go back to staring at an egg."
At least she has a sense of humor about the first pregnancy story of her marriage. There will be many more until they really are eggpecting.
---
Billy Ray Cyrus was at Miley's wedding
December 27th, 2018 under Billy Ray Cyrus, Miley Cyrus. [ Comments:

8

]

There are many reasons to have an achy breaky heart, but this is not one of them. When Billy Ray Cyrus was nowhere to be seen in the first photos from Miley Cyrus and Liam Hemsworth's wedding on Sunday, people assumed that her father was not there. Turns out he was at the party in the USA along with the rest of their immediate family. Feel better now that you know that he was there?
---