Miley Cyrus will ring in the New Year with Pete Davidson for NBC
November 29th, 2021 under Miley Cyrus, Saturday Night Live. [ Comments: none ]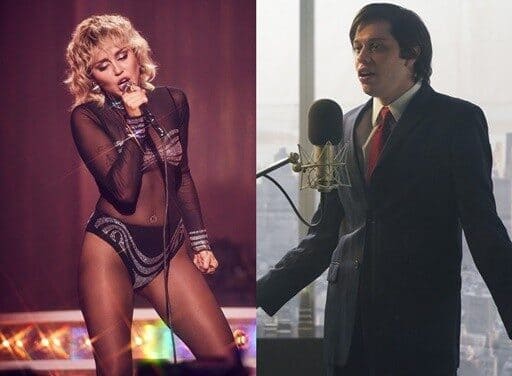 NBC asked Miley Cyrus and Pete Davidson to host their New Year's Eve spectacular from Miami. So I ask y'all, what could go wrong? I am sorry, I meant to write, what can go right?
It is going to be a trainwreck, and I am here for it. Ryan Seacrest will not even be able to compete with their mayhem. I don't even think drunk CNN hosts will be a match for the craziness that will ensue!
Especially because they are hosting the show in Miami. I assume NBC is avoiding Times Square just in case it gets cancelled by Mayor Bill de Blasio because of the latest COVID-19 variant omicron. We know that Ron DeSantis won't cancel anything because he doesn't care how many people he kills as long as he is reelected.

---
Miley Cyrus' fake nipples scare me
October 21st, 2021 under Miley Cyrus. [ Comments: 2 ]
Miley Cyrus did a photo shoot for Interview Magazine. For some reason, they put fake boobs on her with really scary nipples. I don't know why. But you can tell she is enjoying those wrecking balls. So much so, she is ready to party in the U.S.A with them.

---
Would you pay $1,100 for the underwear that Miley Cyrus is wearing
October 20th, 2021 under Miley Cyrus. [ Comments: none ]
Miley Cyrus did an interview with Interview Magazine. Along with the chat, she did a photoshoot and wore underwear from Gucci that cost $1,100.
My vajayjay is a precious flower, but even I would not pay that much for a pair of panties. Would you? However, if my man bought me them, I might change my mind.

---
The many faces of Miley Cyrus
August 31st, 2021 under Miley Cyrus, The Many Faces of. [ Comments: none ]
Miley Cyrus is a character, and you can see that through all of her expressions. Here are some photos that she posted proving it.
What has her so expressive? She is loving the Hers skincare products, and how it makes her skin look flawless!
If your face is your money maker, you better make it looks as rich as hers.

---
Miley Cyrus is selling perfume
July 29th, 2021 under Miley Cyrus. [ Comments: none ]
While J-Lo, Britney, and Ariana all have their own perfumes, Miley Cyrus has her own perfume ad. The singer teamed up with Gucci to do a retro commercial for their Eau de Parfum Flora Gorgeous Gardenia.
Is it just me, or does it have that '80s vibe going on? Something that is perfect for Miley because she is trapped in yesteryear since her divorce.

---