Megan Fox and Kourtney Kardashian pose topless together
September 22nd, 2021 under Megan Fox, The Kardashians. [ Comments: none ]
The MTV VMAs were so forgettable that no one talked about them. Well, we did talk about Megan Fox and Machine Guy Kelly hanging out with Kourtney Kardashian and Travis Barker after the show.
Since they are all fame whores, the two ladies decided to cash in on their new bond. That is why they got together and posed in SKIMS.
In the photos that Fox shared, she and her bosom buddy showed off their bosoms. However, SKIMS shared one of them wearing a bra and panties and being connected by the apple in their mouths.
Kim Kardashian might have tried to break the internet, but her sister might do it with the actress.
To see the other two photos, then click here!

---
Megan Fox is expandable
August 30th, 2021 under 50 Cent, Megan Fox, Sylvester Stallone. [ Comments: none ]
Megan Fox is an action star, thanks to movies like Transformers and Teenage Mutant Ninja Turtles, but we forget that because she is so beautiful.
While we forgot that, Sylvester Stallone did not. That is why he cast her and 50 Cent for Expandables 4. They will be joined by Jason Statham, Dolph Lundgren, and Randy Couture, who are returning for the fourth film, according to IGN.
Fox is the first actress to lead the franchise since Charisma Carpenter was in the first two films. She was replaced by wrestler Ronda Rousey in the third film.

---
Machine Gun Kelly's tongue matches Megan Fox's dress
May 24th, 2021 under Megan Fox. [ Comments: none ]
Machine Gun Kelly was nominated for a few Billboard Music Awards yesterday, so he attended to see if he would win. And he did win two awards.
Anyways, he showed up with arm candy, and Megan Fox got tongues wagging with her barely there dress. No tongue more than her boyfriend's.
While some guys wear corsages or cummerbunds to match their date's dress, his tongue was black like her gown.
Thankfully, it's temporary because that is so gross looking. I would not let that near my holes because I am afraid it will turn them black like my heart.

---
Brian Austin Green reacts to Megan Fox's post on Instagram
August 5th, 2020 under Beverly Hills 90210 / Melrose Place, Megan Fox. [ Comments: none ]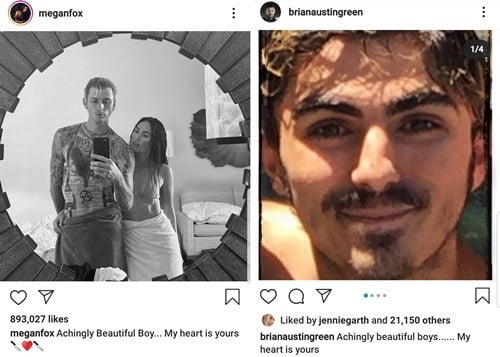 This morning, Megan Fox went Instagram official on her page with Machine Gun Kelly, and wrote, "Achingly Beautiful Boy… My heart is yours 🔪♥️🔪"
Well, when Brian Austin Green saw it, Fox's estranged husband decided to respond. He posted photos of all four of his sons and wrote, "Achingly beautiful boys…… My heart is yours."
It sounds like their split is no longer amicable.

---
Megan Fox clarifies her past interviews about Michael Bay
June 23rd, 2020 under Megan Fox. [ Comments: none ]

Over the weekend, Megan Fox and Michael Bay were trending on Twitter because of past things that the actress said about the director when he hired her for two of his movies. In 2009, she talked to Jimmy Kimmel about Bay casting her as an extra in Bad Boys II when she was just 15 years old, and she was only wearing a bikini. He filmed her under a waterfall for her scene. People said he sexualized her.
That was not the only time, there was another interview when she reportedly told the interviewer that he made her wash his car as he filmed her to get a role in Transformers: Revenge of the Fallen.
When Fox found out about these stories resurfacing, she decided to release a statement clarifying what she meant:
I know that a discussion has erupted online surrounding some of my experiences in Hollywood and the subsequent mishandling of this information by the media and society in general.

While I greatly appreciate the outpouring of support, I do feel I need to clarify some of the details as they have been lost in the retelling of the events and cast a sinister shadow that doesn't really, in my opinion, belong. At least not where it's currently being projected…

I was around 15 or 16 years old when I was an extra in Bad Boys II. There are multiple interviews where I shared the anecdote of being chosen for the scene and the conversations that took place surrounding it. It's important to note however that when I auditioned for Transformers I was 19 or 20.

I did 'work' (me pretending to know how to hold a wrench) on one of Michael's Ferrari's during one of the audition scenes. It was at the Platinum Dunes studio parking lot, there were several other crew members and employees present and I was at no point undressed or anything similar.

Please hear me when I thank you for your support. But these specific instances were inconsequential in a long and arduous journey along which I have endured some genuinely harrowing experiences in a ruthlessly misogynistic industry.
There are many names that deserve to be going viral in cancel culture right now, but they are safely stored in the fragmented recesses of my heart.

But when it comes to my direct experiences with Michael, and Steven for that matter, I was never assaulted or preyed upon in what I felt was a sexual manner.

I'm thankful to all of you who are brave enough to speak out and I'm grateful to all of you who are taking it upon yourselves to support, uplift, and bring comfort to those who have been harmed by a violent and toxic societal paradigm.
You know that she is serious about getting the truth out there because she has yet to release any statements about the demise of her marriage to Brian Austin Green.

---