Steve Martin Short postpone Vegas due to COVID
September 20th, 2023 under Coronavirus, Martin Short, Steve Martin. [ Comments: none ]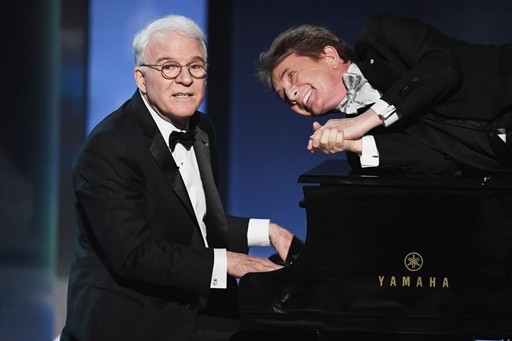 Steve Martin Short were going to bring their shenanigans to Las Vegas this weekend, but they had to postpone their shows.
The Wild and Crazy wrote, "Dear fans and enemies,
"Unfortunately, our sold-out shows at the Wynn in Las Vegas this Friday and Saturday has to be postponed because of rampant Covid in our crew and one other essential guy. We are sorry for any inconvenience, but we are moving to mid-December, where your tickets will be honored with an added 'date-moving tax,' of nine thousand dollars."
Hopefully, "the essential guy" will be feeling better soon. He is a national treasure, even though he is Canadian, and needs to be around for a long time.

---
Martin Short is so funny, his presence makes other people funny
September 14th, 2023 under Lynda Carter, Martin Short. [ Comments: none ]
Last week, some guy wrote an article saying that Martin Short is not funny. And no one agreed with him.
Several comedians and actors came to Short's defense. Because, as we know, he is naturally hysterical.
In fact, he is so funny that just seeing him can make other people turn into comedians. Case in point. Kareem Abdul-Jabbar ran into the Only Murders in the Building star on a plane, posted a photo, and wrote, "On a flight with someone who lived up (or down) to his name."
That makes us laugh because even though Short is short, so is almost anyone else who stands next to the 7'2″ tall basketball legend.
But the jokes didn't stop there. When Wonder Woman, aka Lynda Carter, saw the photo, she wrote to Abdul-Jabbar, "Wait a minute. Aren't you the co-pilot??" If you don't get that reference, then you need to watch Airplane ASAP. You have not experienced humor until you have seen that film.
So that clueless asshole who wrote the article, let's see you make us laugh. Didn't think you could do it.

---
Only Murders turns into only weddings in the building
March 22nd, 2023 under Martin Short, Selena Gomez, Steve Martin. [ Comments: none ]
Only Murders in the Building is busy filming its third season, and Steve Martin is spilling secrets from the set.
First, he revealed that Meryl Streep was joining the Hulu show. And now, he posted photos of Selena Gomez in a wedding gown while he and Martin Short were in tuxes.
So is Mabel getting married? And who is marrying? We don't know. We are just going to have to wait until the show is back to find out.
But until then, I will assume they are filming a sequel to Father of the Bride.

---
Only Murders in the Building has been Streeped!
January 17th, 2023 under Hulu, Martin Short, Meryl Streep, Paul Rudd, Selena Gomez, Steve Martin. [ Comments: none ]
https://twitter.com/OnlyMurdersHulu/status/1615456188573028356
We know that Only Murders in the Building is shifting focus for season three. They are leaving the building and heading down the Great White Way. If you are going to Broadway, you are going to need some big stars, and they have them.
We knew that Selena Gomez and Steve Martin Short were going to be joined by Paul Rudd on the Hulu comedy. And today, we learned who will be sharing the spotlight with them. That person is the legendary Meryl Streep!
If Only Murders doesn't sweep the award shows next year, then those voters need to be taught what funny is. Sorry Abbott Elementary and Ted Lasso, but they Streeped you!

---
Steve Martin Short are going to host Saturday Night Live together
November 29th, 2022 under Martin Short, Steve Martin. [ Comments: none ]
Steve Martin has hosted Saturday Night Live 15 times. Therefore, he can do it in his sleep. However, his friend Martin Short has only done it three times, so he needs some assistance. Luckily, he will be getting it from his amigo when they host SNL together on December 10th.
Personally, I think they should give all of the Not-Ready-For-Primetime-Players off that night and just let Steve Martin Short do the whole show by themselves. Well, except when they let Brandi Carlile do her thing and sing. And I guess Colin Jost and Michael Che can still do the Weekend Update. But leave everything else up to the two men who are looking into murders in the building. How awesome would that be?
BTW Austin Butler will be hosting the following week, and I can't wait to see him nail it.

---