BTWF: Mark Harmon on Laverne & Shirley
February 16th, 2021 under Before They Were Famous, Mark Harmon/Pam Dawber. [ Comments: none ]
Before all the women wanted Mark Harmon on St. Elsewhere, he got rejected by one on Laverne & Shirley. How sexy was the 24-year-old in that 1976 episode?

---
BTWF: Mark Harmon on Adam-12
August 27th, 2020 under Before They Were Famous, Mark Harmon/Pam Dawber. [ Comments: none ]

via MeTV
Before Mark Harmon was a special agent on NCIS, he was a rookie on Adam-12. He looks the same now as he did when he was 23 in that 1975 episode?

---
Pauley Perrette says she is 'terrified of [Mark] Harmon'
June 7th, 2019 under Eliza Dushku, Mark Harmon/Pam Dawber, Pauley Perrette. [ Comments: none ]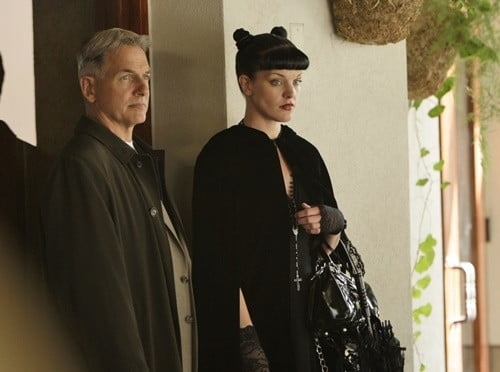 Back in 2017, Pauley Perrette announced that she would be leaving NCIS at the end of that season. Surprising fans of the show because she is a fan favorite.
After she was done with the show, she claimed that she quit the drama because Mark Harmon's dog attacked someone. Therefore, he said he would not bring the pitbull back into work, but when he did they got into an argument. After that, she then refused to shoot scenes with him.
That was then, today she has a different story. Fans keep asking her if they will see Abby again and she told them, "NO I AM NOT COMING BACK! EVER! (Please stop asking?) I am terrified of Harmon and him attacking me. I have nightmares about it. I have a new show that is SAFE AND HAPPY! You'll love it! #HappyPlace Love y'all!"
Then she followed up that tweet with photos of the crew member who was attacked and said, "You think I didn't expect blow back? You got me wrong. THIS happened To my crew member and I fought like hell to keep it from happening again! To protect my crew! And then I was physically assaulted for saying NO!?and I lost my job."
Good thing Broke does not debut on CBS until midseason. I am sure the network is going to try to rectify this situation before it premieres. NCIS is CBS's #1 show and its stars have huge fan bases but are the actors worth all the negativity they bring to the network? Michael Weatherly was accused of sexual harassment towards Eliza Dushku on the set of Bull and it cost the network almost $10 million. That show is still on the air and Perrette defended him.
You know, what goes on off camera on NCIS is more interesting than what we see on TV.

---
NCIS is sexy & 17!
April 11th, 2019 under CBS, Gd Friended Me, Mark Harmon/Pam Dawber, NCIS. [ Comments: none ]

CBS announced today that they picked up television's #1 drama, NCIS, for a 17th season. Not only does the show do well in first run on broadcast, but it also does well online and in syndication. Thus the renewal is no surprise. They just had to wait for Mark Harmon to say yes.
Now that he did, it will join Young Sheldon, Mom, Criminal Minds, FBI, God Friended Me, The Neighborhood And Magnum P.I. on the 2019-2020 schedule. That leaves a lot of shows in limbo like Bull, NCIS: LA, NCIS: NoLA, Blue Bloods and Hawaii Five-0. I think only Bull is in trouble of the ones I listed.

---
BTWF: Mark Harmon in The Ozzie Sisters
August 30th, 2018 under Before They Were Famous, Mark Harmon/Pam Dawber. [ Comments: none ]

Before Mark Harmon taught Summer School, he was running for vice president of his high school in The Ozzie Sister. How cute was the 21-year-old making his acting debut back in that 1973 episode?

---