Lisa Rinna's lip cake is as big as her lips
January 15th, 2021 under Lisa Rinna. [ Comments:

none

]

Someone made Lisa Rinna a cake that is the same size as her lips. I wonder how much flour and frosting they used to create such a huge cake. Probably as much as they use for a 7-tier wedding cake.

When guests were asked if the pastry was good, they all said they couldn't stop licking their lips.

---
Lisa Rinna and Harry Hamlin's Christmas Card is so 2020
December 24th, 2020 under Lisa Rinna. [ Comments:

none

]

Lisa Rinna shared her family's Christmas Card photo. Instead of Harry, her, Delilah, and Amelia all wearing the same matching outfits or ugly sweaters, they all wore the same mask. If that doesn't say 2020, I do not know what does.

---
Lisa Rinna picked a bad time to launch a lip line
December 1st, 2020 under Lisa Rinna. [ Comments:

none

]

Out of all of the celebrities, who should launch a lip line, Lisa Rinna is on top of the list. Well, she finally did it. There is only one problem. Who is wearing lipstick, lip gloss, and lip liners these days? I mean, masks are the new lipstick. At least for me, it is.

Hopefully, she will have better luck with Rinna Beauty in 2021. You know, if and when we can take the masks off.

---
Lisa Rinna wants you to look at her sunglasses
June 19th, 2020 under Lisa Rinna. [ Comments:

none

]

Lisa Rinna is the new face of Christian Cowan X Le Specs. However, she shows off a lot more than her face in the campaign for their sunglasses. A whole lot more. You don't need their glasses to see how much she is showing off.

Although, I am sure a lot of people will put on their glasses to get a better view of her 56-year-old body that defies the odds. Can you believe she is 56 after these photos?

---
Milo Ventimiglia is giving off Popeye vibes
August 7th, 2019 under Lisa Rinna, Milo Ventimiglia, Ryan Seacrest. [ Comments:

none

]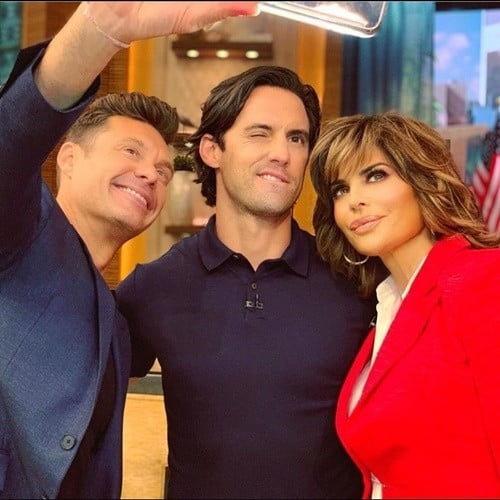 Milo Ventimiglia was on Live with Kelly and Ryan this morning. While he was there, he posed for a photo with Ryan Seacrest and Lisa Rinna. Deciding to be cute, he gave the camera a little wink. However, I don't see the caring dad from This Is Us here, I see a younger version of Popeye without his pipe, sailor's cap and spinach.
Therefore, if they ever think of bringing back the cartoon for a second time as a live-action movie, then he would be perfect for the lead role.
Am I the only one who sees Popeye here?

---