Lisa Rinna wants you to look at her sunglasses
June 19th, 2020 under Lisa Rinna. [ Comments:

none

]

Lisa Rinna is the new face of Christian Cowan X Le Specs. However, she shows off a lot more than her face in the campaign for their sunglasses. A whole lot more. You don't need their glasses to see how much she is showing off.

Although, I am sure a lot of people will put on their glasses to get a better view of her 56-year-old body that defies the odds. Can you believe she is 56 after these photos?

---
Milo Ventimiglia is giving off Popeye vibes
August 7th, 2019 under Lisa Rinna, Milo Ventimiglia, Ryan Seacrest. [ Comments:

none

]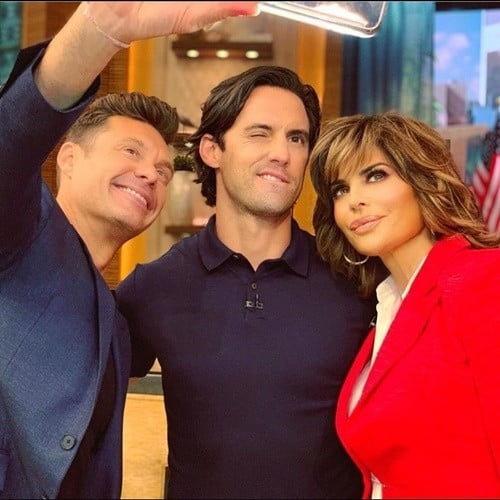 Milo Ventimiglia was on Live with Kelly and Ryan this morning. While he was there, he posed for a photo with Ryan Seacrest and Lisa Rinna. Deciding to be cute, he gave the camera a little wink. However, I don't see the caring dad from This Is Us here, I see a younger version of Popeye without his pipe, sailor's cap and spinach.
Therefore, if they ever think of bringing back the cartoon for a second time as a live-action movie, then he would be perfect for the lead role.
Am I the only one who sees Popeye here?

---
Is Lisa Rinna really 56?
July 26th, 2019 under Are they really their age?, Lisa Rinna. [ Comments:

1

]

Lisa Rinna shared a video of herself dancing in a bikini and she does not look like she is 56 years old. She still looks like she would bring home a wad of singles working the pole. Seriously, she has a body strippers wish they could have. Yet, she is only enough to be their mom. I want to know what her exercise routine in because it obviously works.

---
Lisa Rinna continues to diss her husband's ex Nicollette Sheridan
June 19th, 2019 under Lisa Rinna, Nicollette Sheridan. [ Comments:

none

]

Nicollette Sheridan was married to Harry Hamlin before Lisa Rinna was. You would think after over a quarter of a century, they would all be over it. They are not.
Rinna reignited the feud earlier this year when she said on Real Housewives of Beverly Hills that Sheridan cheated on Hamlin with Michael Bolton just weeks after his mother died. That was in February admission but the wounds are still fresh. When someone asked the real housewife about the desperate housewife on Watch What Happens Live, she just responded with half the peace sign.
Then when Andy Cohen told Rinna that Sheridan followed him on Twitter, she said in her most bitchy voice, "I bet she did. She probably needs a job." Actually, Sheridan had a job on Dynasty but quit The CW show to be with dying mother. Thus, she might need a job.
All of those years of being on soap operas have really had an impact on Mrs. Harry Hamlin. They made her, even more, cattier than Days of Our Lives' Billie Reed and Melrose Place's Taylor McBride.

---
Caption Lisa Rinna!
January 3rd, 2019 under Caption the Celeb, Lisa Rinna. [ Comments:

none

]

This photo of Lisa Rinna has caption me written all over it, so go ahead and do it.

---