Jason Derulo has cat like reflexes
March 23rd, 2020 under Jason Derulo. [ Comments:

none

]
@jasonderulo

@jenafrumes was not hurt in making this video… but I was 🥴

Jason Derulo and his friend Jena Frumes decided to show off their gymnastics skills on TikTok, and you should not try that home.
Their routine started out with him lying on his belly and she stood on his back. With each woah, he raised his body until he was standing straight up and she was upright on his shoulders. Proving both of them are part cat because only felines can do that.
BTW Am I the one who is wondering how she got down?
---
BTWF: Jason Derulo on Showtime at the Apollo
March 10th, 2020 under Before They Were Famous, Jason Derulo. [ Comments:

none

]

Before Jason Derulo was winning awards for his music, he won Showtime at the Apollo for his singing. How much did you love the 16-year-old's to winning the grand prize back in 2006.
---
More proof that Jason Derulo will make the perfect husband
March 9th, 2020 under Jason Derulo. [ Comments:

none

]
https://www.instagram.com/p/B9eU7MAB9Ck/?igshid=p4z6tbobqt8e
We know that Jason Derulo is sexy as all hell, and he has a HUGE personality. What did you think I was going to say? Anyways, he will also make the perfect man to marry because he can serenade you with his operatic voice and talk dirty. At least that is what his song says.
If that is not sweet enough for you, then how about this huge chocolate chip cookie he baked stuffed with Oreo cookies, Snickers, Hershey's Cookies 'n' Creme, Reese's Peanut Butter Cups, and White Chocolate Kit Kats.
He, I mean, that looks good enough to eat. That yummy, yummy, sorry wrong singer's lyrics.
He needs a woman in his life to soothe his mouth when he burns his tongue because he did not wait for the cookies to cool. Who wants to be his one?
---
Who else zoomed in on this photo of Jason Derulo
January 7th, 2020 under Jason Derulo. [ Comments:

none

]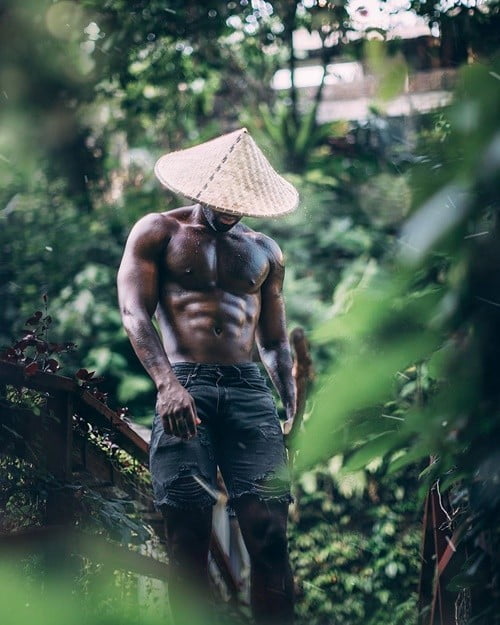 Ever since Jason Derulo shared that photo of himself in black underwear, I cannot help but to look at his Deru-log. Therefore, whenever he posts a photo that includes his area below the equator, I cannot help but to zoom in to see if I can see it. It is wrong, but it feels so right. Thus, I had to do it with this photo. Did you do it too? Please say yes, so I do not feel as bad.
Can't zoom in, but want to see that area enlarged, then click here!
---
Does Jason Derulo have more photos of the Deru-log?
December 20th, 2019 under Jason Derulo. [ Comments:

none

]

Jason Derulo became a household name after he showed us the body part he holds. The photo is so controversial that Instagram removed it.
Hip Hollywood is thirsty for more photos, so they asked him when will we see more of his straw. He did not say when, but he promised us there are more. Like a cat waiting for the hand that feeds them to come home, we have to wait for him to post them.
Talking about cats, he revealed the cast got close when they smelled each other butts. I think we all know that Taylor Swift will say hers smells like roses.
---