Who else zoomed in on this photo of Jason Derulo
January 7th, 2020 under Jason Derulo. [ Comments:

none

]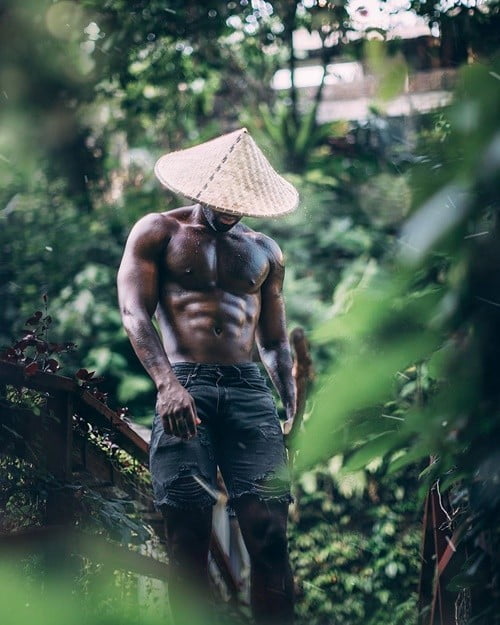 Ever since Jason Derulo shared that photo of himself in black underwear, I cannot help but to look at his Deru-log. Therefore, whenever he posts a photo that includes his area below the equator, I cannot help but to zoom in to see if I can see it. It is wrong, but it feels so right. Thus, I had to do it with this photo. Did you do it too? Please say yes, so I do not feel as bad.
Can't zoom in, but want to see that area enlarged, then click here!
---
Does Jason Derulo have more photos of the Deru-log?
December 20th, 2019 under Jason Derulo. [ Comments:

none

]

Jason Derulo became a household name after he showed us the body part he holds. The photo is so controversial that Instagram removed it.
Hip Hollywood is thirsty for more photos, so they asked him when will we see more of his straw. He did not say when, but he promised us there are more. Like a cat waiting for the hand that feeds them to come home, we have to wait for him to post them.
Talking about cats, he revealed the cast got close when they smelled each other butts. I think we all know that Taylor Swift will say hers smells like roses.
---
Jason Derulo dispels a sexual myth
December 19th, 2019 under Jason Derulo, Wendy Williams. [ Comments:

none

]

I don't know about you girls, but I was told a man's little man is half of the length of his shoe size. Therefore, if a man has a size 12 shoe, his pen!s is 6 inches long.
Well, Wendy Williams asked Jason Derulo how big his feet are, and he wears a size 10 1/2. As we all know, thanks to that infamous photo of himself in underwear, his shoehorn is much much much bigger than that!
I guess as Wendy says, we now must look at their thumbs for a more accurate look at his 11th digit!
---
Jimmy Fallon reworks Memory with the Cats cast
December 19th, 2019 under Jason Derulo, Jimmy Fallon, Taylor Swift. [ Comments:

none

]

There are not many positive things you can say about the musical Cats. Whether it is the movie or stage production. However, one of the nice memories from it is the song Memory. As I said, it is only nice. Jimmy Fallon and The Roots found a way to give it a new life with the cast of the big screen version of the show.
The Tonight Show reworked the ballad with a happier beat using classroom instruments, and you can tell it suited Taylor Swift, Jason Derulo, James Corden, and Jennifer Hudson sang it.
I think this take on the classic show tune is purrfect. You knew that was coming.
---
Proof Jason Derulo is a man
December 9th, 2019 under Jason Derulo. [ Comments:

none

]

Have you heard about the chair challenge? Basically, men and women bend down with their heads against a wall, a chair at their chest, and then they have to raise up, holding the chair in place. For women, it is easy for men; it is nearly impossible.
Jason Derulo tried to do it and he was stuck in the bent-over position. Proving, he is a man. However, we did not need this challenge to tell us that. I think we can agree, the now-infamous photo of him in his underwear already did that.
BTW there is one man that was able to stand up straight up holding the chair. To see who it is, then click here!
---