Will 11-year-old Iain Armitage be arrested with Jane Fonda on Friday?
November 27th, 2019 under Jane Fonda. [ Comments:

none

]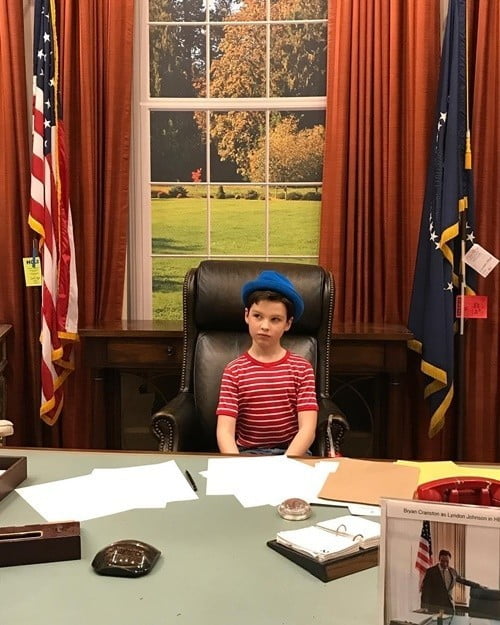 For the last several Fridays, Jane Fonda has been arrested on the steps of the U.S. Capitol along with other celebrities like Ted Danson and Sam Waterstone. This Friday, she will be joined by Iain Armitage, 11, who is best known for playing Young Sheldon. Which makes you wonder if they will take him, Fonda and Paul Scheer away in handcuffs. Who would arrest a kid for free speech?
The three of them along with many others will be protesting with Fire Drill Fridays to get the word out about Climate Change and how important it is that we get a Green New Deal signed by Congress.
Hopefully, the people behind those closed doors will listen so that Armitage can grow up to be Old Sheldon.
When it comes to Fonda, DC Deputy Attorney General Brian Kim said that her case will not be prosecuted and she will not have to appear in court today. I wonder if her ex-husband, Ted Turner, called in a favor to make that happen?
---
F*ck! Grace and Frankie is cuming to an end!
September 4th, 2019 under Jane Fonda, Lily Tomlin. [ Comments:

1

]

Netflix announced today that they picked up Grace and Frankie for a seventh season even before the sixth one airs. That is the good news. The bad news is that it will be its last one.
Jane Fonda and Lily Tomlin had this to say about their show ending, "We're so grateful that our show has been able to deal with issues that have really connected to our grand generation. And their kids, and amazingly, their kids as well!" Then they added, "We'll miss these two old gals, Grace and Frankie, as much as many of their fans will, but we'll still be around." Which is good news to hear because Tomlin just turned 80 and Fonda is a year older.
However, they do not look anywhere near their ages. I guess all of that pot, yam lube and vibrators is their secret! I would not mind growing old with those things. Who would?
It is references like that that will make me miss this show. I wish it did not have to end, but at least we have two more seasons.
---
Mary Steenburgen says we are getting another Book Club
June 12th, 2019 under Andy Cohen, Candice Bergen, Diane Keaton, Jane Fonda, Ted Danson Mary Steenburgen. [ Comments:

none

]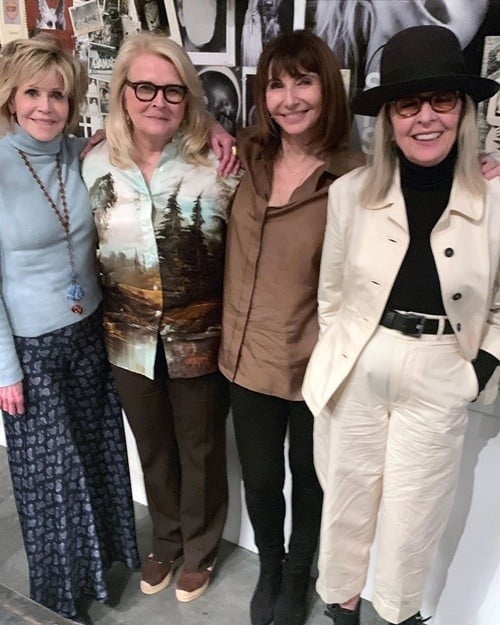 Sometimes when actors makes a movie, they become friends for life. That is exactly what happened to Mary Steenburgen, Jane Fonda, Candice Bergen and Diane Keaton when they made Book Club.
The four women have continued their friendship even off camera and met a few times since the enjoyable 2018 film came out. In fact, they even got together at Keaton's house this weekend. Andy Cohen, like me, loves seeing the ladies together, so today he asked Mrs. Ted Danson about their dinner date on his radio show. That is when she revealed they are doing a sequel to their feature.
While that is great news for fans of the movie, I would rather see it be a series. I think it would be better if they took up a new book every week for like 10 of them. Wouldn't it be fun to see how the Twilight series would inspire them? Maybe even be a little naughty and read The Art of the Deal. I don't think the actresses would allow that. However, they could have fun with Kardashian Konfidential.
No word, which of the men will be back, but I have a feeling we will be seeing them again. Which makes me so very happy. If you have not seen Book Club, you should definitely watch it. It is just a sweet movie about friends being there for you whenever you need them.
To hear what Steenburgen told Cohen on his radio show today, then click here!
---
Is Book Club 2 happening?
April 12th, 2019 under Candice Bergen, Diane Keaton, Jane Fonda, Ted Danson Mary Steenburgen. [ Comments:

none

]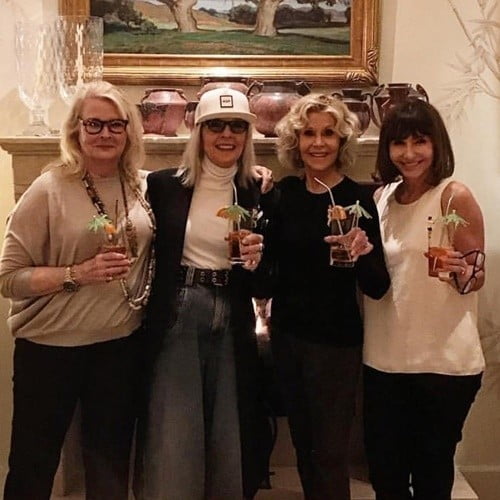 Book Club was last year's sleeper hit and yesterday the film's stars got together. Does that mean that Candice Bergin, Diane Keaton, Jane Fonda and Mary Steenburgen are letting us know that they are working on a sequel? Sadly, nope. It just means that made a friendship that lasted long after they were done filming.
Personally, I think they should do a series based on the movie and each week they take on a new book that changes their lives. Imagine if they took on a murder mystery book where four friends vow to kill one of their lovers, but they don't know which one actually do the crime. Now they are all suspicious of each other after Andy Garcia is injured by mysterious means. I would watch, wouldn't you?
---
I can watch Lily Tomlin and Jane Fonda talking for hours
January 22nd, 2019 under Jane Fonda, Lily Tomlin. [ Comments:

none

]

Lily Tomlin and Jane Fonda sat down for Wired and answered the Web's Most Searched Questions. We did not learn anything new about them, just that they are so good at playing off of each other. I love Grace & Frankie and I know it has another season after this upcoming one. But I wish Netflix would give them a show where they just answer our questions. I would binge that over and over again.
---