Jamie Lee Curtis, Halloween's Scream Queen, is planning something for 10/31
September 24th, 2020 under Halloween, Halloween (movies), Jamie Lee Curtis. [ Comments: none ]

Thanks to COVID-19, Halloween is basically canceled. All because of those covidiots who won't wear a mask the other days of the year.
Ever since 1978, Halloween has been a huge thing for Jamie Lee Curtis for some reason. Therefore, she still wants it to be a treat for everyone.
"We can figure out creative ways for our pods to do candy scavenger hunts and fun activities at home and we can still do virtual Costume parades," Curtis said. "I will figure out a way to do a VIRTUAL Halloween costume parade on my Instagram all day long on Halloween, October 31. Stay tuned for details and stay safe and HAPPY Halloween."
Hopefully, her brother, Michael Myers, won't crash the event because he is a literal party killer. Although that might be a good thing for us to watch.

---
Kirk Douglas saved Jamie Lee Curtis' life
February 8th, 2020 under Jamie Lee Curtis. [ Comments: none ]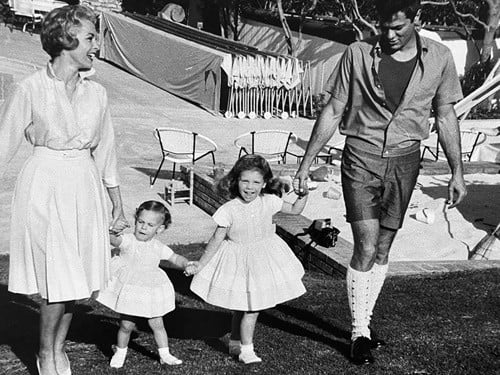 Back when Jamie Lee Curtis was a little girl, her parents, Tony Curtis and Janet Leigh, were close friends with Kirk Douglas. They would even invite him over for parties. At one of those family affairs, Douglas saved the little girl's life. The actress shared that story to commemorate his death on Thursday.
Kirk and Anne were important to BOTH my parents. Here in The Vikings with both Tony and Janet. I just remembered this morning that Kirk saved my life when I rode my tricycle into the pool at a party and he dove in and brought me up from the bottom, still peddling. I was in school with their son, Eric who they lost in 2004. Tony lost his son, Nicholas in 1994. Families tied together in life and success and loss and struggle, past and present. Kirk is an example for us ALL. COURAGE.
INTEGRITY.
GENEROSITY.
Their foundation link is in my website. See the work that they did for others. The playgrounds they built. Join them and me and honoring his legacy.
Thankfully, he was there to save her life that day. The world is a better place with her in it. She is positive force for women to age naturally, and so much more.

---
Jamie Lee Curtis has seen better days
October 8th, 2019 under Better Days, Halloween, Jamie Lee Curtis. [ Comments: 3 ]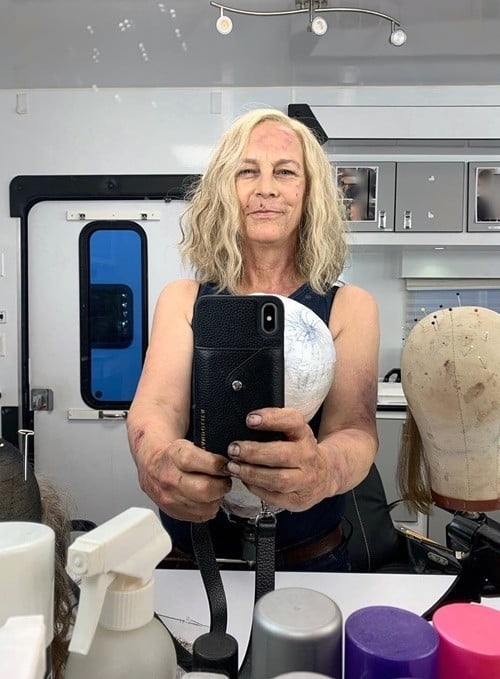 James Lee Curtis shared this photo with us today and I think we can all agree that she has seen better days. Not only has she seen them, so has Lauri Strode.
I bring that up because she is back filming another Halloween movie. When the last movie left off, she and her brother Michael Myers had another one of their fights. Which is why she looks so beat up. When your brother is a psychotic serial killer and it is your mission to take him down, you are going to like crap the next day.
While Strode will be all grumpy for obvious reasons, Curtis can still manage to put a smile on her face.
Halloween Kills is out next Halloween.

---
Just when you thought Halloween was safe again
June 8th, 2018 under Halloween, Jamie Lee Curtis. [ Comments: 1 ]

In 1978, Halloween made us afraid of Halloween. Now 40 years later, Micheal Myers is back on October 19th and we will not be sleeping again for another 40 years.
The first trailer is out for the final movie in the franchise and even in the daylight, it is terrifying. So terrifying, I will be sleeping with my closet door open for now on.
That and I will be waiting to see it until at least November 1st because I still want to go Trick or Treating with my friends' kids and not be afraid of every little sound I hear as we knock on strangers' doors. I will be more scared on Halloween night and I am the one who scares them.
Boo!

---
Halloween and Jamie Lee Curtis are back for a final chapter
September 15th, 2017 under Halloween (movies), Jamie Lee Curtis. [ Comments: none ]

On October 25, 1978, Halloween was forever changed thanks to Michael Myers and Jamie Lee Curtis. Nearly 40 years later, on October 18, 2018, they get to tell their story one last time in Halloween's final chapter together because it is being billed as Laurie Strode's final confrontation with Myers. What does that means, we will find out in a year, a month and 4 days.

This the 6th time she has played the part in the franchise and let's just hope she goes out as brilliantly as she came into the Horror movies. Since the legendary director John Carpenter, who started it all, is consulting on the upcoming feature, you know it will be better than Halloween III: Season of the Witch.

This is the 9th film (not including the Rob Zombie reboot and its sequel) in the franchise and the first one 15 years.

If it is done well and does good at the box office, hopefully Friday the 13th and Nightmare on Elm Street will get the sequels that they so rightfully deserve.

---