Who knew Urkel has abs?
January 6th, 2020 under Jaleel White. [ Comments:

none

]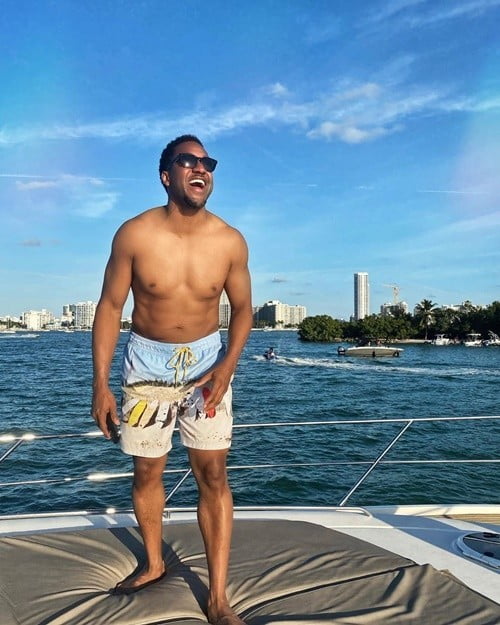 When I think of Jaleel White, I think of the skinny kid who played Urkel on Family Matters. Turns out he is more like Stefan because he has a six-pack.
The actor is on vacation in Miami, where it is warm, and he went for a ride in a boat. What do you wear on a boat? A swimsuit. By doing so, it showed off his toned abs. Who would have thought he had them? I certainly didn't, and I like what I see. What about you?

---
You will never watch Family Matters the same way
July 2nd, 2019 under Jaleel White, Mike Tyson. [ Comments:

none

]

Someone named DrFakenstein took the opening theme of Family Matters and replaced all the actors' faces with Mike Tyson's before his facial tattoo. It is scary how his mug works on top of theirs, but it is also terrifying. I am going to be seeing that in my nightmares for weeks to come.
If I still watched Family Matters, then all I would see is the boxer's mask instead of Jaleel White's. You know what, they should redo it with Urkel's face on everyone else's! How awesome would that be?

---
BTWF: Jaleel White on Charlie & Co.
February 6th, 2019 under Before They Were Famous, Jaleel White. [ Comments:

none

]

Before Jaleel White wanted another family on Family Matters, he had the perfect on on Charlie & Co. How cute in the 9-year-old in that 1986 episode?

---
BTWF: Jaleel White for Apple Jacks
November 15th, 2018 under Before They Were Famous, Jaleel White. [ Comments:

none

]
https://www.youtube.com/watch?v=YrWyJXf9I4E
Before Jaleel White was uncool on Family Matters, he was very cool eating Apple Jacks. How cute was the 11-year-old in that 1988 commercial?

---
Could Family Matters be revived as a cartoon?
June 25th, 2018 under Jaleel White. [ Comments:

none

]

When you think of Steve Urkel, you think he is so animated that he would make a great cartoon series? Therefore, could his character and the Winslow family come back as animated characters? Jaleel White answered that very question on Twitter, "Couldn't agree more 💯 Animated series was pitched and rejected by the show's original producers. Steve's inventions made it all a cartoon by today's TV standards but they didn't see it that way 🤷🏽‍♂️ Thanks for the support. Check us out on @hulu."
I think the producers are making a huge mistake because if anyone can take on The Simpsons and Family Guy, it is Family Matters. Best part, we do not have deal with older versions of the characters we know and love. They can be just the way were. Who wants a 40-year-old Urkel when he could still be that nerdy teen driving everyone crazy?
Especially since White based his character after Ed Grimley and Martin Short turned that dream into one of animation gold.
Would you like to see Family Matters: The Cartoon?

---