Jack Wagner is out of quarantine in Canada
July 29th, 2020 under Jack Wagner. [ Comments: none ]

Jack Wagner flew to Vancouver two weeks ago to film the next season of When Calls the Heart. However, Canada says that anyone entering the country from the United States must self-quarantine for 14 days. Well, he has survived that mandatory lockdown. Now, he is ready to break free and film the eighth season of the Hallmark period drama.

Can you blame him? Imagine spending two weeks all by yourself. I don't even want to try. I would totally hate myself. Therefore, my hat is off to him. I would give it to him, but I don't think it would fit over his hair.

---
Jack Wagner and Heather Locklear's hair raising moment!
November 18th, 2019 under Heather Locklear, Jack Wagner, Uncategorized. [ Comments: 2 ]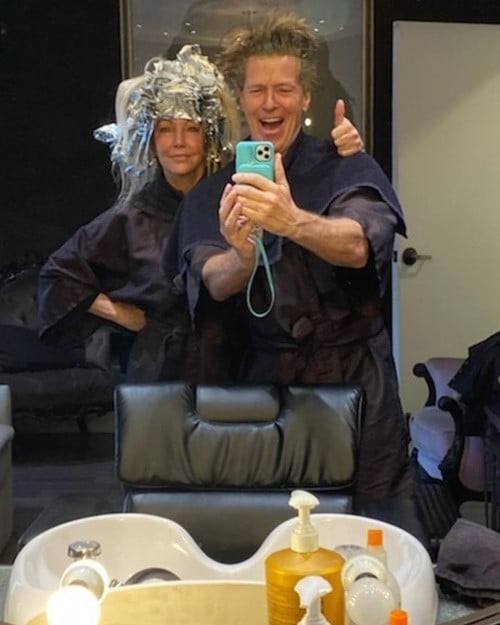 Jack Wagner and Heather Locklear played lovers on Melrose Place, then years later they did it in real life too. However, just like the nighttime soap, their love got cancelled.
Even though they broke up, they are still friends who get their hair done together. Now that she is sober, maybe they can get back together. Who wouldn't want to see Amanda Woodward and Peter Burns get their happy ending?

---
UPDATED: Jack Wagner says his son Harrison is missing
July 11th, 2016 under Jack Wagner. [ Comments: none ]

Late last night Jack Wagner Tweeted, "I'm going to ask those who want to share their fears, addictions & struggles to do so w me via Twitter. We can face them 2gether, I'll start." Then he added, "I fear for my youngest sons safety. Harrison has struggled w drugs & alcohol just as I did when I was younger. He's relapsed & is MIA 5days."
The 21 year old, who is professionally known as DJ Hale, posted that photo on Instagram the day before his father says he went missing.
If you see him, please let his father know ASAP.
Hopefully they will find him soon and get him the help, his dad says, he needs.

UPDATE: Jack Wagner just Tweeted this good news, "Harrisons been in touch, he's 21 & in charge of his life, ty for the lv & prayers, please continue to share your struggles, it helps us all."

---
All Jack Wagner needs is a non-sweaty shirt
March 12th, 2012 under Dancing with the Stars, Jack Wagner. [ Comments: none ]

Jack Wagner is one of the many "stars" who will be on Dancing with the Stars this season and it looks like rehearsal is taking its toll on the 52 year old soap opera star. He Tweeted the above picture and said "A little beat up 2day, one of us is sweating n the other is cooooool!! Clearly my shirt is the 1 drenched..ugh!" Even though he feels he needs a new shirt, after seeing him in a wet T-Shirt I think that Love Can Take Us All The Way. After all he is single again, and we are both available!

---
All Jack Wagner needs is a job
February 3rd, 2012 under Jack Wagner, TV Soaps. [ Comments: none ]

Jack Wagner's contract was not picked up by The Bold and The Beautiful according to Wagner's World. It is not known if he will continue on the show as recurring or if he is out completely. His fans are hoping that he will return to General Hospital, but I am not sure if I want Frisco Jones back on the show without Felicia. They were the perfect couple.
BTW isn't it interesting that his contract was not renewed on a soap opera as soon as real life turned into one. You know finding out about a daughter he never knew about, splitting with his fiancee shortly after he got engaged and then it is reported that he got into a fight with her and the police were called in over it.
I think B&B made a huge mistake because they should use his real life to write stories for the daytime drama, it is better than anything else they have done recently. I assuming that because I have never watched the show.

---