Sir Kenneth Branagh's grandmother defended his penis size
January 24th, 2022 under Graham Norton. [ Comments: none ]
Sir Kenneth Branagh was on The Graham Norton Show on Friday, and he had a whopper of a story to share with the host.
Back in the early '80s, he was starring in a play about St Francis of Assisi in London. He invited his grandmother from Belfast to come see it live, and he gave her opera glasses to enjoy the show even though she was in the front row. There was only one problem; he forgot that he gets completely nude.
So when the big moment came, he stood there tall for everyone to see his royal jewels. The audience was quiet until a man from the back screamed, "I've seen more meat on a dirty fork."
Well, his grandmother was not going to take that. So, she stood up and told the mean man, "Use your binoculars. It looks like a bloody hot dog." I am surprised she didn't go with banger, but it still works brilliantly.
And now we know where Branagh gets his sense of humor from, his grandma!

---
Joan Collins wasn't the first or second choice to play Alexis Carrington on Dynasty
December 17th, 2021 under Graham Norton, Joan Collins. [ Comments: none ]
When you think of Dynasty, you think of Joan Collins as Alexis Carrington. However, if the studio's choices had said yes, then we might be thinking of Sofia Loren or Elizabeth Taylor in the role. But they said no, Aaron Spelling fought for Collins, and the rest is TV history.
That was just one of the things she told Graham Norton on his BBC show tonight. The host also wanted to know what was up with the tension between her and John Forsythe.
The actress told him that she used to reveal his age in interviews. The actor didn't like that, and she didn't care. The press kept sharing Collins and Linda Evans' ages, but never his. So she took it upon herself to do it.
However, that was not the only issue he had with her. In 1986, when they won the People's Choice Award, it was agreed that Forsythe would accept for everyone. However, the person giving out the awards gave it to Collins instead, so she accepted on behalf of the show. When she asked Forsythe if he had anything to add, he told her she said enough.
When they went back to work, he didn't talk to her for a whole season. In fact, when she had to film a scene where he strangles Alexis, she says she told the producers, "I have to have my stand-in [do it] because I am scared." Does anyone blame her for having that reaction?
To see the videos of her accepting the award and Blake's hands around Alexis' throat, then click here!

---
Zendaya latest cause is for actors who wear superhero suits
December 3rd, 2021 under Graham Norton, Superman/Spider-Man, Zendaya. [ Comments: none ]
Zendaya is starring in the latest Spider-man movie, and she has a real concern for Tom Holland and other actors who wear full-body suits to play a superhero. The costumes are not easy to get on and off. So they have to do everything in them.
Because of that, she told Grahan Norton on his show today that she is worried about what happens if her boyfriend has to throw up in it while dressed as Spider-man. She believes there needs to be an easier way to get out of it.
If I were her, I would be more worried about the rush to go from the other end. I know; they are both equally awful. So, now that she mentions it, I think we need to take a stand for actors who cannot easily get out of their costumes when nature calls.
They also need to have a better way to eat. I mean, can you imagine having a straw being stuck down your eyehole so that you can eat and/or drink.
We know that true actors suffer for their art, but this seems to be unnecessary. I mean, how hard is it to add a zip? Let's save the superheroes and protest for their right for zippers!
Let's organize marches on National Zipper Day, April 29th, to let the studios know that actors should be able to get out of suits quickly. They deserve the same rights as you and me when it comes time to pee.

---
Did Paul Rudd expose himself to Graham Norton?
November 8th, 2021 under Graham Norton, Paul Rudd. [ Comments: none ]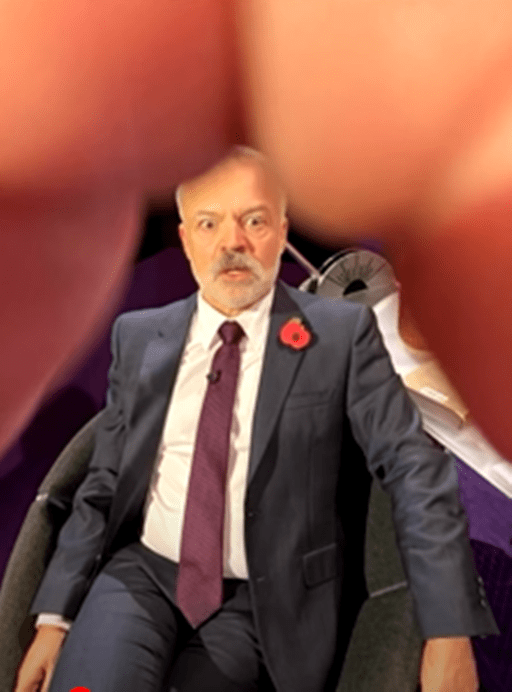 Paul Rudd was on The Graham Norton Show on Friday, and we got this photo of the actor with the host. So did Rudd answer the question if he is built like an Ant-Man?
To find out, then click here!

---
Andie MacDowell had an inappropriate email address and didn't know it
October 11th, 2021 under Graham Norton. [ Comments: none ]
Andie MacDowell was on The Graham Norton Show on Friday, and she told him her bareback story. Before you get as excited as Billy Porter, who was also a guest, it is not that exciting.
MacDowell was living in a small Christain community in North Carolina. Therefore, she was naive about certain things. Things like what the phrase bareback means to most people.
Since she is an avid horse rider, bareback means riding a horse without a saddle. She loves to do it so much that she made her email address BarebackSug. The actress would send emails to her childrens' school with it, not realizing that they might've been thinking that she was telling them that she likes to ride without a condom as compared to a saddle.
She probably thought everyone was looking at her funny on parent/teacher nights because she is a celebrity. But they were probably looking at her that way because of her email address.
Oh, and Sug is short for Sugar, who was the horse she liked to ride bareback. Not the man she might have been doing that with at the time.

---