Jimmy Fallon gets a facelift from Glenn Close and her husband.
January 31st, 2012 under Glenn Close, Jimmy Fallon. [ Comments: none ]

Glenn Close was Late Night yesterday and she brought her husband out so that the two of them could give Jimmy Fallon a facelift. But they didn't use any scalpels, instead they used Scotch Tape to give him his new look. When all was said and done, the NBC host got a new face that only a Twilight Zone episode could love.
Oh and he wasn't the only one who got a facelift on the show, the six-time Oscar nominee also got one and it so much better than what they did on the set of Albert Nobbs.

---
Glenn Close looking like a Glen
December 15th, 2010 under Glenn Close, Movies. [ Comments: 1 ]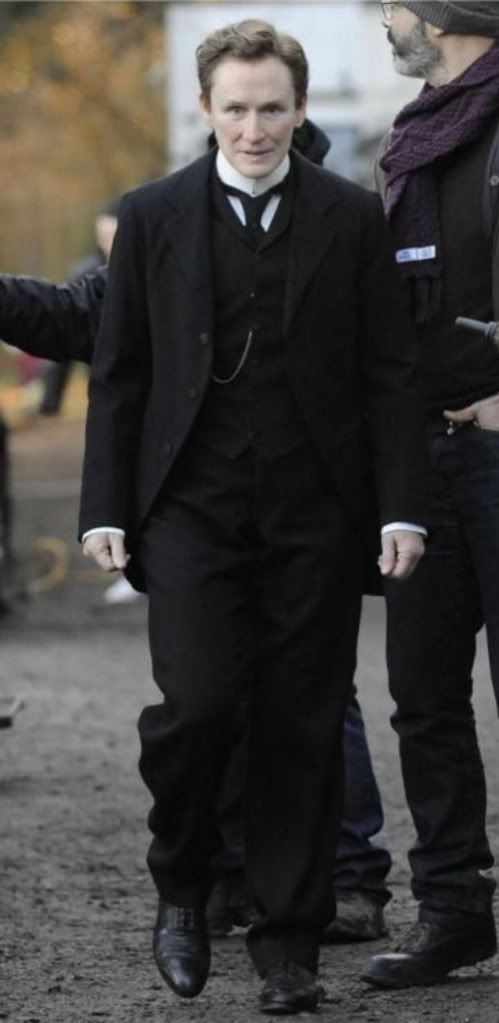 Glenn Close is in Dublin, Ireland filming her new movie Albert Nobbs and in case you couldn't figure it sHE is playing a woman who dresses as a man. According to USA Today the Emmy winner is playing a woman who spends many years disguised as a male butler in order to survive in Victorian Dublin in 1898. So it is like Yentl without the music…in a way.
The makeup department for this movie should win an Oscar for their work because sHE looks nothing like herself and really looks like a man. In my opinion that is the best cross-dressing job since Meryl Streep played a Chasidic Rabbi in Angels of America.
Now back to Glenn, TMZ says sHE looks like Conan O'Brien but I think she looks more like either Denis Leary or Liam Neeson. Who do you think sHE looks like?

---
Damages is back on FX tonight
January 7th, 2009 under FX, Glenn Close. [ Comments: none ]
The series follows the turbulent lives of Patty Hewes (Glenn Close), the nation's most revered and reviled high-stakes litigator and her bright, ambitious young protégé Ellen Parsons (Rose Byrne).
After her unprecedented victory over billionaire Arthur Frobisher (Ted Danson), Patty Hewes has the legal world at her feet. Just as she's pondering her next move, Daniel Purcell (William Hurt), a man from Patty's mysterious past, storms back into her life, catapulting Patty into a new legal challenge. What starts as a domestic murder case, escalates into the highest reaches of government as Patty unearths a vast conspiracy.
At the same time, Ellen is on a mission to take down Patty. She's agreed to act as an informant for the FBI, assisting them in their criminal investigation of Patty and the firm. As Patty unravels the mystery surrounding Daniel Purcell, she must also negotiate the perilous minefield both inside and outside her office.
Damages is back on FX tonight at 10p and this season is so good! This season changes things up, but keeps with the brilliant acting, writing and great chemistry. Ellen is seeking revenge on Patty for killing her fiance, but by the interactions she has with her you would never know it. The question of whether or not Ted Danson would be back is answered with a yes. But wait until you see what has happened to him. Now that she has won her case against him, Patty needs a new big client and that person is played by Oscar winner William Hurt. To describe his character as pure evil, might be a nice way of putting it nicely.
I so can't wait to see how this season unfolds because if is anything like last each episode will leave us wanting more and the finale will leave satisfied, but hungry for the next one!!! So watch it all unfold tonight and every Tuesday at 10p on FX!!!

---