Remember Gunter from Friends?
September 20th, 2019 under Friends (cast). [ Comments:

none

]

When you think of the show Friends, you think of the main six leads. However, there is one character that really wanted to be part of the gang and, of course, it is Gunther. The manager at Central Perk who is obsessed with Rachel. Maybe even more than Ross.
Anyways to celebrate the show's 25th anniversary on Sunday, Today spoke to James Michael Tyler about his time on the show. Did you know that the actor is not a natural peroxide blonde? He dyed his hair for the show. When it was done, he went back to his natural color. Five years ago, he bleached his hair one last time for the 20th anniversary. I say last time because he says after that appearance he retired that role forever.
Even with natural hair color people were still able to recognize him. However, doing back to back films, one coming up, with a beard, he is finally able to go unnoticed.
Tyler was not cast as anyone when he joined the show in the first season. In fact, he started out as an extra. He was not upgraded until the second season. The rest is Hollywood history.
---
Lego's Central Perk comes with Gunther!
September 1st, 2019 under Friends (cast). [ Comments:

none

]

On September 22nd, Friends celebrates its silver anniversary. However, you do not have to wait until then to celebrate. That is because Lego released the Central Perk set today. Now, you can play Ross, Rachel, Monica, Chandler, Phoebe and Joey whenever you want.
For just $59.99 you can recreate your favorite scene there or you can create a whole new one. You can help Gunther live out his fantasy and have him hook up with Rachel. Or do what I would do and turn the show into an X-Rated movie. It is why I am no longer allowed to play with Lego with my friend's kids!
On that note, you better have a kid in your life. Because you will need them to help you put it together. Have you seen how complicated Lego is these days? They are not adult-friendly. Ikea furniture is easier to put together.
---
The Friends girlFriends cannot stop hanging out together
June 24th, 2019 under Courteney Cox, Friends (cast). [ Comments:

none

]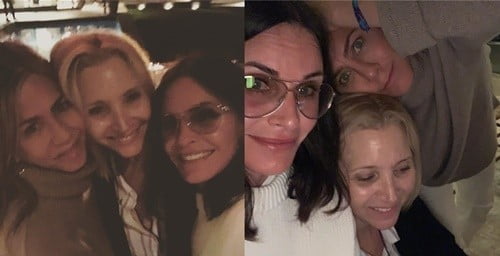 A few weeks ago, Jennifer Aniston, Lisa Kudrow and Courteney Cox got together to celebrate the latter one's 55th birthday. Since then Rachel and Monica took a trip together. Now they are back in Hollywood, they asked Phoebe to join them on a girls' night out.
I don't know about you, but I feel like something is up with these three. Like maybe they are talks to do a show with just the girlFriends? What do you think is going on? Are they just Friends or are they co-stars?
---
Courteney Cox spent her 55th birthday with her girlFriends
June 16th, 2019 under Courteney Cox, Friends (cast). [ Comments:

6

]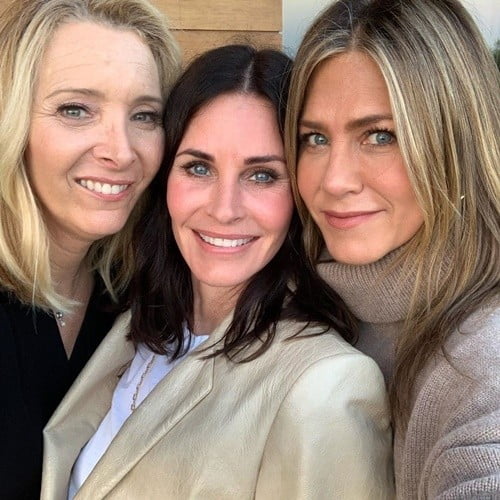 Yesterday was Courteney Cox's 55th birthday (can you believe it?) and she spent it with some old Friends, Jennifer Aniston and Lisa Kudrow. Even though their show ended 15 years ago, it is nice to see that they still live up to the title of their show. It also proves to us in a way that Monica, Rachel and Phoebe would still be celebrating their big days together. Right?
---
Find out what happened on Friends Behind Closed Doors
April 28th, 2019 under Friends (cast), Reelz. [ Comments:

none

]

Whether you loved or hated Friends, you have to admit it is a phenomenon. Tonight at 9p on Reelz, we learn more about the sitcom on Friends: Behind Closed Doors. Throughout the two hour episode, we will hear from people who worked on the show, journalistic fans, and the original cast from old interviews. They will tell stories we have never heard, share details that will shock you and answer so many questions you did not know you wanted the answer to.
They will tell us how they cast all six friends. Who auditioned for Monica and Chandler and did not get the role? They wanted Jennifer Aniston for Monica and Courteney Cox for Rachel. Both actresses convinced them to do otherwise. Who came in with an injured nose? Which actress came close to playing Rachel but did not get the part because she was pregnant? Who went up to then-President of the NBC, Warren Littlefield, just before Friends and asked if it is ever going to happen to her? Which actors had other commitments? One was committed to a pilot that did not get picked up. While one of the actresses was on another show at the time and the other network would not let her go. Therefore, NBC screwed with CBS to make sure that show got cancelled. How? You have to watch to find out.
The network thought the cast was too young, so they wanted to add a seventh friend who was older. They thought a cop buddy would help bring in the older audience. The creators did not like that, so they added their parents instead. Which actress started on the show 2 days after giving birth? She literally got home from the hospital with her son and they asked her to be on the set the next day. She was not stupid, she agreed to do it. Lauren Tom, who played Ross' girlfriend Julie, says the live audience booed her when they filmed her scenes. While she got booed, which scene got the most applauds?
Did you know season 8 was supposed to be its last? What made them agree to do a ninth season? Did you know Matthew Perry and Julia Roberts briefly dated around the time she appeared on the show? What storyline did the cast hate? Hint we hated it too.
These are just a few of the many things you will learn on this special. Fans of the show, and people like me who are so over it, will enjoy it. Whether you watched every episode or if you just heard of it, you will enjoy it because it gives you insight into how a show like this comes about.
---