Frankie Muniz wants to change his name
December 2nd, 2019 under Frankie Muniz. [ Comments:

none

]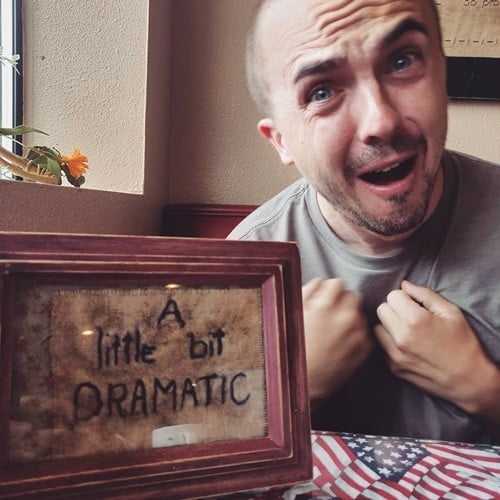 When you think of the name Frankie, you have to admit you think it is a name for a kid. Unless you are in a NYC. Anyways, fuggetaboutit the NYC reference, let's talk about a famous Frankie.
Frankie Muniz decided to let his fans know there is something about him that might be changing.. He revealed to us, "I turn 34 next week, and I think I've finally out grown the name Frankie. It's very childish. So from now on, I hereby declare, I want to be called… Cisco. Cisco just screams professional adult who's got his shit together."
What do you think of Cisco Muniz? When I think of Cisco, I think of the cybersecurity company. He needs to go back to the drawing board. You know, try a name like Frankie? It works for him.
---
A mini-Malcolm in the Middle reunion!
December 15th, 2017 under Bryan Cranston, Frankie Muniz. [ Comments:

none

]

Even though it has been 11 years since Malcolm in the Middle ended its successful run on Fox, Frankie Muniz and his TV dad, Bryan Cranston, are still close. Here they are eating dinner yesterday with the loves of their lives and they look like any another father and son having a meal together. Showing us that there is a reason why we loved and still love that show so much, they had a real chemistry that transcended the script! One that lasted long after the sitcom ended.

Maybe it is time they gave Malcolm a revival, what else is Cranston doing?
---
Caption Frankie Muniz!
October 23rd, 2017 under Caption the Celeb, Dancing with the Stars, Frankie Muniz. [ Comments:

none

]

This photo of Frankie Muniz has "caption me" written all over it, so go ahead and do it.
---
Who knew Frankie Muniz was so little?
March 6th, 2014 under Frankie Muniz, Sports figures. [ Comments:

none

]

Frankie Muniz Tweeted this photo for himself with Blake Griffin and I couldn't get over how little the Malcolm in the Middle star looked next to him. Granted in his defense the LA Clipper Forward in 6'10" and most people will look tiny standing by his side.
---
Frankie Muniz suffered a mini-stroke
December 4th, 2012 under Frankie Muniz, Sick Bay. [ Comments:

none

]

Just days before Frankie Muniz turns 27, he suffered a mini-stroke. The Malcolm in the Middle star Tweeted, "I was in the hospital last Friday. I suffered a 'Mini Stroke', which was not fun at all. Have to start taking care of my body! Getting old!" According to TMZ his friends saw him acting weird so they took him to the hospital, it was there he got his scary diagnosis for someone so young. As of now doctors don't know what caused it.
Hopefully tomorrow for his birthday, he will get the gift of better health and this was a one time scare never to happen again to him.
---