Frankie Muniz's wife has a baby in the middle
October 3rd, 2020 under Frankie Muniz. [ Comments:

none

]

Today is Frankie Muniz and his wife Paige's anniversary, and they have some big news to share. The actor wrote, "Happy 1st Wedding Anniversary to my beautiful, pregnant wife!! I love her more than I ever knew possible and can't wait to share forever with her."

Congrats to the two!

---
Frankie Muniz's wife gives him the worst quarantine haircut
April 6th, 2020 under Frankie Muniz. [ Comments:

2

]

People all over the world are in desperate need of a haircut, but they can't get one because all the barbers and salons are closed. Therefore, they are doing the chops at home.
Frankie Muniz decided to let his wife, Paige Price, give him a haircut, and I think he has grounds for divorce. She gave him the Malcolm in the middle, as in she shaved the top of his head making him look bald.

---
Frankie Muniz wants to change his name
December 2nd, 2019 under Frankie Muniz. [ Comments:

none

]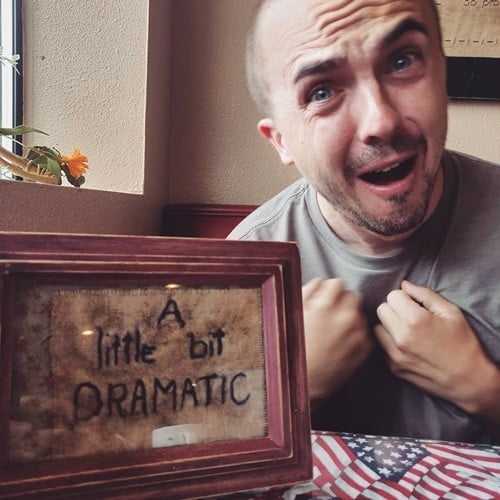 When you think of the name Frankie, you have to admit you think it is a name for a kid. Unless you are in a NYC. Anyways, fuggetaboutit the NYC reference, let's talk about a famous Frankie.
Frankie Muniz decided to let his fans know there is something about him that might be changing.. He revealed to us, "I turn 34 next week, and I think I've finally out grown the name Frankie. It's very childish. So from now on, I hereby declare, I want to be called… Cisco. Cisco just screams professional adult who's got his shit together."
What do you think of Cisco Muniz? When I think of Cisco, I think of the cybersecurity company. He needs to go back to the drawing board. You know, try a name like Frankie? It works for him.

---
A mini-Malcolm in the Middle reunion!
December 15th, 2017 under Bryan Cranston, Frankie Muniz. [ Comments:

none

]

Even though it has been 11 years since Malcolm in the Middle ended its successful run on Fox, Frankie Muniz and his TV dad, Bryan Cranston, are still close. Here they are eating dinner yesterday with the loves of their lives and they look like any another father and son having a meal together. Showing us that there is a reason why we loved and still love that show so much, they had a real chemistry that transcended the script! One that lasted long after the sitcom ended.

Maybe it is time they gave Malcolm a revival, what else is Cranston doing?

---
Caption Frankie Muniz!
October 23rd, 2017 under Caption the Celeb, Dancing with the Stars, Frankie Muniz. [ Comments:

none

]

This photo of Frankie Muniz has "caption me" written all over it, so go ahead and do it.

---