There's something about Pete Wentz's hair
May 1st, 2010 under Fall Out Boy/ Ashlee Simpson. [ Comments: none ]

WireImage
Pete Wentz got rid of his Emo do and looks like he traded it for a There's Something About Mary style. I don't know what he was going for with having his bangs stand up like that, but he should tame them ASAP.
BTW a couple that shares hair dye together, will stay together.

---
Is this Jessica Simpson's new diet?
January 8th, 2010 under Fall Out Boy/ Ashlee Simpson, Jessica Simpson. [ Comments: none ]

via MTV Movie Blog
Jessica Simpson Tweeted this photo of her munching down on her younger sister, Ashlee's Simpson's hair. When I saw it I thought, besides WTF is wrong with them, is that Jessica Simpson's new way to lose weight? It seems like every few months she is on a magazine cover sharing what new way she lost her extra few pounds, so why not go to an extreme and try the only eating hair diet? Hey they had it on Nip/Tuck, so it has to be real, right? And we all know how gullible Jessica is?

---
Nicole Richie is going to torture us with Ashlee Simpson's acting?
December 11th, 2009 under Fall Out Boy/ Ashlee Simpson, Nicole Richie. [ Comments: none ]

(photo from WireImage)


ABC is working with Nicole Richie on a possible sitcom for her to produce and star in which is bad enough, but now the it is being reported that she wants Ashlee Simpson to co-star with her on it. The National Enquirer says, "Nicole adores Ashlee, and she truly believes in her talent. With few other job prospects on the horizon, Ashlee – who desperately wants to establish herself as an actress – was feeling down until Nicole stepped up and promised: 'I've got your back. What are girlfriends for?'" according to WENN. I really hope that she doesn't hire Ashlee because it was bad enough we had to suffer through her acting on Melrose Place and to think we might have to do it again on a new show gives me chills. But then again ABC might not pick up the show and we won't have to watch either one act. I mean you would think that ABC would've learned through Dancing with the Stars, paparazzi darlings don't equal viewers.

---
The many faces of Ashlee Simpson
December 1st, 2009 under Fall Out Boy/ Ashlee Simpson, The Many Faces of. [ Comments: none ]

Ashlee Simpson made her Chicago debut on Broadway yesterday and WireImage photographed her curtain call. I never knew you could actually see how bad someone's acting could be through flash camera images, well that was until now. Or it could be I am flashbacks of her being on Melrose Place and those painful memories are just coming back to me. Thankfully we only have to suffer through two more episodes (tonight and next Tuesday) of her playing Violet on The CW show!
BTW Ashlee and her sister, Jessica Simpson make the oddest faces. What is up with that?

---
Ashlee Simpson is starting to look like Julia Roberts?
November 18th, 2009 under Fall Out Boy/ Ashlee Simpson. [ Comments: none ]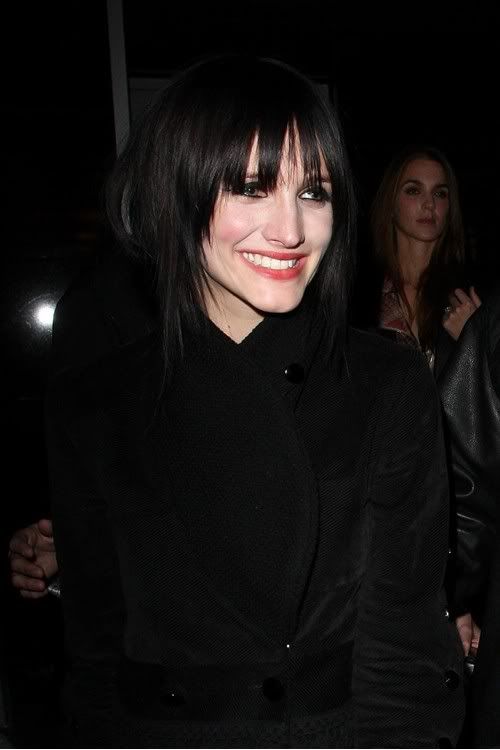 Pacific Coast News Online
Is it just me or is Ashlee Simpson starting to look like Julia Roberts? Too bad she doesn't have her acting skills, as we learned by her doing Melrose Place.
BTW what is up with her dying her jet black? Is she trying to become a witch and put a curse on all the people at Melrose Place for firing her a$$?

---