Drew Barrymore can't go to sleep like this
April 10th, 2019 under Drew Barrymore. [ Comments:

none

]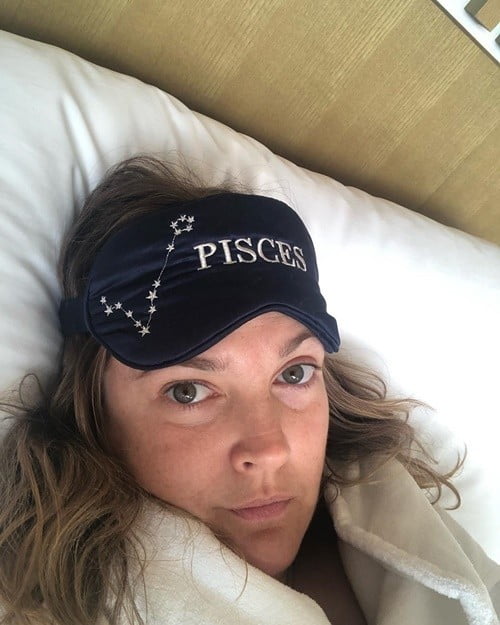 Celebrities love to share photos of themselves looking perfect and telling us that they woke up that way. Drew Barrymore is not like them. She posted a photo of herself with major jet lag after traveling to Australia and being up for 24 hours and counting. You know she looks just a pretty as when she gets a full night of sleep and is wearing her makeup line Flower.
---
Santa Clarita Diet's third season is very charming!
March 29th, 2019 under Drew Barrymore, Netflix, Timothy Olyphant. [ Comments:

none

]

Santa Clarita Diet is back for a third season on Netflix today and it is so delicious. You don't have to be a Zombie to want to eat up this show.
The season premiere picks up the next day and Sheila (Drew Barrymore) and Joel Hammond (Timothy Olyphant) are dealing with the repercussions from the night beforehand. You know when their cop neighbor (Natalie Morales) finds them burying a body and holding Gary's (Nathan Fillion) talking head in the desert. Thankfully, she is a religious person and gets a sign, a huge explosion, and thinks that Sheila is a prophet. Therefore, Anne wants to help them now. But the couple cannot tell her Sheila is a Zombie. It is better for Anne if she just thinks that Sheila is invincible.
Talking about that explosion, Sheila and Joel's daughter, Abby (Liv Hewson) and her BFF Eric (Skyler Gisondo) are the ones who caused it. This season, they will have to do everything in their power not to be caught by the FBI who suspects them. All while trying to help her parents not get caught in general. That is a lot for any high school student to handle and yet they are much more mature than their parents.
If only trying to keep those secrets was all they had to deal with, but it is not. The Knights of Serbia have to come to Santa Clarita and they want to kill all the Zombies. Guess who is on their list? Sheila! She and Joel have to find a way to keep her secret from them as they try to find a way to kill her.
Then there is Ron (Jonathan Slavin), he wants to live forever too. Therefore, he comes up with a way to do it. What happens when he is one of the undead? He does things that will cause a lot of problems for everyone because he is Ron.
These are just a few of the many crazy things that happen this season on the endearing show, and you don't want to miss a single minute of it.
Did I mention Ball Legs is let out of the freezer and starts to run free? That will cause them to have a lot of explaining to do. Also, Linda Lavin has a great role in the series and it is her best role since Alice.
One more thing, pay attention to each episode because it all comes together for the season finale. It is a brilliant mapping of events and people that all lead to one moment that ties the whole season together.
Plus, a great final moment that sets up for next season. Which we better get Netflix.
---
Santa Clarita Diet makes me smile
March 11th, 2019 under Drew Barrymore, Netflix, Timothy Olyphant. [ Comments:

none

]

I grew up with Horror movies and show, but yet I have never been a fan of Zombies. There are just a handful that I can actually stand to watch. Santa Clarita Diet is one of them. Therefore, I have been hungry for new episodes.
Today, Netflix announced they are serving up a whole new season on March 29th. Looks we are going to love it as much as Joel (Timothy Olyphant) and Sheila (Drew Barrymore) love each other. Which might give a whole new meaning until death we do part.
---
Drew Barrymore and Cameron Diaz have a playdate!
July 13th, 2018 under Cameron Diaz, Drew Barrymore, No makeup. [ Comments:

none

]

Even though has been nearly 18 years since Charlie's Angels came out, two of the angels are still partners in crime. Or were Drew Barrymore and Cameron Diaz the good guys?

Anyways, the two actresses got together today for some fun in the sun, and they went au naturel. Not as in naked, but without any makeup on. And in Hollywood the latter is scary. Which is weird because the two women in their 40's look great with or without it on. Don't you agree?
---
Does Drew Barrymore look better with or without makeup?
June 21st, 2018 under Drew Barrymore. [ Comments:

none

]

Drew Barrymore shared a photo of half of her face with makeup and the other half without it. Why? She wanted to let you know her line of beauty product, Flower Beauty, is now available at Ulta.

Seeing how it looks very natural, it makes me want to try it. But then again, look at the canvas that Nikkie Tutorials had to work with.
---