A spoonful of sugar helps the COVID-19 vaccine go down for Dick Van Dyke
January 29th, 2021 under Coronavirus, Dick Van Dyke. [ Comments: none ]

Dick Van Dyke is 95 years old. Therefore, it is imperative that he gets the COVID-19 vaccine. Thus, he got it.
Since he is Dick Van Dyke, he had to make everyone around him happy. So he sang A Spoonful of Sugar from Mary Poppins with some of his fans at UCLA Health. For a few minutes, no one cared about coronavirus. Isn't that sweet like a spoonful of sugar?

---
The Kennedy Center honors Dick Van Dyke, Debbie Allen and Garth Brooks
January 13th, 2021 under Dick Van Dyke, Garth Brooks and Trisha Yearwood. [ Comments: none ]

CBS and the Kennedy Center announced who they will be honoring this year. The five artists are Debbie Allen, Joan Baez, Garth Brooks, Midori, and Dick Van Dyke.

Kennedy Center Chairman David M. Rubenstein explained their decision. "Debbie Allen moves seamlessly between artistic disciplines and is a cultural ambassador for all while having a monumental impact on dancers of color everywhere; folk icon Joan Baez breathed new life into the genre and powered rock music's turn toward social and political consciousness; as one of the world's best-selling music artists, Garth Brooks heightened country music's profile like no other singer before him; with an international presence for over 35 years, violinist Midori combines graceful precision and expression for performances building connections between art and the human experience; with a charm that has made him one of the most cherished performers in show business history, Dick Van Dyke has brought us beloved film, stage, and TV characters adored by generations of fans, for more than seven decades."

The two-hour special is slated to air June 6th on CBS. How the event will take place will depend on where we are in the fight against the coronavirus pandemic. We need to protect Dick Van Dyke, Joan Baez, and Debbie Allen from COVID-19. They are obviously national treasures, or they would not be being honored.

---
Dick Van Dyke, 95, is still like a kid opening Christmas presents
December 26th, 2020 under Dick Van Dyke. [ Comments: none ]

Dick Van Dyke might have just turned 95 years old. However, he still acts like a kid when he gets a Christmas present from his youth, as you can see when someone got him a Red Ryder BB Gun. The beloved actor started playing with it like when he was a kid all over again.
Not only that, he sat crisscross apple sauce. How many people over 50 do you know who can still do that?
People said Dick Clark was the eternal teenager. Well, Van Dyke is the eternal kid. I guess there is just something about the name Dick.

---
CBS honors Carl Reiner with two colorized eps of The Dick Van Dyke Show
July 1st, 2020 under Dick Van Dyke. [ Comments: none ]

Carl Reiner not only created The Dick Van Dyke Show, but he also starred on it as Alan Brady. Brady was the host of the variety show that Rob Petrie (Van Dyke) wrote for. While Reiner was not on the show all the time, when he was on, he left a memorable impression.

Not only did he leave an impression on the show, but he also left an impression on all of us. On Monday night, he passed away from natural causes at the age of 98. This Friday at 8p, CBS is going to honor him with two of his DVD Show episodes starting at 8p. To make them as special as he was, they are going to be colorized. We will see what happens when Laura (Mary Tyler Moore) outs him as a bald man who wears a toupee in one episode. Then on the other one, he plays an eccentric artist who wants to paint Laura.

Whether you have seen these hilarious episodes before, or this will be the first time, I highly suggest you watch. Both episodes are some of the show's funniest ones in its very successful run.

---
Howard Stern blows off the lovable Dick Van Dyke
October 10th, 2019 under Dick Van Dyke, Howard Stern. [ Comments: none ]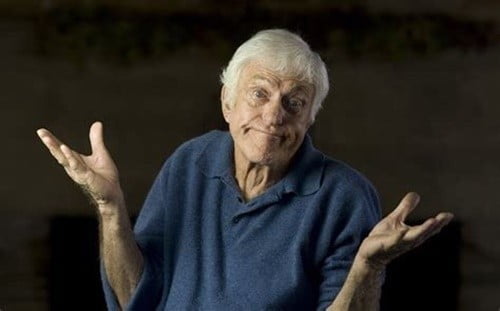 Dick Van Dyke is so beloved that you would think that anyone who could interview, would jump at the oppprtunity (I would do almost anything for the chance). You would be wrong.
The legendary actor tweeted, "Mrs. @speakyteeth a @HowardStern @sternshow fan since the 90's. Her only request since we met has been for me to be on the show. It's never happened because of opposite coasts. Last week, my agent called & was turned down. Did Howard ever get the request or is he afraid of me."
If Stern can interview boring Jennifer Aniston, then why can't he do a sit down with Van Dyke? Imagine all the juicy stories he has with all the amazing people (who we also adore) he worked with throughout the decades. I'd rather listen to him than Adam Levine saying the same thing he just said to everyone else in the last week.
We need to let Stern know, he has to book Van Dyke before he heads back to NYC!

---