Howard Stern blows off the lovable Dick Van Dyke
October 10th, 2019 under Dick Van Dyke, Howard Stern. [ Comments: none ]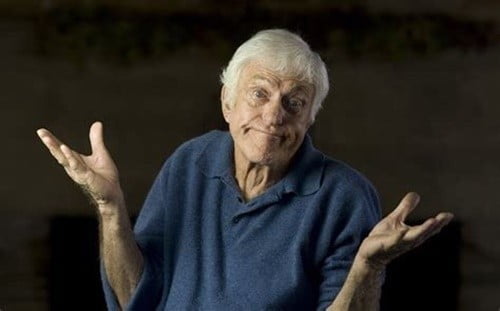 Dick Van Dyke is so beloved that you would think that anyone who could interview, would jump at the oppprtunity (I would do almost anything for the chance). You would be wrong.
The legendary actor tweeted, "Mrs. @speakyteeth a @HowardStern @sternshow fan since the 90's. Her only request since we met has been for me to be on the show. It's never happened because of opposite coasts. Last week, my agent called & was turned down. Did Howard ever get the request or is he afraid of me."
If Stern can interview boring Jennifer Aniston, then why can't he do a sit down with Van Dyke? Imagine all the juicy stories he has with all the amazing people (who we also adore) he worked with throughout the decades. I'd rather listen to him than Adam Levine saying the same thing he just said to everyone else in the last week.
We need to let Stern know, he has to book Van Dyke before he heads back to NYC!

---
Dick Van Dyke owns Piers Morgan
December 3rd, 2018 under Dick Van Dyke. [ Comments: none ]

Piers Morgan thinks he is funny. He is not.

Case in point, the other day he Tweeted a photo with a legendary actor and wrote, "Imagine being called Dick Van Dyke in this PC-crazed era? Poor guy. He'll have to change his name to Richard Van Non-Binary-Gender-Fluid." To which the funny man responded with just the above photo from Diagnosis Murder. Which is very appropriate because DVD killed it with his comeback!

BTW have y'all heard the joke about Van Dyke? A young good looking guy walks into a Hollywood agent's office and the guy says to him, "You have to change your name because you will not get any work as Penis Van Lesbian" Since it is a family name, the actor does not want to change it. Then 5 years later that agent gets a letter from Dick Van Dyke saying he decided to change his name as suggested. (I shortened the joke which is why it is not as funny)

---
Which I Love Lucy and The Dick Van Dyke Show episodes is CBS colorizing?
November 5th, 2018 under CBS, Dick Van Dyke, Lucille Ball. [ Comments: none ]

For the last few years, CBS has been colorizing episodes of I Love Lucy and The Dick Van Dyke Show for the holiday season, and this year is no different. Thankfully! Each classic sitcom will get two episodes that will go from drab to fab on Friday, December 14th.
I LOVE LUCY CHRISTMAS SPECIAL (8:00-9:00 PM, ET/PT)

Featuring two back-to-back episodes of the classic series, the colorized "The Christmas Episode" and newly colorized "Pioneer Women." "The Christmas Episode" (first presented in black and white on Christmas Eve, 1956), finds the Ricardos and Mertzes decorating Lucy and Ricky's Christmas tree and reminiscing about how their lives have changed since the arrival of the Ricardos' son, Little Ricky. In "Pioneer Women" (originally aired March 31, 1952), Lucy and Ethel's hopes of joining the posh Society Matrons' League lead to a bet with their husbands over which sex – the men or the women – had it harder living in a bygone era.

THE DICK VAN DYKE SHOW – NOW IN LIVING COLOR! (9:00-10:00 PM, ET/PT)

The two newly colorized back-to-back episodes of this memorable series were selected by series creator Carl Reiner as two of Dick Van Dyke's best episodes. In "Where Did I Come From" (first presented on Jan. 3, 1961), 6-year-old Richie asks his parents the inevitable "where did I come from?" question, and they recall the days before his birth. In "Never Bathe on Saturday" (initially presented on March 31, 1965) the Petries' romantic second honeymoon becomes a disaster when Laura's toe gets caught in a bath spout.
Normally, I am not a fan of colorization, but CBS does such a great job with these timeless shows that live on in infamy or as we call it syndication. It shows them in a whole new light, a rainbow of colors to be exact.

---
Dick Van Dyke is not dead and giving $59 million to Donald Trump
October 11th, 2018 under Dick Van Dyke, Not Dead. [ Comments: 6 ]

There is a vital rumor that Dick Van Dyke passed away and his donating $59 million to Donald Trump. When the beloved actor heard about that, he took to social media to declare he is still alive.

The 92-year-old wrote, "I may be circling the drain, but I ain't dead yet!" Then he added, "As for the 59 million dollars?!? If I had it, I would give it to anyone who could do something about the non-existence of affordable housing. So many at the end of their rope. I live in a 2 bedroom, 2 1/2 bath house and wouldn't trade it for anything."

And that is why we still love him after all of these decades. Well that and all of the memorable roles he has had in his wonderful career in shows like The Dick Van Dyke Show and Diagnosis Murder and movies like Mary Poppins and Chitty Chitty Bang Bang.

---
BTWF: Joel McHale in Diagnosis Murder
August 22nd, 2018 under Before They Were Famous, Dick Van Dyke, Joel McHale. [ Comments: none ]

Before Joel McHale was investigating murders in The Happytime Murders, he was the one who was murdered on Diagnosis Murder. He looks younger now than he did when he was 30 in that 2002 episode.

---