John Legend has crabs!
March 19th, 2020 under Chrissy Teigen, John Legend. [ Comments: none ]

John Legend and Chrissy Teigen are stuck home with their two kids, Luna and Miles. Since their children are too young to be homeschooled, the family of four gets to have some fun.

What is more fun than swimming? Thus, the four of them put on their swimming suits and jumped on inro the pool. Before they got their bathing suits all wet, the model took a photo of her two boys modeling their swimming trunks with crabs on them.

You know that Teigen bought those just so she could say, "I have crabs." That means she gave them to the People's Sexiest Man Alive.

Can someone tell me what manufacturer thought that was a good idea? Didn't they realize all the jokes that person wearing them is going to have endure? They probably did!

---
Would Chrissy Teigen really eat human meat?
February 20th, 2020 under Chrissy Teigen, Michael Strahan, Strahan, Sara & Keke. [ Comments: none ]
https://twitter.com/i/status/1230563645672714251
Chrissy Teigen was David Chang's Netflix show Ugly Delicious and revealed that she would eat human meat. Today, when Mrs. John Legend was Strahan, Sara and Keke, Sara Haines wanted to know if she would really do it. The model told her, "I feel like we have eaten everything like everything has been eaten in fine dining. What is the one thing that has not been served?" That thing is you and me on a plate.
Haines followed up and asked what body part would her guest eat? Teigen did not say, but she did offer up her arm if she died of natural causes. When it comes to what body I would eat. I would chow down on some frank and beans. What about you? Also, do you have a shot of blood with your meal?
I know this has been done before in shows like Sweeny Todd, but why hasn't Ryan Murphy done a season of American Horror Story with carnivores? He could get Teigen to be his new lead.
On that note, if John Legend ever goes missing, I do not think we will ever find his body. The bones, yes, the rest will be the plot of her latest cookbook. Not that she would ever do it.

---
Caption Chrissy Teigen!
February 6th, 2020 under Caption the Celeb, Chrissy Teigen. [ Comments: 4 ]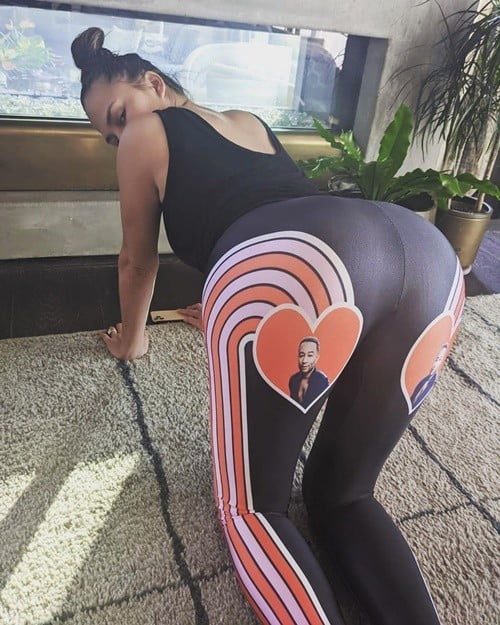 This photo of Chrissy Teigen has caption me written all over it, so go ahead and do it.

---
Chrissy Teigen goes down faster than Titanic
December 29th, 2019 under Chrissy Teigen, John Legend. [ Comments: none ]

Chrissy Teigen and John Legend went ice skating, and they skated to Celine Dion's My Heart Will Go On. Which sounded like a good idea until the model hit an iceberg and went crashing down into the ice. Kind of like the Titanic did to that song. If there is only there was a movie that could have warned them what was going to happen.

---
John Legend tries to prove why he is Sexiest Man Alive
November 22nd, 2019 under Chrissy Teigen, John Legend. [ Comments: none ]

Ever since John Legend was announced as People's Sexiest Man Alive, a lot of people were like how? Well, his wife Chrissy Teigen shared a video of her husband being sexy. Do you now understand why he got the title? Sorry, John, your stage name might be Legend, but you will never be a legend in the sexy department for me. Although this is cute.

---