NBC is no longer harmonious with Perfect Harmony
June 5th, 2020 under Bradley Whitford. [ Comments: none ]

We still don't know what NBC's 2020-2021 schedule will look like, but we now know a show that will be missing from their lineup.
Tymberlee Hill, who played Adams, broke the news about Perfect Harmony yesterday. She wrote, "It's A wild time right now. So, I wish I had better news. But I just wanted to say, Thank You So Much to the fans of @PerfectHarmony For Your Love. The show will Not be coming back for a Second Season. But I had the time of my life with You, my #PerfectHarmony Family. Xo"
I am so upset about this news. Perfect Harmony was my favorite new broadcast of last season. The sitcom was an endearing show with great music and a lovable cast. I hope Peacock or USA Network consider saving it. It is worth saving like the choir saved Dr. Arthur Cochran.
No matter what happens, they can never take away Bradley Whitford dancing like a Chippendales dancer. We will always have that.

---
Bradley Whitford is in perfect harmony with his dog
February 24th, 2020 under Bradley Whitford. [ Comments: none ]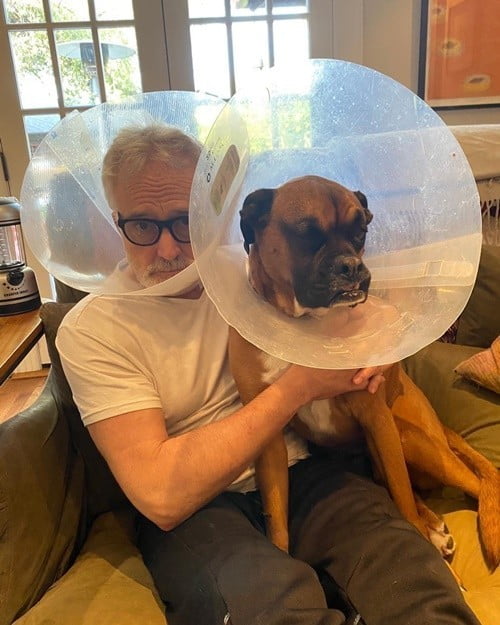 They say the longer we have a dog, the more we start to look like them. Bradley Whitford takes that phrase one step further. When Baby Otis needed to wear a cone, so did the actor. Now the two are twinning, and neiher one of them is licking their balls.

---
The Perfect Harmony cast shows off their perfect harmony of NBC's theme songs
January 24th, 2020 under Bradley Whitford, NBC. [ Comments: none ]

Thursdays have been Must See TV on NBC for decades, and several of those comedies have theme songs. The newest addition to the lineup decided to sing them a capella style. They perfect harmonized the opening numbers to The Office, Parks & Recreation, Brooklyn Nine-Nine, The Good Place, Superstore, 30 Rock and Perfect Harmony. Even those tunes don't have lyrics. Which makes you wonder why they did not go back to the last century when they did?
I hope that this video is not Perfect Harmony's swan song. Last night was the show's season finale, and I hope it does not become a series one. I enjoyed every episode of it, especially the one when we saw Bradley Whitford strip. You can watch it on Hulu or the NBC app now. I am just not going to tell you which one it is so you will watch them all.

---
Who knew Bradley Whitford has such sexy legs?
October 23rd, 2019 under Bradley Whitford. [ Comments: none ]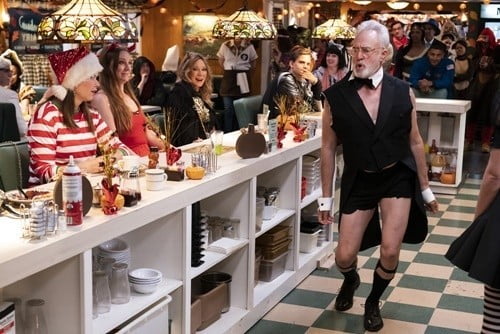 Next week on the Halloween episode of Perfect Harmony, we see a lot more of Bradley Whitford than we have ever seen. A lot more.
On The West Wing, Studio 60, Trophy Wife and Handmaid's Tale, he always wore pants. Yet on Halloween night when everyone is dressing up, he is taking it off. Which means we get to see his legs. Who knew that he has such muscular sticks? Those gams would look hot on someone half his age. The fact that he is 60 makes them even more Perfect.
I think NBC should have him in shorts for the rest of the season. It would give the ratings some Harmony.
When it comes to what is the story behind the photo, all I will tell you is that you do not want to miss this episode on October 31st on NBC. Actually, you do not want to miss any of the episodes. This a darling show about small-town Southern Church Choir who let a Yankee direct them and they form a bond like a family. They are there for the good times and the stinky ones. As when a skunk sprayed Whitford's character. Plus, the music is really good. All these actors can really sing.
What more do I need to tell you to watch? It has music, laughs and it makes you feel good. That sounds like Perfect Harmony to me.

---
BTWF: Bradley Whitford in Revenge of the Nerds 2: Nerds in Paradise
October 17th, 2019 under Before They Were Famous, Bradley Whitford. [ Comments: none ]
https://youtu.be/5_WYtR3iccc?t=905
Before Bradley Whitford an angry Santa who taught at Princeton on Perfect Harmony, he was a snotty frat boy in Revenge of the Nerds 2: Nerds in Paradise. He looks the same now as he did when he was 26 in that 1987 movie.

---