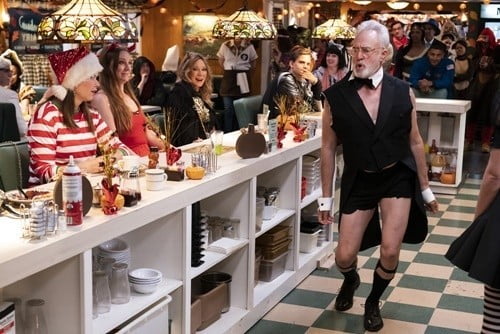 Next week on the Halloween episode of Perfect Harmony, we see a lot more of Bradley Whitford than we have ever seen. A lot more.
On The West Wing, Studio 60, Trophy Wife and Handmaid's Tale, he always wore pants. Yet on Halloween night when everyone is dressing up, he is taking it off. Which means we get to see his legs. Who knew that he has such muscular sticks? Those gams would look hot on someone half his age. The fact that he is 60 makes them even more Perfect.
I think NBC should have him in shorts for the rest of the season. It would give the ratings some Harmony.
When it comes to what is the story behind the photo, all I will tell you is that you do not want to miss this episode on October 31st on NBC. Actually, you do not want to miss any of the episodes. This a darling show about small-town Southern Church Choir who let a Yankee direct them and they form a bond like a family. They are there for the good times and the stinky ones. As when a skunk sprayed Whitford's character. Plus, the music is really good. All these actors can really sing.
What more do I need to tell you to watch? It has music, laughs and it makes you feel good. That sounds like Perfect Harmony to me.

---