How do you like Joaquin Phoenix's Joker?
April 2nd, 2019 under Batman, Joaquin Phoenix. [ Comments: none ]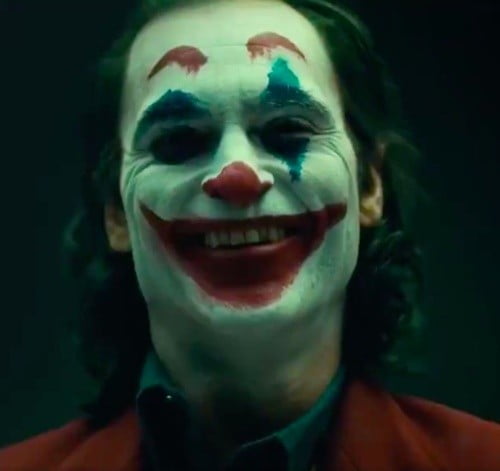 Warner Bros released the first photo of Joaquin Phoenix as the Joker and it is a joke, right? I mean why can't they put on his makeup evenly. Why does he look like his 2-year-old put it on? Hopefully, the movie will be better than he looks, but I highly doubt it.

---
Did Donald Trump actually think that Christian Bale was Bruce Wayne?
December 12th, 2018 under Batman, Christian Bale, Donald Trump. [ Comments: none ]

One of the many things that the World has learned over the last few years is that Donald Trump is far from the genius he claims to be. Something Christian Bale already seemed to know for years like most people (including me) from New York City.
When Variety's Mark Malkin asked the actor on the red carpet of Vice who should play 45 in the eventual biopic, he had an interesting story. Back when Bale was Batman, they were filming in Trump Tower. The businessman saw him and invited him up to his penthouse. When the two men were talking, the Dark Knight felt that Trump actually thought he was Bruce Wayne and not just playing him in the movies. How did he react? What could he do, but just go along with it.
Too bad Bale didn't go all Transformers on him. Now that would have been hot!

---
Joaquin Phoenix gets his Joker's face
September 22nd, 2018 under Batman, Joaquin Phoenix. [ Comments: none ]

On Sunday, we got to see Joaquin Phoenix as the Joker before he was the villain. Now we are getting to see him after he becomes the notorious Batman bad guy for Warner Bros.
I don't know about you, but it does nothing for me. It doesn't scare me or make me like him. But I am not the target audience because I cannot stand the new DC Universe movies.
What do you think of the latest look for the iconic character?

---
The Joker without his makeup
September 16th, 2018 under Batman, Joaquin Phoenix. [ Comments: none ]

We know that Joaquin Phoenix is starring in a film about The Joker's origin, but we do not know what he will look like in it. Today, Director Todd Phillips shared the first photo of his villain.

What do you think of "Arthur"? To me, he looks just like how Phoenix has looked in his last few movies, so I do not see any difference.

---
Alec Baldwin is not Batman's dad
August 29th, 2018 under Alec Baldwin, Batman. [ Comments: none ]

There are reports that Alec Baldwin is going to play Batman's dad in the Joker origin film with Joaquin Phoenix. Some of those reports wrote that Thomas Wayne is going to be a Donald Trump-like character. Well, I guess those rumors do not sit well with Baldwin.

That is because the actor tweeted today, "Let me state, for the record, that I have NOT been hired to play a role in Todd Phillips' JOKER as some Donald Trump manque. That is not happening. Not. Happening." I guess the Joker is on the people who spread those reports.

Personally, I hope this movie does not get made. I just have no respect for Phoenix after I'm Still Here. That and I think the Warner Bros/DC Comic movies are so so so dark. Too dark to even be enjoyable.

---