Did Lady Gaga steal Amy Winehouse's look?
June 2nd, 2021 under Amy Winehouse, Lady Gaga. [ Comments: none ]
Lady Gaga has been accused of stealing musically from Madonna. Now, it looks like she is borrowing another icon's look.
Instead of seeing her Poker Face, it appears that we are looking at Amy Winehouse's. To me, it looks like Gaga copied the late singer's high beehive hairstyle with a jeweled barret, thick cat eyeliner, and dark red lips.
Am I the only one who feels they are staring at the Rehab singer and not the one that was Born This Way?

---
RIP Amy Winehouse
July 23rd, 2011 under Amy Winehouse, Obits. [ Comments: none ]

Amy Winehouse was found dead today at the age of 27 according to Daily Mail. Because the news is just breaking not much is known, but that police are saying it is unexplained. Although for years her demise was sadly predicted, she seemed to beat the odds time and time again. I guess her body just couldn't take it any more.
Even though her death is not a surprise, it is still shocking and sad. So today take some time to remember her and listen to her music and beautiful voice and keep her spirit that was as big as her hair alive.
And for all the people that are in a situation like she was in, don't follow her example and go to Rehab if you need it. Her legacy should be if you need rehab, say yes yes yes when they try to make you go.

---
Amy Winehouse is burnt
April 20th, 2009 under Amy Winehouse. [ Comments: 5 ]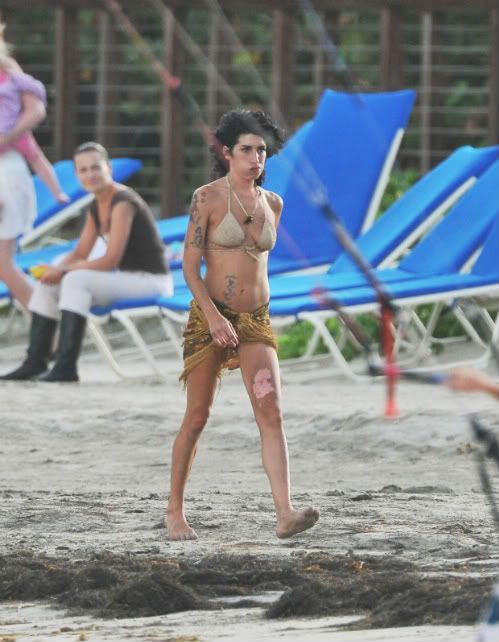 Splash News Online
Ouch and ewww. How is Amy Winehouse walking around a with a burn like the one she has on her leg? Seriously she should be at a doctors office getting that looked at? But I guess with all her skin problems this is nothing to her, but to the rest of us that would be stay away from the sun and ODing our leg on Aloe Vera et al.

UPDATE: According to The Sun, a pot of boiling water fell on her leg when she was cooking pasta for her friends. OMG! How and why is she walking around like that. That looks as though the skin that bubbled has burst and she might be risking infection by not covering that raw skin up. While I am a not a doctor, I had a smaller burn like that and my doctor told me to neosporin it and keep it covered until it got better.

---
Amy Winehouse wants to adopt?
April 20th, 2009 under Amy Winehouse. [ Comments: 1 ]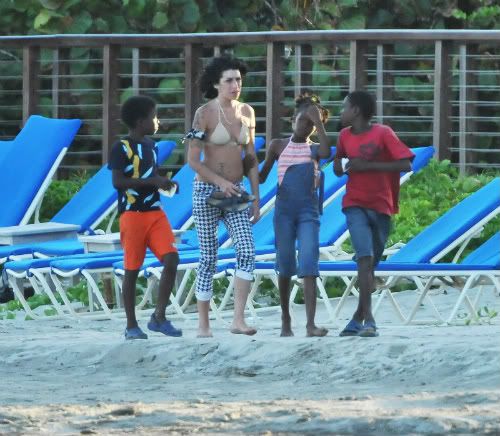 OK!
says a source told them that Amy Winehouse wants to adopt a baby from St Lucia.
A source said: "Amy is seriously thinking about adopting. But she is aware it's going to be incredibly difficult with her background.

"She has always wanted to be a mother. She loves St. Lucia and would move there for good in order to adopt."
But before we all freak out, her rep cleared up what Amy meant…at least I hope that is what he was saying.
Amy's spokesman revealed: "Amy was talking about adopting in the context of looking after children on the island, perhaps through some kind of music and education-based project."
Could you imagine her adopting? I can't, I can't even picture her having kids the natural way.

---
Amy Winehouse hospitalized again
November 25th, 2008 under Amy Winehouse. [ Comments: 2 ]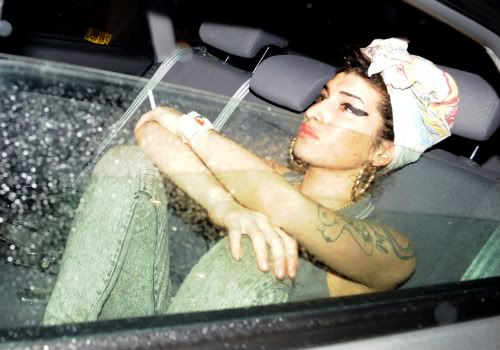 (photo from Splash)


Amy Winehouse seems to spend more time in the hospital than she does in the recording studio and this weekend was no different according to Daily Mail.
Winehouse's spokesperson confirmed the singer was taken to a private London clinic on Sunday after suffering 'a bad reaction to the combination of medication she has currently been prescribed'.
A friend of the singer told the Daily Mirror: 'Amy is on a drug replacement programme and has had bad reactions to her medication before. Doctors want to sort out why this is happening.'
I wonder why it keeps happening…

---