Adelaide Kane breaks down how expensive it is to be an actor
August 27th, 2020 under Admirable People. [ Comments: none ]

Actors make a lot of money on paper, but they have to share a majority of their wealth. Adelaide Kane, who starred on Reign on The CW that streamed on Netflix for four seasons, broke down the costs.
The actress says that she has to give 10% to her agent, 10% to her manager, 5% to her lawyer, 5% to her business partner, plus she is taxed 30% because she is a foreign national working in America. That is where 60% goes off the bat. Then she has to pay rent in at least one major city, sometimes two depending on where she is filming. She also has to pay a publicist $2,000-$3,000 a month, social media teams are $2,000 a month, stylists are $750-$1,500 an outfit, plus hair and makeup are $1,000 each time she uses them. That is a lot of dough before you get to put any of it in the bank.
She said in another TikTok video that she has been able to save up and she is paying a mortgage. That is because obviously she is smart with her money. I was lost once she started doing division.
Seriously, I have a lot of respect for her because she broke down how expensive it is to be an actor. I knew this because I have a few actor friends who have gone over the finances with me. That is why so many of them have a second job when they are not filming all of the time or have smaller roles.
Do you have a new respect for actors?

---
Jeff Bezos' ex-wife MacKenizie Scott gave $1.7 billion to charity
July 29th, 2020 under Admirable People. [ Comments: none ]

Amazon's multibillionaire and cheapskate Jeff Bezos cheated on his beautiful wife, MacKenzie Scott, and they got a divorce. In the settlement, she got a lot of money and promised to donate a chunk of it to charity. She kept her promise, and yesterday she announced that she donated $1.7 billion to 116 charities.

Last fall, Scott asked a team of non-profit advisors to find the best organizations that work with historically marginalized race, gender, and sexual identity groups for her to give her money to. Nearly a year later, the list is done and a promise kept.

We need more wealthy people like her, Microsoft's Bill Gates and Twitter's Jack Dorsey, who use their money to help others and not just themselves. You know billionaires like her ex and Donald Trump.

To see the current list, then click here!

---
Marlee Martin still fits into her Oscar dress
March 23rd, 2020 under Admirable People. [ Comments: none ]

Back in 1987, Marlee Martin won an Oscar for her starring role in Children of a Lesser Gd. Over the weekend, she was able to recapture that feeling. No, she did not win another award. She got something better.

The 54-year-old was able to still fit into the dress she wore that night. As any woman can you tell, that might be even better than winning that little statuette! Then again, must of us have not won an Oscar.

---
Derrick Nnadi is the true MVP of the KC Chiefs and KC pets!
February 3rd, 2020 under Admirable People, Sports figures. [ Comments: none ]
https://www.instagram.com/p/B8F4Q58nkWo/
Derrick Nnadi was so excited that the Kansas City Chiefs won the Super Bowl yesterday that he made confetti angels on the field. Turns out, he is also an angel when he is standing on all two paws.
After the game, the Defensive Tackle made a phone call that will change hundreds of lives. He called up the KC Pet Project and made them an offer they could not refuse. The animal shelter wrote, "KC WINS! We are so excited to announce that the Kansas City Chiefs defensive tackle, Derrick Nnadi is choosing to celebrate the Super Bowl win by paying for the adoptions of all the adoptable dogs currently at KC Pet Project!
We have had an amazing, season-long, partnership with Derrick and he couldn't have thought of a better ending."
Since the news of his generosity broke, the no-kill shelter say, "44 pets left the shelter today (38 dogs and 6 cats) with new families and up to 30 more are going home tomorrow! Of the 109 dogs that qualified for the sponsorship, around 40-50 of those dogs will still be available after tomorrow, which is incredible." Beyond incredible and at least one of those best friends better be named after their benefactor.
If you want to adopt (never shop) one of the remaining pups, then you can see them here.
The 23-year-old already has the Derrick Nnadi Foundation that not only helps pets, but also children in both Kansas City, Missouri and his hometown Virginia Beach, Virgina. Like I said, he is an angel. Even if he did got to Florida State. Nnadi is one to watch and I cannot wait to see what else he does on and off of the field.

---
DJ Qualls comes out as gay
January 13th, 2020 under Admirable People. [ Comments: none ]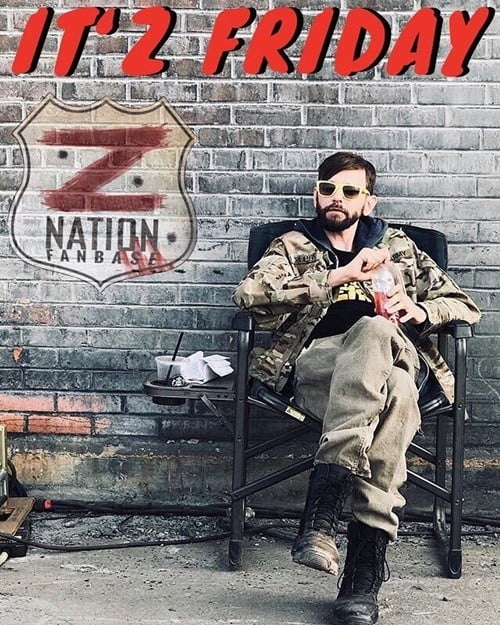 DJ Qualls has played the stud in several movies, and now the actor has a confession to make. He told his followers on Friday, "It is 11:20pm. I just came out on stage at a @jimjefferie show in San Diego. Yep, I'm gay. Been gay this whole time. Tired of worrying about what people would think of me. Tired of worrying about what it would do to my career."
He can still play the man who gets all the girls or boys. Who cares anymore? As long as he is happy, what else matters?
If some production does not want you because you are gay, then you did not want them in the first place.

---