CBS is not ready to move out of The Neighborhood
January 23rd, 2023 under 2 Broke Girls, Tichina Arnold. [ Comments: none ]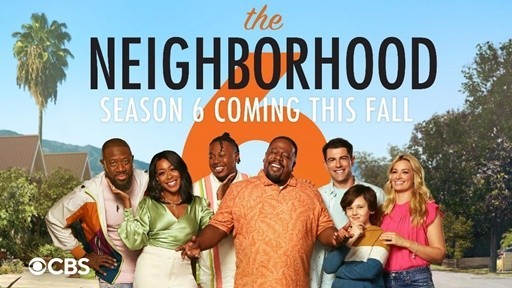 CBS announced today that it picked up The Neighborhood for a 6th season. The Monday night sitcom stars Cedric the Entertainer, Tichina Arnold, Max Greenfield, Beth Behrs, Sheaun McKinney, Marcel Spears, and Hank Greenspan, and it has been one of CBS's biggest comedies since its debut. Therefore, the renewal makes sense.
Plus, the renewal is a nice present for the cast and crew to get as they film their 100th episode. Congrats!
The Neighborhood joins Ghosts, Young Sheldon, the FBIs, The Equalizer, and Fire Country on the 2023-2024 schedule.

---
The Neighborhood's Beth Behrs is a new mom!
June 13th, 2022 under 2 Broke Girls. [ Comments: none ]
Beth Behrs has been keeping a secret, and today she revealed what it is. The actress shared this happy news, "Welcome to the world Emma George Gladis. Our hearts are so full. We are overjoyed!👶🏼"
This is the first child for The Neighborhood star, 36, and her husband, Mad Men's Michael Gladis, 44. The couple will be celebrating their fourth wedding anniversary next month.
Congrats to the couple! May they have another girl soon so that they can dress their daughters up in mustard yellow and ketchup red waitress uniforms for Halloween so that they could be 2 Broke Girls like she was with Kat Dennings!

---
What is, Jeopardy's National College Championship makes us feel old?
February 10th, 2022 under 2 Broke Girls, Gossip Girl, Jeopardy. [ Comments: none ]
This week ABC is airing Jeopardy National College Championship. They asked the contestants, "The original of this series that featured Blake Lively & Leighton Meester as privileged teens in New York City."
You and I are old enough to know that the is answer is "what is Gossip Girl." However, Joey thought it was 2 Broke Girls. To which Beth Behrs, who is one of the 2 Broke Girls, said, "Oh the kids these days…. (I feel old)."
If she is feeling old, how should we feel? Damn you, Jeopardy! No xoxo to you.

---
Kat Dennings is 1 engaged girl
May 13th, 2021 under 2 Broke Girls. [ Comments: none ]
Last week, Kat Dennings went Instagram official with Andrew W.K. Today, she went Instagram official about something else in their relationship. The two of them are engaged. That is all we know about their love life, so don't ask me anymore.
What I will tell you this will be her first marriage and his second. The singer announced earlier this month that he started divorce proceedings with Cherie Lily in 2019.

---
Spend Thanksgiving with Friendsgiving
September 9th, 2020 under 2 Broke Girls, Jane Seymour. [ Comments: none ]

Due to COVID-19, many of us are going to spend Thanksgiving alone. However, we don't have to, in a way. We can spend it with the movie Friendsgiving starting on October 23rd. This way, we will be reminded why we don't necessarily want to spend time with our loved ones. Therefore, the movie is a win/win.
I will be watching it on Turkey Day with my new friends Malin Akerman Kat Dennings, Aisha Tyler, Chelsea Peretti, Christine Taylor, Jane Seymour, Deon Cole, Wanda Sykes, and Ryan Hansen as I eat a turkey TV dinner and drink a bottle of Hampton Water wine all by myself.

---