Hot Links!
August 31st, 2023 under Hot Links!. [ Comments: none ]
Who took the gold in silver? – Celebitchy
Ted Cruz made an ass of himself again – Pajiba
Which Hulu show was cancelled? – Farandulista
Lisa Rinna is braless in a see-thru shirt – Egotastic
Is Neve Campbell returning to Scream 7? – Screen Rant
Does Olivia Wilde spit or swallow? – Drunken Stepfather

---
Selena Gomez broke her arm
August 31st, 2023 under Selena Gomez. [ Comments: none ]

Selena Gomez is sporting a new accessory, and it is a cast on her lower right arm. What happened? The actress broke her arm.
Yesterday, when she was being interviewed by Ellen K on her KOST 103.5 Morning Show, the host had to know how the actress did it. "I wish I had, like, a really cool story that I saved someone's life or something," Gomez told her. "I was in a long dress, a summer dress. And I was walking from my car to my house and tripped."
Ellen K pointed out that it was a good thing that is all the Only Murders in the Building star broke. And then Gomez told her, "This is not fun. It is not fun."
Hopefully, she will be better soon. And that Steve Martin Short won't make too much fun of her about it. At least we know that Steve Martin won't.

---
BTWF: Gene Wilder in Bonnie and Clyde
August 31st, 2023 under Before They Were Famous, Morgan Fairchild. [ Comments: none ]
Before Gene Wilder was making a man out of dead body parts in Young Frankenstein, he was an undertaker in Bonnie and Clyde. How perfect was the 33-year-old in that 1967 movie?
Morgan Fairchild worked with the legendary actor in that film. She wrote, "…in 1966, I remember sitting around with him on the set of Bonnie and Clyde, while he waited to shoot what I think was his first movie. Such a sweet, funny man, and a dear soul.

---
What is, is Mayim Bialik out of Jeopardy?
August 31st, 2023 under Jeopardy, Mayim Bialik. [ Comments: none ]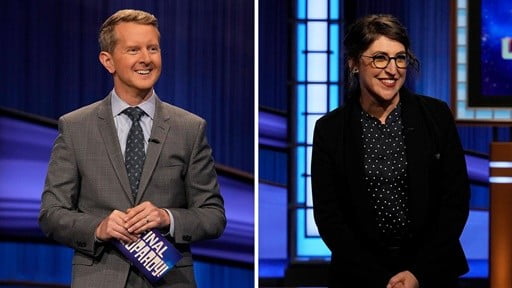 I don't know about you, but I don't know anyone who likes Mayim Bialik as a host on Jeopardy. And now we know that she will not be back hosting Celebrity Jeopardy on ABC. Instead, Ken Jennings is taking over the role.
So, was the actress fired? "She wasn't fired," an insider told The Messenger. "She's choosing to stand with her union, and because of that, she was told it is unlikely she will return for the rest of the year, even if the strike is resolved before then."
So what about the daily show? She is hoping to split duties with Jennings again when the strikes are over. But will they want her? We know we don't.

---
CBS wants you to help them program Blue Bloods
August 31st, 2023 under CBS, Tom Selleck. [ Comments: none ]
Blue Bloods will not be airing any new episodes until 2024 due to the Writers and Actors strikes. However, CBS will still be showing episodes in the Fall. Not just any episodes. But the one that we have chosen.
Fans can choose from a curated list highlighting memorable character arcs, pivotal character introductions, and some of the numerous outstanding guest stars (including the late Treat Williams) who have appeared on the series throughout its 13-year run.
All you have to do is go to the Blue Bloods' Facebook page between now and September 8th and vote on which episodes you want them to re-air.
The winning shows will begin airing on September 29th.

---