Will Jason Derulo accept CamSoda's $500,000 to post photos of the Deru-log?
December 6th, 2019 under Jason Derulo. [ Comments:

none

]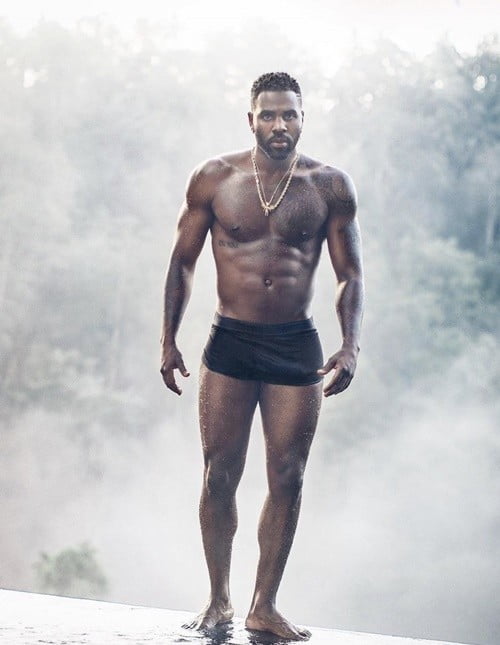 A few weeks, we all learned how to spell Jason Derulo's last name correctly after he posted a photo of himself in just black underwear. I think you can see why!
Anyways, Instagram pulled the photo claiming that it did not meet its community guidelines because it showed nudity or sexual activity. Well CamSoda, an adult website, heard that about that, they offered him $500,000 to post photos of himself with or without clothes on their site and they promise not to remove the Deru-log.
Did he accept their offer? The singer told them, "Imma need a wayyyy bigger bag than that 🤑" I really hope he reconsiders. I am sure I am not the only one.
---
Reno 911 is back on duty
December 6th, 2019 under Comedy Central. [ Comments:

none

]

Comedy Central announced today that Quibi picked up Reno 911 for a seventh season, 10 years after the show ended its run. Robert Ben Garant, Kerri Kenney-Silver and Thomas Lennon will all write and star in the series but what about the rest of the original cast like Cedric Yarbrough and Niecy Nash? Wendi McLendon-Covey, who is also original, wrote that "the whole original cast will be involved."
The Goldbergs actress also says she thinks the show will return in April. Since she and Yarbrough (Carol's Second Act) are both currently working on broadcast sitcoms, I wonder how they will have the time to film new episodes. We will find out soon enough, along with all the other details.
While I never got into the show, I know so many people who are so excited about it coming back. Are you one of them?
---
Sting reveals if there is a real Roxanne
December 6th, 2019 under The Police. [ Comments:

none

]

Sting released an album with reimagined versions of his greatest hits with The Police and solo work called My Songs, and he talked about the meaning behind some of them.
We probably would not be talking about Sting nor The Police had it not been for their first hit Roxanne about a prostitute working the red light district in Paris. The singer revealed he wrote the tune in 1977 while staying in a "very cheap hotel" in the City of Love.
He describes Roxanne as "a romantic song in a not very romantic setting." Was there a real romance behind those lyrics? He reveals, "I am very grateful for Roxanne. Who I invented." Then he added, "She changed my life."
If he was staying in a "very cheap hotel", then he probably could not have afforded Roxanne. Now, he could afford several Roxannes thanks to Roxanne.
---
Jennifer Lopez and Kim Kardashian do a commercial together
December 6th, 2019 under J-Lo, The Kardashians. [ Comments:

none

]

Facebook's Portal is trying to win us over by having Jennifer Lopez and Kim Kardashian do a commercial together to promote their product. For me, it is a fail. I mean, the only things missing from this ad are Jennifer Aniston and Gwyneth Paltrow. Then they could have quadfecta of annoying Hollywood celebs in one advertisement.
BTW I bet you that J-Lo shot this like she shot that Fiat ad. As in faked it with a green screen.
---
Vanna White was 'petrified, terrified' to host Wheel of Fortune
December 6th, 2019 under Wheel of Fortune. [ Comments:

none

]

Last month, Pat Sajak was rushed into emergency surgery for a blocked intestine. Since the show must go on, the producers asked Vanna White to fill in as the host. Next week, will we see her go from turning letters to turning on the charm with the contestants.
Today, she talked to Good Morning America about changing jobs for the first time in 37 years. That is right, she and Sajak had never not done a show together in 37 years until this happened. You would think, after all of that time, she would have learned a thing or two from her friend. It turns out; she told T.J. Holmes, "I don't pay attention to Pat." Not only that, she says she only turned the wheel three times before she had to. If I worked on that show, I would spin that wheel every day. I do not know how she was not tempted to do the same.
White says that hosting was challenging because "I had to be aware of everything that's going on. Where before, all I had to worry about was letters. Now, I have to carry the whole show."
A show she does not want to do without her partner of 37 years. She cannot imagine doing it without him. That and White has a whole new respect for him. She hopes he feels the same way. Since their relationship last lasted longer than a lot of Hollywood marriages combined, I am sure he feels the same way. If he didn't, then they would have gotten a divorce a long time ago.
Sajak, who is now back at work, was off for three weeks to recover, and White hosted the whole time. I do not know about you, but I will be tuning in to see how she does. That and I really want to know who turned all the letters in her absence. It looks Minnie Mouse did the first episode. I am curious if she did the rest.
Which makes you wonder how their contract negotiations will go for them when they are up in 2022. They can say to her, "Your job is so easy even a mouse could do it." They will say to him, "Your job is so easy, even a letter turner can do it." Then they will say to them, "Yes, but it will be hard for them to have our lasting appeal and chemistry."
---